In 1969, Cher was past her initial folk-pop successes with husband Sonny, but hadn't yet launched her smash 1970s variety television program. She'd issue the most interesting project of her career.
Under the guidance of music legends Jerry Wexler, Tom Dowd and Arif Mardin, Cher recorded a series of raw-boned, funky covers in April of 1968 at Muscle Shoals Sound Studios, naming the album after its address. Unfortunately, 3614 Jackson Highway sunk like a rock — only reaching No. 160 on the Billboard charts.
In the following except from Cher: All I Really Want to Do by Daryl Easlea and Eddi Fiegel, we explore this pivotal, yet often under-examined period.
3614 Jackson Highway, though it featured songs by Buffalo Springfield, Otis Redding, Dr. John and Bob Dylan — in fact, she covers three of the latter's tunes, including "Tonight I'll be Staying Here With You," "I Threw It All Away" and "Lay Lady Lay" — might just be the best Cher album you never heard …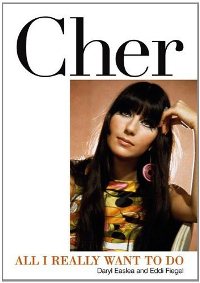 The following is an excerpt of 'Cher: All I Really Want to Do' by Daryl Easlea and Eddi Fiegel, published by Backbeat Books, an imprint of Hal Leonard Performing Arts Publishing Group. Reprinted here with permission of the publisher …
The year 1969 was like a whirlwind for Sonny and Cher. By now their commercial stock had fallen, and they were deep in debt. But they had little option but to work hard, especially as they had a new baby to support: Chastity Sun, born on March 4. Within weeks of Chastity's birth, Cher would be back in the studio recording one of the most interesting albums of her career.
As Harry Young puts it in his liner notes for the Rhino reissue of the album, Sonny and Cher were "running for their lives, pursued by an erupting volcano of debt that roared like a wounded behemoth, heaved like a tortured titan, and then burst into flames as it threatened to bury their career and future prospects."
To fit into the changing times and make some money, they had launched a new, more adult-oriented act in Las Vegas. They were also searching for a new direction for Cher that was more in keeping with the times. Folk-rock was out, and as Cher later put it: "Son's straight-ahead, upbeat music started to sound simplistic and corny."
Ahmet Ertegun was delighted that Cher's Imperial contract had come to an end after five albums and a compilation. She could now finally be incorporated into the Atlantic family, where Sonny & Cher had recorded since 1965. They celebrated the union with an announcement in Cashbox magazine on February 1 1969.
The first release of this new phase of Cher's career was her cover of "Yours Until Tomorrow," a 1966 hit for Dee Dee Warwick, backed by the easy-listening schmaltz of "The Thought Of Loving You." But Atlantic producer Jerry Wexler had bigger ideas for Cher. One of the most successful producers in the history of rhythm and blues — a term he coined himself in his early career as a writer for Billboard magazine — he had helmed records by Ray Charles, The Drifters, and Ruth Brown, and had received universal acclaim for turning Aretha Franklin into one of the most revered singers on the planet.
Buoyed by the recent success of the legendary Dusty In Memphis LP, on which he recast British pop's high priestess Dusty Springfield as a funky, hurting, soul troubadour, Wexler felt certain he could encourage a similar transformation in Cher, another artist with a big voice who had been grappling with inappropriate material. Wexler wanted her to work with the recently assembled crack team of Southern players — keyboard player Barry Beckett, bassist David Hood, drummer Roger Hawkins, and guitarist Jimmy Johnson — who together had departed Rich Hall's FAME Studios in Muscle Shoals and set up the Muscle Shoals Sound Studio in a former funeral parlor at 3614 Jackson Highway in Sheffield, Alabama. They were joined for these sessions by Eddie Hinton, and over a handful of dates in April and May 1969 they laid down the 11 tracks that were to make up Cher's new album. Sonny's usual team of Gold Star players and his long time lieutenant, Harold Battiste — a man steeped in Southern soul — were stood down, much to Battiste's chagrin.
Unfortunately, Wexler never attended the sessions. Excited about the project, he and Sonny had battled it out over who would control the record. "In case of a tie," Wexler had told Sonny before the sessions began, "I win." Wexler picked the songs: "Three by Dylan, an Aretha cover, a Stephen Stills, an Eddie Hinton (lead guitarist on the dates) — but I also picked up pneumonia and went to the hospital before the actual singing started, so [Tom] Dowd and [Arif] Mardin took over. I never made it to the control room." The resulting sessions were released as 3614 Jackson Highway — an album named for a recording studio two months before The Beatles did the same with Abbey Road.
It was a brave album for Cher to make: a record that focused on the cooler, soulful aspects of her career and for once left out the more extreme aspects of her vaudeville. Sonny did not take part in the recording of the music. He is credited as a "spiritual advisor" and figures in the freewheelin' cover photograph, but that was about the extent of his involvement. He was not overly delighted. "Not only did I lose my role as producer," he later wrote, "my credibility went out the window too." Uncomfortable with being on the sidelines, he nonetheless kept his calm long enough to let a remarkable album be made.
Simply put, if 3614 Jackson Highway had been made by a critically lauded singer, it would routinely figure in all-time best-of lists. This is not casual hyperbole. It is a revelation to hear Cher without being bathed in Sonny's syrup. This is pared down, emotional music. Had this album been released in the early 1990s, it would have been called Unplugged; a decade later, it would have been likened to Rick Rubin's work with Johnny Cash.
The first release from 3614 Jackson Highway was the single "I Walk On Gilded Splinters," written by Sonny and Cher's old cohort, Mac Rebbenack, now making a name for himself as Dr John, the Night Tripper. Its wild, abandoned, swampy sound is quite some distance from "You Better Sit Down Kids" and the songs Cher had issued in an attempt to emulate that record's success. To hear Cher sounding like a voodoo priestess with the Muscle Shoals horns tooting away in the background feels far removed from the tubular bells and fey lyrics of the past.
The rest of the album is made up of songs that would challenge her audience, as well as a series of beautiful, close-miked vocals. Wexler's decision for Cher to record three songs from Bob Dylan's recent Nashville Skyline LP reinforces her position as one of the principal Dylan interpreters of the 1960s, with "Lay Baby Lay" the most poignant of the three cuts.
She took on Aretha, too, with an interesting version of "Do Right Woman, Do Right Man" that makes plural the "day" and "night" of the chorus, before interpreting "For What It's Worth" by Buffalo Springfield. She also sings Otis Redding's "Sittin' On The Dock Of The Bay" and performs a fabulous, raunchy take on The Box Tops' "Cry Like A Baby."
The cover photograph was as beautiful and relaxed as the music contained within: the cast assembled outside the studio, all laughing and smiling, with Cher in her full Native American garb out in front. Beaming smiles are the order of the day — the newly mustachioed Sonny is to her right, with Wexler to her left. Barry Beckett, Arif Mardin, and Tom Dowd are there too. The back cover contains a handwritten message from Cher, previously so reluctant to offer opinion but now in full flow:
I want to write something that when you read it you'll say: yeh, that's really groovy," she begins, "but all I can tell you is what's in my heart, and if you can dig it then I'm happy and if you can't then I'm sorry. Music sets me free; it makes me feel all the things of life. Sometimes when I hear a groovy song it makes me want to get in my car and just drive and sing at the top of my lungs. Other times when I hear a song it makes me cry. I don't know if I'm sad or happy but it really doesn't matter. Music can take you away from the bad and bring you closer to the good in life; I really hope the music in this album brings you closer! Peace.
3614 Jackson Highway is a groovy, beautiful lost treasure that lay to rest any doubt about Cher's ability as a vocalist. It was released on June 20 1969, in the week that her new film "Chastity" opened. Artistically, this was a remarkable place for Cher to finish her decade. Cashbox found "plenty of sales potential in this highly polished set … pay attention to this one"; for Billboard, it was "Cher's most interesting and therefore her most commercial package in some time." In the UK, the New Musical Express described the record as "a pretty good mixture," while Melody Maker called it "a tremendous album."
Although it was well received by critics, however, the album was a huge commercial misfire. By now, of course, listeners who wished to broaden their palette into soul and R&B could listen to Janis Joplin and Aretha Franklin, not some old folk-pop artist on the turn. And so it was that 3614 Jackson Highway entered the US charts on August 16 1969 and climbed no higher than number 160. In the fast-paced late-1960s, everyone moved on swiftly. Jerry Wexler attempted to record with another singer against type, Lulu, while Cher returned to the recording studio in October and December to cut tracks for a second Atco album that would never see the light of day.
[amazon_enhanced asin="161713452X" container="" container_class="" price="All" background_color="FFFFFF" link_color="000000″ text_color="0000FF" /] [amazon_enhanced asin="B001TXORL0″ container="" container_class="" price="All" background_color="FFFFFF" link_color="000000″ text_color="0000FF" /] [amazon_enhanced asin="B00009V7PJ" container="" container_class="" price="All" background_color="FFFFFF" link_color="000000″ text_color="0000FF" /] [amazon_enhanced asin="B000002JOV" container="" container_class="" price="All" background_color="FFFFFF" link_color="000000″ text_color="0000FF" /] [amazon_enhanced asin="B00004T0PP" container="" container_class="" price="All" background_color="FFFFFF" link_color="000000″ text_color="0000FF" /]

The Something Else! webzine, an accredited Google News affiliate, has been featured in The New York Times and NPR.com's A Blog Supreme, while our writers have also been published by USA Today, Jazz.com and UltimateClassicRock.com, among others. Contact Something Else! at reviews@somethingelsereviews.com.

Latest posts by Something Else! (see all)