In an exclusive excerpt from the new book Eric Clapton, Day by Day: The Early Years, 1963-1982, Marc Roberty takes us into the earliest days of Derek and the Dominos — with the arrival of key collaborator Bobby Whitlock.
All of this takes place before the arrival of Duane Allman, the doomed slide-guitar genius of Allman Brothers fame. It's even before the naming of this new amalgam.
To this point, Clapton had made a name for himself as a member of John Mayall's Bluesbreakers, Cream and then Blind Faith — each of them star-studded and, in their own ways, part of the growing legend surrounding the guitarist.
At last Clapton had intended, after a stop-gap tenure in Delaney and Bonnie & Friends, to begin a solo career — but the fates would lead him into another celebrated band instead.
That's where Roberty joins the narrative here, exploring the moment when the Dominos lineup was in its earliest stages, including an aborted attempt at adding a horn section,.
There's also a glimpse into the moment in which the cover art for the group's debut album — forever now associated with Clapton's then unrequited love Pattie Boyd — was discovered …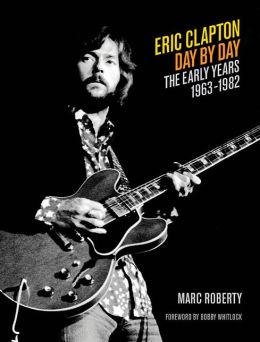 The following is an excerpt from Eric Clapton, Day by Day: The Early Years, 1963-1982 by Marc Roberty, published by Backbeat Books, an imprint of Hal Leonard Performing Arts Publishing Group. Reprinted here with permission of the publisher.
Ever since the demise of Cream, Eric Clapton had been searching for his musical identity. Blind Faith may have started out with good intentions, and a lot of promise, but ultimately it was doomed to failure as soon as Ginger Baker joined the band and the business side of things took over the creative side before it had much of a chance to start. They were forced to record an album and tour before they were ready to do either. The lengthy and lucrative U.S. tour was the final nail in the coffin for the band, as they resorted to playing crowd favorites from Traffic and Cream. Delaney & Bonnie had provided a great short-term escape for Eric, and his first solo album was the first step in finding his future musical direction and path. Although that album was more of a Delaney & Bonnie album in sound, it gave him the confidence to be a solo artist. But not quite yet, as his next project was to be a cooperative band.
Bobby Whitlock had stayed with Delaney & Bonnie after the rest of the "Friends" had left with Leon Russell to join Joe Cocker's infamous Mad Dogs And Englishmen tour in the US. After recording "Motel Shot" with them, he, too, decided it was time to leave and consider what he should do next. His friend Steve Cropper suggested he go and see Eric Clapton and spend some time in England to clear his head. As Bobby did not have much money, Steve kindly organized a plane ticket, and Bobby flew over to London Airport in April 1970. From there he took a taxi to Eric's home in the Surrey countryside. He already knew it well, of course, as he had stayed there the previous November when Delaney & Bonnie and Friends were residing there while recording and touring with Eric.
Eric was surprised to see Bobby, but happy at the same time, as they could play music and generally hang out and have fun. Within weeks, they were starting to write songs together, but when Eric realized that Bobby would have to head off home, he asked him to stay and help him get a band together. The first step was to go and see Robert Stigwood and put him on the payroll as the first member. The band was initially being formed to promote Eric's first solo album, which was due for release in August, but this would also be a fully functioning band that would tour and record new material. After some discussions, it was decided to get Jim Keltner on drums and Carl Radle on bass, along with Bobby Keys and Jim Price on horns. Everyone was available to come over at short notice except Jim Keltner, who was working on Gabor Szabo's Magical Connection album for Blue Thumb, and would not be able to make it over until July. Jim Gordon, another ex-member of Delaney & Bonnie's Friends, heard about the gig from Carl Radle and flew over with Carl and straight into a session with Eric and Bobby for PP Arnold. As he was there and ready, he was offered the job instead of Keltner.
George Harrison, always a frequent visitor at Eric's home, asked Eric if he and his new band would back him on his forthcoming solo album sessions that would take place at Abbey Road Studios from June onward. Eric accepted the offer and although the new band was not together yet, they would learn their chops throughout the sessions for George's All Things Must Pass album.
As for Bobby Keys and Jim Price, Bobby and Eric were now not sure they needed a horn section as part of the new band. They wanted a stripped-down rock 'n' roll band. Bobby Keys and Jim Price were looked after by being offered numerous guest sessions, many of which included Eric, before being taken on full-time by the Rolling Stones.
The origins of the name "Derek and the Dominos" has had many a story attached to it over the years. Here is what really happened: Jeff Dexter, a well-known DJ and compere at the time, as well as a close friend of Eric's, told me that on the night of their first show, a name had yet to be chosen. The adverts for the show at the Lyceum on 14 June had been billed as Eric Clapton and Friends. As Jeff was the compere tonight, he asked Eric what name he should introduce them with. The whole entourage started shouting out potential names, including Del and the Dynamics. Jeff recalled that Eric had been called Derek by Tony Ashton on last year's "Delaney & Bonnie and Friends" tour. Eric's nickname throughout that tour and beyond quickly became Del. Back at the Lyceum, it was a close call between Derek and Del. After a quick debate, Jeff told the assembled band they should be called Derek and the Dominos. Eric loved the name, but the band, who were American, feared that they would be thought of as a doo-wop band. Eric also liked the anonymity of the name, much to the disappointment of Robert Stigwood.
At a press function for the launch of Derek and the Dominos' first single for Polydor in London, Stigwood made sure every journalist and all PR people were handed a "Derek is Eric" badge to get the message got out to the public.
[SOMETHING ELSE! REWIND: Derek and the Dominoes' Duane Allman seemed to emerge of a piece, but as the new 'Skydog' anthology makes clear, his craft was something he worked at, sanded on and shaped.]
On 5 August 1970, the Dominos were scheduled to play the Popanalia Festival at Biot, France, which was organized by the BYG record label. The French television program Pop 2 are there to film the whole event. The bill consisted of Joan Baez, Pink Floyd, Eric Clapton, Gong, Soft Machine, King Crimson, the Moody Blues, Traffic, the Art Ensemble of Chicago, and many more.
Unfortunately, the organizers only managed to get payment out of 4,000 spectators. The other 30,000 just crashed the site. As a result, there was not enough money to pay the artists. The only acts that actually got to play were Joan Baez and Country Joe. When the crowd was told about the situation, some radical revolutionaries, called Les Companions de la Route, burned the stage and destroyed the equipment in protest. The result was that the event was cancelled.
The Dominos, who were staying in a farmhouse owned by a French artist named Frandsen de Schonberg, were informed of the cancellation as they were about to leave the house to head off to play. They spent the next two days having fun at the farm. The owner's son, Emile, was looking after the band and the house on behalf of his father. He said that his father had told him to let them have their pick of any of his artwork from his studio as a gift. Eric was very taken with an oil painting that looked like Pattie and asked if it was all right to have that piece.
That painting, of course, became the picture that millions of people have come to know as "Layla."

The Something Else! webzine, an accredited Google News affiliate, has been featured in The New York Times and NPR.com's A Blog Supreme, while our writers have also been published by USA Today, Jazz.com and UltimateClassicRock.com, among others. Contact Something Else! at reviews@somethingelsereviews.com.

Latest posts by Something Else! (see all)