It's been three whole months since our last "Quickies" and in the meantime, the new releases have been piling up on my desk. They'll be more Quickies soon after this one to catch up, but for now, we present four, new jazz-oriented offerings from last month and all by very capable individuals.
Each of these records has at least a thing or two going for them, and one of those things is no-nonsense, wholesome organic (read: acoustic) goodness. It's a mostly unplugged Quickies that just might electrify your soul. Read on to find out if you think they might…
Eliane Elias – Bossa Nova Stories
São Paulo, Brazil's Eliane Elias brings strong backgrounds in classical, jazz and Brazilian music to her piano stylings. While her last album saluted one her influences, the late, great Bill Evans, Bossa Nova Stories celebrates the fiftieth anniversary of Brazil's great contribution to jazz, bossa nova.
With Elias' heritage, training and talents, it's hard to imagine someone more qualified to provide this tribute. Employing a base piano/guitar/bass/drums quartet that includes husband Marc Johnson, occasionally supplemented by strings orchestrated by Rob Mathes and cameo appearances made by Ivan Lins and Toots Thielemans, it's a tastefully executed affair. While Elias already released a bossa nova-themed record twenty ago with Eliane Elias Plays Jobim, Antonios Carlos Jobim songs are combined with other bossa nova classics and interpretations of American standards. Stevie Wonder's "Superwoman" is even given the Brazilian treatment.
Elias gets a in few piano solos here and there, but the central focus of Bossa Nova Stories is her singing. Her voice isn't particularly strong, but she knows how to use it in a soft, sensual way to interpret these songs the way they're meant to be sung…in both English and her native tongue Portuguese.
Bossa Nova Stories, a Blue Note Records release, came out on January 13.
Mark O'Connor – Hot Swing Trio, Live In New York
Sooner or later, whether it's jazz, country, bluegrass or even classical, if you encounter virtuosic violin playing, you're going to encounter Mark O'Connor. I still remember the first time I knowingly heard his playing on Michael Brecker's astonishing mixture of fusion and Irish folk music called "Itsbynne Reel" from his 1988 album Don't Try This At Home. Since then I discovered not only the tremendous skill of the man's playing but also the breadth of styles he's mastered.
Hot Swing Trio, Live In New York is the last of a trio of records exploring one of those styles: the gypsy swing music invented by Stephane Grappelli and Django Reinghardt in the 1930s. O'Connor is no newcomer to this kind of music; he was first transcribing Grappelli's solos note-for-note at age 13 and before he was out of his teens, Grappelli himself personally mentored him.
This trio, with guitarist Frank Vignola and bassist Jon Burr (who had played in Grappelli's band for a dozen years), faithfully recreates the gypsy jazz with perhaps a bit more of an American flair. Recorded live at Merkin Hall, NYC in 2004, the Hot Swing Trio plows through difficult material like bebop standard "Cherokee" or O'Connor's broken blues "Anniversary" with equal aplomb.
Now that Mark O'Connor has gotten that gypsy swing music out of his system for the time being, there's no telling what he'll tackle next. While he ponders his next move, O'Connor's fans have this souvenir of the Merkin Hall date to absorb and enjoy.
Hot Swing Trio, Live In New York, by OMAC Records, dropped on January 13.
I've gotta admit, the idea of making a whole album covering old, tired tunes from television shows didn't sound very appealing to me at first. My trepidation was quickly dispelled the first time I spun TV Trio. Stetch breathes life into these songs with imaginative arrangements and an unyielding element of swing from him along with bassist Doug Weiss and drummer Rodney Green.
The source for these songs reflect Stetch's childhood of the 1970s and 1980s: The Waltons, Star Trek, Dallas, The Price Is Right and Sanford and Son are among the shows represented, as well as a very creative and hoppin' rendition of the theme song of those Warner Brothers cartoons. It's a revelation to find that these selections are actually pretty well-crafted compositions when taken out the context of the TV programs and given a very expressive treatment that this trio provides. In their hands you won't mistake these songs for anything else, yet they sound fresh and new.
Come to think of it, John Stetch's theme for this album is very much in the jazz tradition. Show tunes from such writers such as Cole Porter, Rodgers and Hammerstein and George Gershwin have been the major part of the jazz fakebook almost since the beginning of jazz itself. Stetch is merely looking at a smaller screen for his source of material.
TV Trio, distributed by Brux Records, went on sale January 27. Visit John Stetch's website here.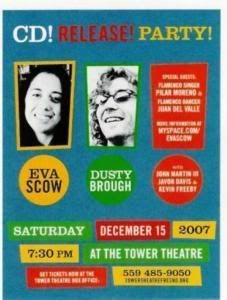 Eva Scow & Dusty Brough – Sharon By The Sea
Eva Scow, who plays mandolin, violin and a little Fender Rhodes and Dusty Brough, who is proficient on acoustic guitar, acoustic bass and cumbus (a sort of Turkish oud/banjo hybrid) combined all their talents to create a uniquely creative record, Sharon By The Sea.
Having collectively played alongside the likes of David Grisman, Bela Fleck and Michael Buble, this duo wisely didn't focus on playing narrowly defined music that would have obscured too much of their abilities. Sharon deftly blends in Brazilian, classical, bluegrass, jazz and folk, both American and European. All but one of the eleven compositions are their own originals that not only put their skills on full display, but are some very tuneful, harmonically rich songs.
With some of the amazing unison runs Scow and Brough combine for, it's a little like listening to Friday Night In San Francisco by Al di Meola, John McLaughlin and Paco de Lucía. Yet, the sound if so full and full-bodied, you wouldn't notice that a full band replete with drums isn't used until the last track.
You don't have to like jazz to enjoy this record. A taste for anything homegrown acoustic-based, melodic and featuring damned good playing will suffice. David Grisman fans should absolutely lap this up, though.
Sharon By The Sea, presented by Adventure Music, hit the streets on January 20.
"Quickies" are mini-record reviews of new or upcoming releases, or "new to me." Some albums are just that much more fun to listen to than to write about.

S. Victor Aaron is an SQL demon for a Fortune 100 company by day, music opinion-maker at night. His musings are strewn out across the interwebs on jazz.com, AllAboutJazz.com, a football discussion board and some inchoate customer reviews of records from the late 1990s on Amazon under a pseudonym that will never be revealed. E-mail him at
[email protected]
.com or follow him on Twitter at https://twitter.com/SVictorAaron

Latest posts by S. Victor Aaron (see all)
Tags:
2000s
,
Adventure Records
,
Brazil
,
Folk
,
Fusion Jazz
,
Jazz
,
Mark O'Connor
,
new release
,
Quickies
,
Women of Jazz
,
World Fusion