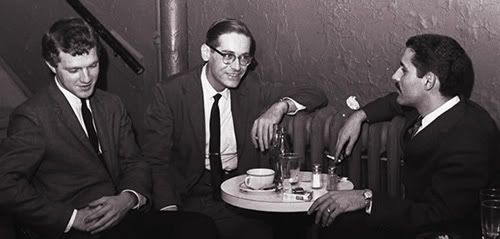 Scott LaFaro, Bill Evans and Paul Motian (photo: Steve Schapiro)What can be said about Bill Evans' classic Sunday At The Village Vanguard that hadn't already been said so many times over? If you're new to jazz, here's what you need to know: it is the beginning and the end of piano-bass-drums music. It's one of the five or six most essential jazz records of all time. And it's one of the very finest live documents from any music genre.
When you listen to this record keeping in mind that the bass player Scott LaFaro—one of the most promising bassists ever to emerge—was dead ten days later at the tender age of 25, it brings about a bittersweet sentiment because one of the most spectacular moments in jazz was a fleeting one. In a bit of irony, Evans' producer and record company head Orrin Keepnews sensed that this unit was not going to hold together for much longer, which led to these monumental recordings.
When I last covered a Bill Evans record, it was to discuss the first one by of the pianist's then-new trio consisting of LaFaro and Paul Motian on drums. Portrait In Jazz was taped right at the end of 1959 after several months of the trio playing together to the point where Evans felt comfortable enough to document the rapport they've developed in that time. It would, however, take another thirteen months before Keepnews was able to get the threesome back in the studio again.
Those February, 1961 sessions, out of which the trio's LP Explorations came forth, was marked by some visible tension between LaFaro and Evans. It appears that Scott had begun to view his boss as an unreliable junkie and voiced his desire to be compensated accordingly. Although the matter ultimately died down and the boys got to work creating another superb record, Keepnews grew wary that LaFaro would leave the group before long. Thus, he soon convinced Evans to cut a live record just months later before the opportunity to capture one of their increasingly acclaimed club dates would be lost forever.
That chance came in the last Sunday of June, 1961, at the end of a two-week stint at New York's Village Vanguard club. Having played first on the road and then a couple of weeks at this club, the Bill Evan Trio machine was well-oiled and playing at peak level. Keepnews taped enough songs for two albums to insure that he had enough good material for one album, but it quickly became clear that there were really no missteps the entire day. Given the tragic circumstances of the bassist's sudden death, Evans decided to select six tracks that highlighted LaFaro's contributions, thus creating a de facto LaFaro-led album, as an official one doesn't exist (some of the leftover tracks were used to forge the more group-oriented album Waltz For Debby).
Two of those six tracks were composed by LaFaro himself, "Gloria's Step" and "Jade Visions." As far as I know, these are the only two published songs credited to him, but are astounding in how advanced they are for someone who was just starting out at this.
The album opens with "Gloria's Step," with its descending chord patterns that start somewhat bright and work its way down to a somber mood. Evans interprets the melody in short but rich phrases, and Lafaro is playing lines of his own that exhibit limitless range and yet never ignores what Motian and Evans are doing. After a solo brimming with full chords, Evans gives way to LaFaro who makes his bass sing and finds himself making a home in the upper register. As the second take of this song, it's the best overall performance of the entire day.
LaFaro's other tune, "Jade Visions," was performed for the first time that night and played a second time at the end of the evening set. As the last song this trio ever played together, "Jade Visions" is a slow-paced meditative piece centered around a bass riff. Evans plays with much thoughtfulness, adding no more notes than needed, understanding that to do so would obscure that key riff. Motian, ever the master colorist, put that skill to great use for this song.
The rest of the songs chosen for the day are covers, most of which were familiar movie and show tunes. Throughout his career, Evans had a penchant for selecting easily recognizable, often overworked numbers and recasting them as harmonically robust songs that became distinctively his own. A notable exception to this Broadway pattern is the choice of Miles Davis' "Solar," but even then, it's adorned with chunks of minor scale motifs in Evans' remarkable hands. All of these tracks of course feature LaFaro contributing expressive solos from an instrument not previously known to be so impressionistic.
After the Vanguard date, LaFaro did perform once again, at the Newport, R.I. Jazz Festival with Stan Getz on July 3 before returning to his hometown of Geneva, NY. On the early morning of July 6, LaFaro evidently fell asleep at the wheel while driving between friends' homes between Warsaw and Geneva. The car ran off the road, hit a tree, and burst into flames, killing both LaFaro and a childhood friend of his.
Forty-seven years after this fateful live performance, Keepnews overhauled the original Sunday tapes with a 24-bit remastering treatment courtesy of Joe Tarantino. The resulting sound brought some much needed clarity to the recordings, and seems to accentuate the remarkable group interplay even more. Additional takes of "Gloria's Step", "Alice And Wonderland," "All Of You," and "Jade Visions" have been tacked on to the end of the original track sequence. These versions aren't quite as good as the ones that made the first cut, but are still of high quality and demonstrate how these players took risks and subtly different approaches each time they tackled a particular song.
Out since this past September, the Keepnews Collection version of Sunday At The Village Vanguard is the definitive edition of Bill Evans' masterpiece. The accolades heaped on this magical club date performed one Sunday in June, 1961 are even more justified now than ever before.

S. Victor Aaron is an SQL demon for a Fortune 100 company by day, music opinion-maker at night. His musings are strewn out across the interwebs on jazz.com, AllAboutJazz.com, a football discussion board and some inchoate customer reviews of records from the late 1990s on Amazon under a pseudonym that will never be revealed. E-mail him at svaaron@somethingelsereviews .com or follow him on Twitter at https://twitter.com/SVictorAaron

Latest posts by S. Victor Aaron (see all)