A mere three days after the last Quickies, and here we are back already with another one. It just goes to show how the CD release pace quickens as we round the bend toward the holiday shopping season.
With pockets getting emptying rapidly in the face of an economic Armageddon, it becomes more imperative to make your selections wisely. This installment of Quickies has selections that all represent safe choices from acts who have rarely disappointed. In each case, these acts have just released CD's that can instantly be considered one of their better ones.
Nothing obscure this time, that will have to come later. We've got to get those stocking stuffers out of the way, first: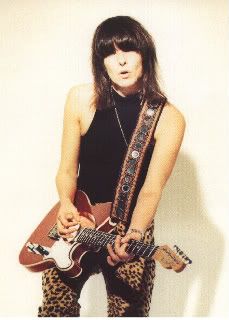 The Pretenders Break Up The Concrete
The Pretenders is admittedly a band I haven't paid close attention to outside the first three albums, but that's precisely why I felt a need to shout out about them today. No album since Learning To Crawl has really demanded my attention until Break Up The Concrete, released last week. And if it's that compelling to me, then it would likely be a winner with any fan of the Pretenders, hard-core or casual.
Back in her native Ohio after spending all of her music career in the UK, Chrissie Hynde leaves behind even original drummer Martin Chambers and surrounds herself with a whole new crew headlined by the great Jim Keltner behind the kit, and includes a pedal steel player as well (Eric Heywood).
The thing that makes this record excel isn't a return to the hard-driving punk days of original guitarist James Honeywell-Scott, but instead spirited rockabilly ("Boots of Chinese Plastic," "Don't Cut Your Hair"), countrified ballads ("The Nothing Maker," "You Didn't Have To") and even Bo Diddly ("Break Up The Concrete").
Hynde's tribute to her home state "Almost Perfect," is the only track to clock in over four minutes long. While the guitars hint at Western swing, Keltner's haunted accented pulse is lifted straight out of the Beatles' "A Day In the Life." The one cover, "Rosalee," is rendered as a lazy blues-rocker and Hynde is the only woman who can pull off this tune convincingly. And, she does by a mile.
Even though Break The Concrete has more than it's share of soft numbers, Hynde has lost none of her edge, even if that edge comes from music that predates punk—heck, it mostly predates the the British Invasion. Chrissie Hynde is back in America and she's brought her swagger back with her.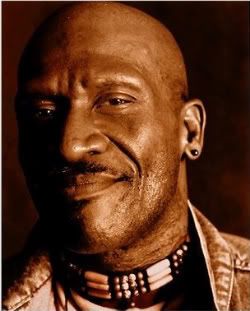 Taj Mahal Maestro
Also out last week is another late-career strong effort by an longtime act. Taj Mahal has been making his own records for forty years now, and he shows no sign of slowing down. He helped revitalize Delta blues back then and was a roots musician years before anyone came up with that term. It's because of him that we have others guys like Keb Mo, Eric Bibb and Corey Harris making the old school blues and folk sound fresh again.
Taj Mahal established the template early on by blending in so many styles: mix Caribbean, folk and rock with the blues and blues standards with some solid originals. Acoustic with electric. Mahal is truly the Swiss Army knife of the blues.
Maestro doesn't tamper with that template, which means it's a good album already. Throw in some guest spots by Ben Harper, Jack Johnson, Los Lobos, Ziggy Marley and Angelique Kidjo, and you're in business.
Whatever Taj does on Maestro, he does it well. "Scratch My Back" rocks hard, as does Hendrixian heavy blues of "Dust Me Down." In contrast, "Never Let You Go" is a real soulfully sunny reggae and "Zanzibar" is honest African pop. And just to let you know he hadn't forgotten about the pure, undiluted blues, Mahal applies an Elmore James treatment to "TV Mama" and goes into Howlin' Wolf mode for "I Can Make You Happy."
Every song on Maestro is a change-up but every song also has it's own charms. It's the mark of a 40 year professional completely settled and comfortable in his approach to his music. It makes for equally comfortable listening.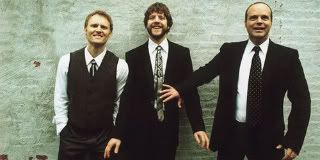 Medeski, Martin & Wood Radi
olarians 1
I've covered a Martin and Medeski album, a Wood Brothers album and even an MMW children's album on this space, but this is the first go around with a "proper" Medeski, Martin & Wood release.
Radiolarians 1, which hit the streets September 30, is the first of a planned trilogy of records by the keyboard-bass-drums trio that's difficult to categorize. This CD does nothing to make them easier to pigeon-hole, either.
Not when the first track, "First Light," starts out ambient and eases into a stoned out, hippy groove. Or when "Professor Nohair" is the latest in their homage to the Big Easy Beat, only this one acoustic and more improvisional than usual. Or when they play a perky boss-nova soul-jazz that is "Sweet Pea Dreams."
"Cloud Wars" sounds more like the typical MMW funk exercise until it blows up into free-for-all midway through with Wood's bass turning downright demonic and Wood going off the deep end in a most delightful way. The folk-ish "Muchas Gracias" finds Medeski switching to melodica and Woods moving over to acoustic guitar.
There's something for everyone with Radiolarians 1, which does as good of a job as any Medeski, Martin & Wood album of demonstrating what makes this trio so special: the only rules these guys follow is that there are no rules. I can't wait for Radiolarians 2 and 3.