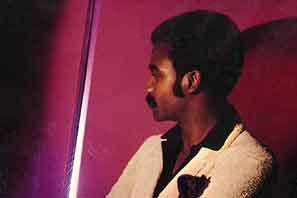 No serious conversation about old school funk-jazz can leave out this gem. "Always There" is a essentially a two chord vamp, but damn, it's a two-chord vamp that hits squarely in the center of funk's sweet spot.
The song's co-creator Ronnie Laws spent the first half the seventies lending his soprano & tenor sax skills to the bands of Quincy Jones, Ramsey Lewis, and pre-superstar Earth, Wind & Fire. Laws' expressive, funky sax is very distinctive with it's soulful use of vibrato and playing well with the groove. He owes a lot of his style to his hero the late Eddie Harris, but also to the r&b roots of his Houston, Texas hometown. He can also sing and, like his more prolific older brother Hubert, play flute. He might not have Hubert's sheer chops, but it's just as unique sounding, if not more.
But, back to this sweet little number. In the same year his old band EW&F struck gold with That's The Way Of The World, Laws struck out on his own with his first solo album, Pressure Sensitive. While Pressure as a whole didn't rock the r&b/jazz world like Grover Washington's Mr. Magic did that year, the lead-off tune most definitely had a lasting impact.
The intro is ten seconds of percussion and then—bam!—the tightly interlocking groove of clavinet, rhythm guitar, gurgling electric piano and drums kick in. After a few bars of letting that groove sink in, Laws begins his thematic sax line. It's not technically amazing but it's well in the pocket and doesn't let go. Likewise, the free improv section won't scare off Sonny Rollins but it's just right for the tune. The brief bridge slows down the beat for a moment but thankfully, the song gets back on track with it's tenacious vibe in short order.
I don't mind admitting that I liked some of Laws later work even though he would soon surround his saxes and flute with quickly dated synths, sonar drums and unnecessary vocals. With "Always There," though, he caught lightning in a bottle, and never made such a perfect funk track again. It's since been covered widely, by some notable r&b and funk jazz notables from Jeff Lorber to Incognito to the avant-funk collective Build An Ark (which on some days is my favorite version).
Purists would never call Ronnie Laws a jazz musician, even though he later made the definitive tribute album to Harris, but "Always There" does what it sets out to do: get you to move to the rhythm. When old school funk is this good, nothing in the new school can beat it.
"One Track Mind" is a more-or-less weekly drool over a single song selected on a whim and a short thesis on why you should be drooling over it, too.

S. Victor Aaron is an SQL demon for a Fortune 100 company by day, music opinion-maker at night. His musings are strewn out across the interwebs on jazz.com, AllAboutJazz.com, a football discussion board and some inchoate customer reviews of records from the late 1990s on Amazon under a pseudonym that will never be revealed. E-mail him at svaaron@somethingelsereviews .com or follow him on Twitter at https://twitter.com/SVictorAaron

Latest posts by S. Victor Aaron (see all)