Post Tagged with: "Thin Lizzy"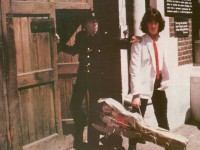 'Back on the Streets,' released on Sept. 30, 1978, underscores why Phil Lynott asked Gary Moore to join Thin Lizzy.
In the approximately 40 years since I bought my first long-playing vinyl record-type album thing, a whole lot has changed about the way the average person consumes music. This is pretty obvious stuff.
by Something Else Reviews Gary Moore, former guitarist with Thin Lizzy and Skid Row, has died at age 58. The Belfast-born Moore, perhaps most famous for his 1979 hit "Parisienne Walkways" with the late Phil Lynott, was found dead in a hotel room Sunday while vacationing at the Costa del Sol, Spain. The cause of death was not immediately known.Read More