Post Tagged with: "MC5"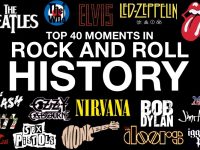 JC Mosquito counts down the most memorable moments in rock and roll history.
The irony, of course, was that Hilly Kristal originally wanted to open a roots-rocking Bowery bar — thus, the name: CBGB, which stood for "country, bluegrass and blues." Lucky for us, that's not how it turned out.
The intrigue of compilations like this is when seemingly incongruent artists successfully combine, or when somebody turns a familiar tune inside out.