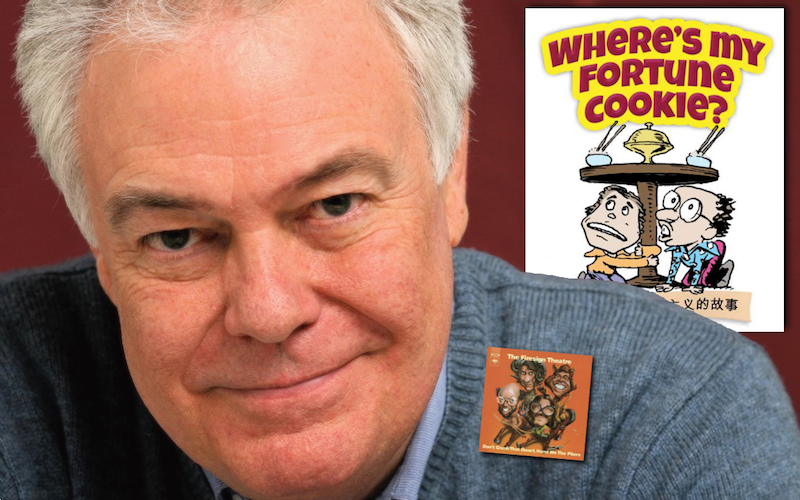 Phil Proctor is best known as a member of the Firesign Theatre, a comedy troupe that formed in the 1970s and created several adventurous albums that garnered a dedicated following. Recently, Proctor published an autobiography titled Where's My Fortune Cookie?, which he wrote with Brad Schreiber. On the surface one might believe that this book would mainly — maybe only – be of interest to those familiar with Proctor's work with the Firesign Theatre, and/or Proctor and Bergman. As a big Firesign fan, I believed that would hold true, not knowing much about Proctor's career. Upon reading the book, I was startled to learn that throughout Proctor's life he would frequently interact with some of the biggest talents on stage, screen, music, radio and TV.
I was also delighted, as the book is so fascinating that it won't matter if you were already one of Phil Proctor's fans. It is highly recommended, as it entertainingly reveals how this gifted performer came into contact with some of the biggest names in show business, and of pop culture. These include artists as diverse as Orson Welles, Brandon de Wilde, Sharon Tate, Jerry Lewis, Carroll O'Connor, David Letterman, Fess Parker, the Rugrats … and that's just scratching the surface of the breadth of celebrities Proctor was fortunate to have performed or somehow came in contact with – and even influenced, as he did with the late Harry Anderson, who as a bartender in Texas took Proctor's advice to move to Hollywood.
Consider that Proctor's life story is so jam packed with nuggets about his work, and the luminaries that would come into his orbit, that his tenure with the Firesign Theatre isn't covered until almost halfway through Where's My Fortune Cookie?. Having been a member of one of the most literate and articulate comedy teams, it's not surprising that Proctor is adept at weaving his life story with eloquence and humor, even when tragedy strikes.
The prime example of that is the story behind the book's title, which opens the biography with a chapter titled "Try the Duck." Proctor and Bergman came uncomfortably close to being casualties in what Proctor called a "public massacre" at a Chinese restaurant: Duck, indeed. But artistes are a world apart from most commoners, and despite being so close to death the show must go on, and the pair performed at the show scheduled for the next evening. Knowing they would make people laugh must have been somewhat therapeutic, considering having been through a horrific event that would have sent most people hiding for days.
There are a couple of minor quibbles with Proctor's book. There is no bibliography, which would have been appreciated for a rich biography full of famous and colorful characters. Also there are must be many untold stories behind the Firesign Theatre's output throughout the 1970s, and in the scheme of the biography there was less about the team then would be expected.
To that last item there is a ray of hope. Proctor began "The Proctor Podcast" on June 8, 2018,
from SueMedia Productions. The weekly show will be available at http://theproctorpodcast.podbean.com/. Between the book and the podcast, the world of Phil Proctor will enchant his many fans, and is likely to make you one if you aren't already.
©2018 Mike Tiano. All Rights Reserved
Best known for his work with the Yes-related fan page Notes From the Edge, Tiano launched the official website YesWorld and has written liner notes for several of the group's reissues. The Seattle resident is recording tracks for his upcoming album 'Creetisvan,' and is an expert on movies, TV, prog rock, and the Beatles. Contact Something Else! at reviews@somethingelsereviews.com.
Latest posts by Mike Tiano (see all)