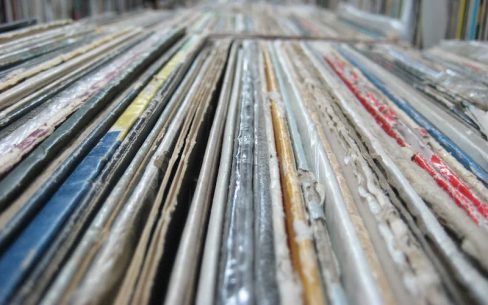 Whether it's about sports memorabilia, fine art, porcelain figurines, first-edition books, or whatever, there is something about the human condition that turns many people into collectors. Maybe it's simply an outgrowth of our basic need to assemble food and supplies; maybe it's more of an existential desire to create order out of chaos.
A third possibility is that collecting is borderline hoarding, and music collectors are no different than any other kinds of collectors when it comes to needing to establish the boundary between that which is respectable and that which is pathological. For instance, there's the rich Brazilian collector that has around 8 million vinyl LPs, which is so many records that he's got a team of assistants to clean and catalogue them all. And there's another guy who only collects one album, The Velvet Underground and Nico, of which he has about 800 copies and counting.
Both situations sound extraordinary, but not necessarily problematic. So, perhaps it isn't really about numbers at all: perhaps it's all about when you reach the point that you don't even know what's in your collection.
Anyway, this line of inquiry came about because I myself recently found a bunch of CDs I didn't know I had. Not only do I not know from where I acquired them, I can't say for sure why I might have even wanted them in the first place. For all I know, maybe little Compact Disc Elves put them in my storage racks while I was sleeping. Sounds a little nutty, for sure, but don't call the psych ward yet until I give them all a couple of spins to see if I was at least in my right mind when they magically appeared.
TREY ANASTASIO – TREY ANASTASIO (2002): I like Phish alright, and I really like Trey Anastasio's 2005 album Shine, which someone randomly gave me years ago. But I didn't even know he had other solo releases. This eponymous album logically fits somewhere between the improvisational stretching of Phish and the relative tightness of Shine, and features the 11 minute plus workout "Last Tube." Pretty cool; glad I have a copy.
FLEETWOOD MAC – THE BEST OF FLEETWOOD MAC (1996): This is apparently a UK assemblage of some tracks from the early Peter Green-fronted version of the band. There's "Albatross" and "Black Magic Woman" (made popular stateside by Santana), but no "Oh Well," which is probably due to some licensing thing. Overall, a modest introductory sample of the '60s blues-rock incarnation of Fleetwood Mac before they went on to mega-fame and fortune.
JANET JACKSON – RHYTHM NATION 1814 (1989): The video for the title track was cool, and it turns out much of the album is built on similar tough backbeats. It ends a on the light side for my tastes; more of those hard dance grooves would've given Prince a run for his money.
INXS – ELEGANTLY WASTED (1997): Not considered one of their classics, but a generally good pop/rock album, highlighted by "Don't Lose Your Head," "Girl On Fire," and the title track. Michael Hutchence's final studio appearance.
LYNYRD SKYNYRD – LAST OF A DYIN' BREED (2012): Not sure what happened here. I thought I had a copy of Skynyrd's earlier release God & Guns, but I found this instead, so maybe I'm just confusing the two. I know this edition of Lynyrd Skynyrd takes some heat for not being the old band, but you've got to think that whatever the southern rock scene currently is, Skynyrd helped create it. And since they're planning a farewell tour this year, Last of a Dyin' Breed might actually be their last studio album as well – not a bad way to end a career.
BONUS …
KISS – MONSTER (2012): The last Kiss album I remember buying was Dynasty, and I lost interest in them altogether shortly thereafter. Monster isn't bad: After 40 years, Gene and Paul know how to put a dozen Kiss songs together whenever the need arises. Oddly enough, the one criticism I have of the album is not its material but its sound, which comes across as kind of shrill and muddy at the same time. Usually that's not a problem for me, but maybe it's just that I've finally reached the age where I'm too old to like it loud.
JC Mosquito spends most of his day keeping the wolves from the door. When he's not occupied with this pastime, he's interested in all things rock and roll -- which may or may not have died back in the late 1950s, the late 1970s, or the early '90s, depending on who you believe. Contact Something Else! at reviews@somethingelsereviews.com.
Latest posts by JC Mosquito (see all)