Note: This article refers to an epithet (the "N" word) that John Lennon used in a song, although not in a racial context. While the word isn't explicitly included in this piece, it is said aloud and referred to in the videos and embedded links below. If readers are offended by the use of that word, they are advised not to watch the videos, or open the links. Thanks.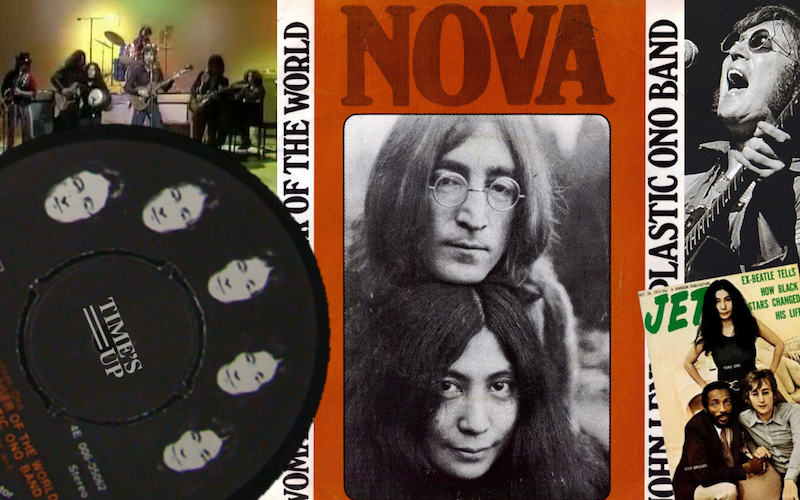 As the Time's Up / #metoo women's movement that began in 2017 rages on, it's worth noting that a major rock and roll icon and his famous wife addressed the women's rights issue decades ago. The response at that time was generally lukewarm — not surprising, considering back then the world was far from ready to acknowledge the mistreatment of females. Given the sea change that is currently in progress, John Lennon and Yoko Ono were ahead of their time.
In 1972, they released Sometime in New York City, the first album where the two shared top billing. As an aural document of their lives in New York City, its content didn't consist of songs about love and romance; instead the project targeted intolerance and injustice that the pair were witnessing through their association with key activists of the day, including Abbie Hoffman and Jerry Rubin. The song from that LP the pair chose to release as a single was stunningly contentious in its title and lyrics, both of which contained a racial epithet to get their point across: "Woman is the N––––– of the World." John Lennon was a rare breed: a rock star who didn't recoil from controversy.
Unlike many other rock/pop groups of the 1960s, the Beatles changed with the times, and Lennon was candidly vocal about his opinions. On March 4, 1966, he was quoted in British newspaper the Evening Standard on how religion's impact had gone off the rails, resulting in situation where the Beatles could be "more popular than Jesus." When that statement was reprinted out of context in the U.S. teen magazine Datebook on July 29, 1966, the subsequent fury unleashed by American religious zealots included death threats at Beatles' concerts. That was another reason the group decided to quit touring in 1966, in addition to the overall circus that surrounded their live performances, and the fact that their musicianship suffered as they couldn't hear themselves.
In 1969, John Lennon had penned "The Ballad of John and Yoko," which outlined the challenges behind his and Ono's efforts to be wedded. It became the first Beatles single to not be picked up by many U.S. radio stations, as the lyrics were deemed sacrilegious, provoking outrage: "Christ, you know it ain't easy, you know how hard it can be. The way things are going, they're going to crucify me." In the song's official video, a British traffic warning sign — an explanation point — would flash whenever the word "Christ" appeared. This provided skittish TV programmers a visual touchpoint for viewers if the decision was made to remove the audio for each occurrence of the word "Christ."
"Woman is the N––––– of the World" was released on April 24, 1972 as the A-side of a single, edited down from the album version (a verse was omitted which resulted in over a minute excised). Songwriting was credited to Lennon/Ono, and the performers listed as John Lennon / Plastic Ono Band "with Elephant's Memory and Invisible Strings." The B-side, "Sisters O Sisters," featured Yoko Ono; her name replaced Lennon's as performer with the composition credited to Ono alone. Her song was a simpler, more direct plea for females to gain wisdom and fight for their freedom, its message providing a more direct note to women than that of the A-side.
According to the AllMusic site Elephant's Memory was formed in 1967, specializing in "an eclectic Frank Zappa-like mix of psychedelia, jazz, and acid-tinged rock." Bass player Gary Van Scyoc said Elephant's Memory came to the attention of John and Yoko through Jerry Rubin, one of many New York City counterculture advocates the pair had become associated with and would ultimately influence the politically-tinged LP.
John and Yoko must have anticipated the firestorm that would result from "Woman is the N––––– of the World." On May 5, 1972, Lennon appeared with Ono on The Dick Cavett Show, where he explained that the title was originally made by Ono, who was quoted coining the phrase to a British women's magazine in 1969. Lennon divulged that although his "chauvinist" instincts initially provoked him to push back on Ono's notion, she eventually convinced him that women were indeed being treated as second class citizens by the male population at large.
John Lennon went on to state that one of the complaints from radio stations was that a white man can't say the N-word. To that he responded, "All my black friends feel that I have quite a right to say it, because they understand it." He then further defends that by reading an unrelated quote from Congressman Ron Dellums (who co-founded the Congressional Black Caucus and later became Mayor of Oakland, California) that was used in an ad placed by Apple Records in Billboard Magazine: "If you define 'n–––––s' as someone whose lifestyle is defined by others, whose opportunities are defined by others, whose role in society are defined by others, then good news! You don't have to be black to be a 'n–––––' in this society."
In support, the late comedian Dick Gregory appeared with John and Yoko on the cover of Jet Magazine, which featured an article on how Lennon was influenced by black musicians. Gregory was already a friend of the pair, having visited them during their 1969 Bed Peace event in Toronto. Gregory had also provided one of the inspirations for the song "Imagine" when he gave John and Yoko a Christian prayer book.
John and Yoko performed "Woman is the N––––– of the World" live on Cavett's show, and again at the "One to One" concerts held at Madison Square Garden in New York City on August 30, 1972. (There were two performances on that day.) While Ono thumped on a conga for the Cavett performance, she played a keyboard at the later concerts.
Despite the song's pedigree, "Woman is the N––––– of the World" failed to reach the top of the charts, not surprisingly considering the controversial lyrics. While the message was laudable, it was probably perceived as just that — a message. The song borders on being preachy, which wasn't helped by the fact that verses only occasionally rhyme, reinforcing the view that the music was secondary to the point that John Lennon was trying to get across.
The worst characteristic of the recording, however, is that it was co-produced by Phil Spector. "Woman is the N––––– of the World" is appallingly drenched in his overly echoed wall of sound production, and that overshadows the positive aspects that the tune does offer: driven by his conviction, Lennon's emotional vocals are powerful and can be counted amongst his best; the song itself is tuneful and melodic; and the band's rocking hard results in a winning performance.
It needs to be mentioned that prior to this single, John Lennon was no saint when it came to his own treatment of women, including his first wife Cynthia. In the interview with Playboy that was conducted shortly before his untimely death, Lennon commented on his participation in various Beatles songs. When presented with "Getting Better," he was blunt in his assessment: "All that 'I used to be cruel to my woman, I beat her and kept her apart from the things that she loved' was me. … I am not violent man who has learned not to be violent, and regrets his violence. I will have to be a lot older before I can face in public how I treated women as a youngster."
Not long after "Woman is the N––––– of the World," Lennon would fall off his un-chauvinistic wagon with his lost weekend, where he temporarily split with Ono and his actions caused him to be perceived as a womanizer. However, following this brief phase he would permanently reunite with Ono, which resulted in the birth of their son Sean.
"Woman," an ode to John Lennon's appreciation of females that graced 1980's Double Fantasy, was far more personal than "Woman is the N––––– of the World," providing further evidence that he honestly meant the words uttered at the start of the later song: "For the other half of the sky."
It bears repeating: With "Woman is the N––––– of the World," John Lennon and Yoko Ono were ahead of their time. And for those males trying to ignore that "Time's Up" – for those who may still think that it's normal to abuse women, as it's how it has always been – they have now been put on notice: The other half of the sky is falling on them.
©2018 Mike Tiano. All Rights Reserved.
Best known for his work with the Yes-related fan page Notes From the Edge, Tiano launched the official website YesWorld and has written liner notes for several of the group's reissues. The Seattle resident is recording tracks for his upcoming album 'Creetisvan,' and is an expert on movies, TV, prog rock, and the Beatles. Contact Something Else! at reviews@somethingelsereviews.com.
Latest posts by Mike Tiano (see all)