Veteran voice actor June Foray has died at age 99. Last year, Mike Tiano launched a petition asking the Academy Awards' Board of Governors to award June an honorary Oscar. Here's a look back at his overview to remember June Foray, and to celebrate the highlights of her extraordinary life and career. Rest in peace, June – and thanks for the joy you provided to countless fans, young and old.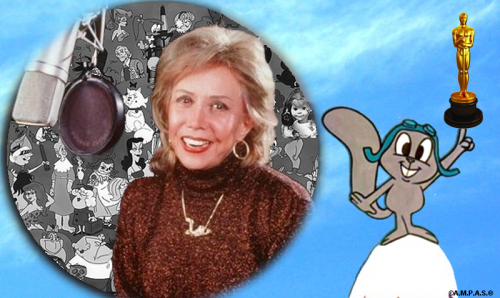 When it comes to contemporary voice actors there are a staggering number of individuals providing their vocal talents to numerous films and TV shows. The field is filled with those who are primarily devoted to that craft and others who perform that function alongside regular live acting and performing gigs. The former includes Seth MacFarlane ("Family Guy") and Hank Azaria ("The Simpsons"), while the latter boasts the likes of Amy Poehler ("Inside Out") and Kevin Hart ("The Secret Life of Pets") — to name a very, very few.
June Foray has now joined the list of legends in this field – Mel Blanc (who voiced Bugs Bunny and many other Warner Bros. cartoon characters) is one of the standouts – who are unfortunately no longer with us today.
Working with Walt Disney
June Foray is best known as the voice of Rocky the Flying Squirrel, as exemplified in the title of her book "Did You Grow Up with Me, Too?" (Click here to purchase.) Many of us can answer a resounding "yes" to the question in the book's title, and point to "Rocky and His Friends" as the cartoon series that shaped our sense of humor as kids. That program broke the wall between character and viewer which could be appreciated regardless of how old — or young — you were.
There were few cartoons if any from that era that would have the audacity to have the characters argue with the show's narrator (William Conrad), or inadvertently upset celebrities when punning on their names — including most famously a plot that centered on a hat called the Kerwood Derby, which incensed its subject ("Candid Camera" announcer Durward Kirby) to the point of sending show producer Jay Ward a cease and desist letter.
While any voice actor would welcome being identified with a single iconic cartoon character like Rocky, one has to look no further than the book's forward by film historian Leonard Maltin for an indication of June Foray's legacy. In it, Maltin recounts that at an Oscar Nominees' luncheon in 2007 he asked director Martin Scorsese who amongst the dozens of luminaries was Scorsese excited to meet there: "He smiled and said, "June Foray!"
Early in her career there were forays (pun not intended, but appropriate) as an actor in stage and film but she found success as a voice actor. In her autobiography June calls out the high points in here career, and what follows are notable but only scratch the surface of her incredible career.
June on working with Mel Blanc
June Foray worked with many other animation legends, including Mel Blanc and Chuck Jones at Warner Bros. One of the animated shorts where she and Blanc were both involved was "Broomstick Bunny," a Bugs Bunny cartoon from 1956 where June voiced Witch Hazel.
Looney Tunes' 'Witch Hazel'
Ironically, June had provided the voice work for a character by that same name in a Donald Duck short from 1952 titled "Trick or Treat." Not many performers could boast voicing the same character for competing studios Warner Bros and Disney.
Trick or Treat
In 1959, Mattel created Chatty Cathy, a doll that would "talk" when a string located in her back was pulled. June was commissioned by the toy maker to record a number of the different phrases that Cathy would say (like "I love You," and "Let's play house").
Chatty Cathy ad
A few years later June Foray would provide voices for a very different kind of doll. The 1963 episode of "The Twilight Zone" titled "Living Doll" centered around a similar but sinister toy named "Talky Tina." June must have had fun knowing the absurdity of being the voice for both the real, sweet doll, and the fictional evil one who wanted her stepfather dead (portrayed by Telly Savalas).
June on Cathy and Tina
Of course, June will always be identified first and foremost with that plucky squirrel Rocky. Jay Ward's cartoons may have been primitive compared to the classic movie shorts that preceded it, but there is no denying that for what was supposed to be a kiddie show the groundbreaking program captured the hearts and funny bones of countless fans.
Story of Rocky and Bullwinkle
Rocky, sidekick Bullwinkle the Moose, and "a host of others" (as deadpanned by Bill Conrad in the show's original intro) would mangle the English language, cultural icons, cartoon conventions, movie serials, children's' literature, political disputers, and even many more idioms, all to the delight of both adults and kids.
Rocky voice recording outtakes
June's book demonstrates that her show business career as a performer is as varied as it is long. She was Jerry Lewis' go-to performer for looping sessions on his movies. She performed with satirist Stan Freberg on many of his recordings. She worked with designer Saul Bass on short subjects that he created. She joined the Motion Picture Academy's board of governors, rallying for a Best Animated Feature Oscar years before one was actually created. She has still been active in recent years, providing voice work for Disney's "Mulan," among others.
Stan Freberg promo for Kaiser
Despite all of that, June Foray somehow never received an honorary Oscar for her achievements over her long career. This is why a petition was created to encourage recognition from the Board of Governors for the Academy of Motion Picture Arts and Sciences. You can still sign the petition below, showing that you agree that it's not only time June was recognized for her work, but that it's also long overdue.
Can this be successful? Rocky himself might be incredulous. But you never know, and someone who knows him best might be right…
"But Bullwinkle, that trick never works."
"Rocky, this time for sure…"
Sign the petition here.
©2017 Mike Tiano. All Rights Reserved.
Best known for his work with the Yes-related fan page Notes From the Edge, Tiano launched the official website YesWorld and has written liner notes for several of the group's reissues. The Seattle resident is recording tracks for his upcoming album 'Creetisvan,' and is an expert on movies, TV, prog rock, and the Beatles. Contact Something Else! at
[email protected]
Latest posts by Mike Tiano (see all)