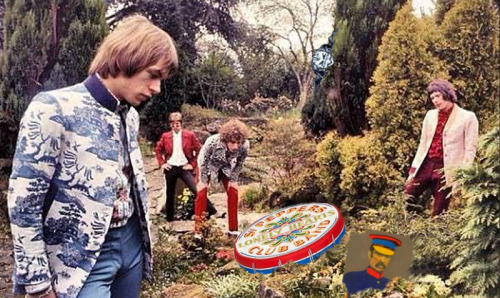 There is much to celebrate about the various 50th anniversary releases for the Beatles' Sgt. Pepper's Lonely Hearts Club Band, particularly items included with the super-deluxe edition of that milestone LP. That version includes a new stereo remix from producer George Martin's son Giles, based on the original mono mix – which itself is another bonus in that package. There are numerous takes from that landmark album, as well as the single that preceded it, "Strawberry Fields Forever" and "Penny Lane." The many features in this edition boggle the mind, and a full list can be found at the Beatles' "Sgt. Pepper's" web page.
In addition to all these audio gems there is the inclusion of a lavish, hard-cover book. It is exhaustively filled with eye-popping comprehensive details and colorful graphics about the making of the album by the Beatles, George Martin, engineer Geoff Emerick, and others. What elevates it even further is the detail that sets the scene, describing the state of the world at large, and, closer to (their) home, of Swinging London.
The latter provided the environment where the Beatles evolved as artists and individuals, and contributed to the chagrin of immature teeny boppers who would come to lament the demise of their lovable mop tops. The book's chapter "Sgt. Pepper in America" expresses one fan's reaction after viewing the "Strawberry Fields Forever" psychedelic promo video on Dick Clark's American Bandstand on March 11, 1967: "They look like grandfathers, or something" (to which Clark responded, "Interesting, gulp").
(OK, this is slightly off topic but a personal memory that is relevant to the perception that the Beatles "used to be" such clean-cut lads. After the Beatles' look moved from Sgt. Pepper quaint to the long-haired hippies of Abbey Road, my mother saw the cover photo of the Fab Four in dress shirts and ties on the 1965 Capitol release "Beatles VI," and retorted to me, "See? They used to be such good boys!")
In 1967, the Beatles were frequent visitors to one of the hippest venues in Swinging London: the UFO. The book's chapter "The London Underground" was written by Joe Boyd. He and John Hopkins managed the UFO, where many now-famous musicians and bands would be featured early on, including the Move, Pink Floyd, Fairport Convention, and Soft Machine, to name but a few.
Another band to frequent the UFO was Tomorrow, who have multiple mentions in Boyd's "Sgt. Pepper's" chapter and elsewhere in the book. That band showcased guitarist Steve Howe, the same musician who was inducted recently into the Rock and Roll Hall of Fame with Yes. Tomorrow's presence in that era was also highlighted in the title of the biography Joe Boyd wrote in 2006: "White Bicycles – Making Music in the 1960s," referring to "My White Bicycle," Tomorrow's signature tune from that era. Tomorrow is prominently featured in Boyd's 2006 publication, which is interest to anyone who wants to learn more about a period that spawned many future rock luminaries.
In April 1999, I conducted a phone interview with Steve Howe about two then-recent releases for Tomorrow. At that time, I wore two hats in relation to my association with Yes. Directly, I was the site manager for their official web site YesWorld, which I had recently designed and launched. That was Yes' conduit for the band and their management to announce official news, tour dates, products, and press releases. My presence there was always in the third person, posting only what I was advised to post, and when: I was always cognizant of the fact that this was their site, not mine, and never interjected myself into their news.
Indirectly was another story altogether. Prior to YesWorld I had been editor of Notes From the Edge since 1993. NFTE was an edited online journal that contained fan submissions, as well as conversations I would conduct with various Yes members and associates. Yes had no control over its content whatsoever. As these interviews were not official posts from Yes, I was free to ask whatever I wanted, and approached my questioning from that of the hardcore fan (which I admittedly was). This unshackled me from having to appeal to the widest common denominator, where I could execute deep dives into the thoughts and ideas of any given subject.
That is the approach I took when talking with Steve about Tomorrow. The link below navigates to the conversation that I conducted for the two Tomorrow releases, including an introduction of each of those albums. At the time, it struck me how the songs on Tomorrow's only studio album from 1967 mirrored some of the concepts from Sgt. Pepper's, and I discussed that with Steve. In addition, there is information about the direct interaction between the two bands. (One point of interest that didn't come up: Beatles engineer Geoff Emerick also contributed his talents to the Tomorrow production.)
Overall, the content is a companion piece of sorts to the era that is described in the book from the Sgt. Pepper's Lonely Hearts Club Band box set. This conversation may appeal to those interested in Tomorrow even without having read the box set's book.
There have been some minor edits made to the original posting that the reader won't miss, like fixing run-on sentences that at the time I was reluctant to eliminate in an effort to preserve each and every word Steve said. But there is one new set of additions that I felt would be largely beneficial, and that is the inclusion of YouTube videos to help provide some context to Steve Howe's comments. These appear as embedded windows, and as links within the text.
Be aware that those YouTube items are audio-only, as I was not able to locate any live performance video of Tomorrow. The band did make a non-musical performing appearance in the 1967 film "Smashing Time," where they were billed as "The Tomorrow."
In the YouTube link to the entire movie above, Tomorrow's scenes include one starting at 1:12:58 where at various times band members are displayed in a huge background picture. Coincidentally, the scene features actor Jeremy Lloyd, who had roles in the two Beatles films A Hard Day's Night and Help!
There is another scene where Tomorrow is prominently featured in a slapstick-y restaurant scene beginning at 58:12, which culminates in everyone getting pelted with pies. (In that scene Steve is wearing a blue suit with silver stripes and wide lapels, sitting next to top-hatted drummer Twink.)
I hope the reader enjoys this step back into a time where the London era provided a real-life permanent dream for Tomorrow, and for Steve Howe.
Click HERE for a link to the Tomorrow interview.
©2017 Mike Tiano. All Rights Reserved.
Best known for his work with the Yes-related fan page Notes From the Edge, Tiano launched the official website YesWorld and has written liner notes for several of the group's reissues. The Seattle resident is recording tracks for his upcoming album 'Creetisvan,' and is an expert on movies, TV, prog rock, and the Beatles. Contact Something Else! at
[email protected]
Latest posts by Mike Tiano (see all)