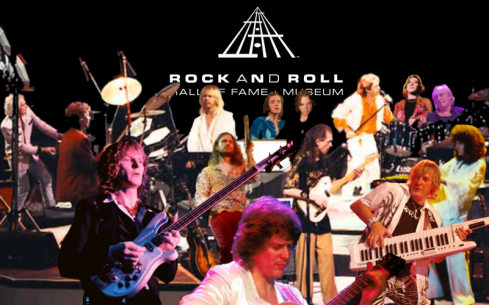 The Rock and Roll Hall of Fame has announced the inductees for the class of 2017. The full list is below, including one band that should have been inducted long ago: Yes.
Journey, Electric Light Orchestra, Pearl Jam, Tupac Shakur, Joan Baez and Nile Rodgers will also be recognized at the 32nd annual Rock and Roll Hall of Fame induction ceremony, scheduled for April 7, 2017, at the Barclays Center in Brooklyn.
On December 16, 2016, I wrote an open letter to the Rock and Roll Hall of Fame board members and to those Yes fans who maintained they didn't care about the hall of fame – and that Yes shouldn't either. In that open letter, I made the case as to why both parties should stop being "selfish stupidshits" and give Yes their due.
With today's announcement, it would seem the board members finally saw the light by including Yes — but they're not off the hook yet. Yes' induction was way too late, especially for the late Chris Squire, and for that reason alone the tardiness for this event is hard to forgive. But it's even later for progressive rock in general, where deserving bands were ignored in favor of performers in other genres that had little or nothing to do with rock.
While Keith Emerson and Greg Lake are no longer with us, Emerson Lake and Palmer were immensely popular in their heyday – and there is no explanation that would support why they shouldn't be inducted. King Crimson may not have had ELP's mammoth sales in terms of box office or albums/CDs, but Robert Fripp's various ensembles were always challenging, entertaining and influential, maintaining an integrity that many artists in the hall of fame greatly lack. Jethro Tull did generate big revenues while breaking through boundaries that set them apart: not many rock artists can boast having a flute as a primary instrument, or question religion and gain hit albums in the process. One would assume that the Moody Blues are already in the hall, considering how immensely popular they have been, but of course they too have yet to be inducted.
There are deserving musicians who broke out of their landmark bands. This includes Rick Wakeman, both as session player with huge milestones for David Bowie and Cat Stevens, and as a solo artist with spectaculars that awed consumers as they disgusted rock purists. Wakeman's public outrage at the hall of fame's disdain for prog probably won't help in convincing any of the board members, even after winning with Yes.
And then there is one: Steve Hackett, who was inducted as a member of Genesis in 2010. Hackett was a major and sometimes sole voice for progressive rock in the face of the burgeoning punk and new wave movements during the late 1970s, and throughout the 1980s. He was the saving grace during an era that had very little progressive rock. With Phil Collins hinting at a Genesis reunion in 2017, only naïve fans would hope for Hackett to be included – let alone fellow Rock and Roll Hall of Fame 2014 inductee Peter Gabriel.
Any Genesis reunion tour is sure to consist of tunes like "Abacab," "Invisible Touch" and "Land of Confusion" — no more uninspired medleys of older stuff, as those fans abandoned Genesis long ago. If it's live renditions of their progressive output you're looking for, that music still lives thanks to Steve Hackett, who in recent years has kept the flame burning by spotlighting songs from albums up through Wind and Wuthering.
Alas, Wakeman and Hackett are likely long shots along with others that should be considered for future Rock and Roll Hall of Fame classes. These include Gentle Giant, Renaissance, Van Der Graff Generator, Camel, Kansas, Spock's Beard, Porcupine Tree, Styx … insert your own favorite prog acts here.
In the words of another potential inductee, only time will tell. Whether Asia or any of the aforementioned artists are ever considered, it's about time that Yes were inducted – and now fans everywhere can rejoice. As for the hall of fame haters who think Yes should refuse being inducted altogether, they have a champion in Wakeman – who will keep us in suspense as to whether he attends the ceremony at Barclays Center in Brooklyn come April 2017, despite his comments that he may be too busy washing his hair that night.
It's easy to say better late than never, but those words ring hollow words when one considers that the one Yes member who was in every one of their lineups, and should have basked in the glow of finally getting inducted, is no longer here to enjoy it – at least in the corporeal sense. But wherever his soul is now, I bet Chris Squire is beaming for his family, bandmates, and fans.
© 2016 Mike Tiano. All rights reserved.
Best known for his work with the Yes-related fan page Notes From the Edge, Tiano launched the official website YesWorld and has written liner notes for several of the group's reissues. The Seattle resident is recording tracks for his upcoming album 'Creetisvan,' and is an expert on movies, TV, prog rock, and the Beatles. Contact Something Else! at reviews@somethingelsereviews.com.
Latest posts by Mike Tiano (see all)