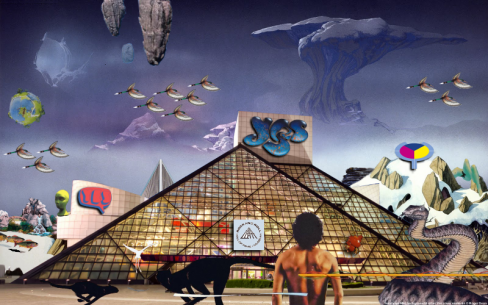 On December 20, 2016, the Rock and Roll Hall of Fame will announce the inductees for the class of 2017. This is an open letter to the hall's board members, and to those prog rock fans who claim they don't give a rat's ass about that "institution" in Cleveland …
I'll start by getting my main point out of the way: It's time you all stopped being a bunch of selfish stupidshits.
OK, I'll be somewhat charitable, or try to be. Maybe not all of you are selfish stupidshits, but most of you apparently are. I'll start with those board members who love to throw a big party and don't want any pesky artists they despise to mess that up for them by being inducted.
Greg Lake died a few days ago. Lake was an original member of King Crimson, whose debut album was heralded as groundbreaking by the likes of Jimi Hendrix and Peter Townshend. Though Lake hasn't been in Crimson since 1970, that band is still going strong — or did you board members totally miss David Fricke's glowing piece in Rolling Stone on Crimson in 2014? Yeah, you probably did.
Lake was also hugely successful alongside Keith Emerson (who died earlier this year) and Carl Palmer in Emerson, Lake and Palmer, selling millions of albums and concert tickets to consumers who, incredible as it seems, actually wanted to hear their music and were not forced to do so at gunpoint.
Which brings us to Yes. Their 50th anniversary is right around the corner, and this is the third time they've been nominated. They're still touring today in not one, but two bands: one under the Yes name which includes longtime members Steve Howe and Alan White; and Anderson Rabin and Wakeman featuring founder Jon Anderson, guitarist/hit songwriter Trevor Rabin, and keyboard superstar Rick Wakeman, respectively.
Over the last few decades, Yes has entertained millions, had radio hits (including the No. 1 "Owner of a Lonely Heart"), and unfortunately have also lost members – chief among them bassist Chris Squire. Rick Wakeman recently went off on the Rock and Roll Hall of Fame (and justifiably so). After ARW's performance in Seattle, Wakeman told me he was angry that this honor didn't occur in Squire's lifetime. There is no excuse for this.
It's time you board members boned up on your own rules on requirements, which Yes has met. One big prerequisite is how influential the artist has been. It's not a stretch to state that if one were to ask a consortium of bass players who would be considered the most influential, Squire would be right up there with Paul McCartney, John Entwistle, and James Jamerson. The same goes for the other members — including Howe for guitar, and Wakeman for keyboards.
Yes inspired other nominees competing for your "fan vote" — through that poll seems to be nothing more than an advertising ploy. (Yes was overlooked last time, even though they were among those who received the most votes.) Consider Pearl Jam, another class of 2017 nominee. Their guitar player Steve Gossard told director Cameron Crowe, "There's so much for this band to accomplish … but what I really want is for us to make our Tales From Topographic Oceans." That quote appeared in a glowing piece Crowe wrote for the 2002 compilation Yes – In a Word; it is reprinted on Crowe's official website, The Uncool.
While we're speaking of Mr. Crowe (who owes Yes somewhat of a debt, as he found his calling after covering Yes for Rolling Stone), why haven't we heard from him on Yes' induction? Is it because he doesn't want to offend his good buddy, RS editor/publisher Jann Wenner — who is in all likelihood behind the veiled NO PROG COVERAGE moratorium for Rolling Stone's print editions? Come on, Cam, prove me wrong. Go public with your support.
Let's not forget some of the other class of 2017 nominees. Journey started out as a progressive rock band. Electric Light Orchestra might not have been prog in the same sense Yes is, but they were symphonic — which is not too far off from being progressive. And in a recent online conversation, guitarist Elliot Easton of the Cars told me the following about Steve Howe: "… I have always respected his work. He is a very fine guitar player."
Need more proof that Yes belong in the Rock and Roll Hall of Fame? How about those past inductees who ARE vocal about Yes getting into the hall (and who I assume are also board members, hence my reason for stating at the onset that not all of you are selfish stupidshits): After Rush was inducted, Geddy Lee had been often quoted about his own feelings about Yes' snub. After Yes lost out for the class of 2016, Lee tweeted, "… No Yes??? Are you kidding me??" (See that link for how Yes fulfilled other HOF requirements.)
OK, it's true that Rush has frequently cited Yes as influences during the 1970s, and you board members smugly think, "Hardly objective." (Like you are? Never mind.) 2014 inductees Kiss are worlds away from Yes musically. But Kiss guitarist Paul Stanley expressed his dismay that Yes has been overlooked by the Hall of Fame board while artists in non-rock genres slide right in. In an interview with Radio.com in 2014, Stanley was asked which artists would get his vote to be inducted in 2015: "Whether or not I'm a huge progressive rock fan, Yes has spanned and bridged progressive rock into radio rock, I think they belong in there."
To consider Stanley's comments remarkable would be giving him short shrift: As a professional musician who has lived in the world of rock music for literally decades, he's being objective. As he said, he might not be a prog fan, but that's beside the point.
I haven't forgotten about you rats' asses … oh sorry, I mean those fans who don't give one. You poor, misguided souls think you are the true fans. You hate Rolling Stone (whose publisher Wenner is chairman of the hall's foundation) for all those nasty reviews since the mid-1970s, and for not reporting any (repeat, any) news about Yes or prog rock in their print edition (though ironically that is not the case online) — including the deaths of both Emerson and Squire. The Rock and Roll Hall of Fame won't induct Yes? Well, then, "FUCK THEM AND THE LEAR JET THEY CAME IN ON! Yes don't need that biased piece of crap, and neither do we!"
I feel your pain. I really do. But while no band "needs" the validation of the hall of fame, you fans are doing Yes no favors. You may think you mean well. But if you flipped the bit by posting your support on social media, and had voted for Yes daily on the hall's site to put Yes way over on top (even if that is only a symbolic victory), those actions might have the same effect that a similar approach did for Rush.
It's true that there were Rush fans who were equally hostile towards the Rock and Roll Hall of Fame before the Canadian power trio was inducted, but there were more fans who were supportive, and because of that the tides turned. This was crystallized in drummer Neil Peart's induction speech: "We've been saying for a long time — years — that this wasn't a big deal. Well, it kind of is." Rush would state on many occasions that they were mainly happy for the fans.
Maybe the disparity between Rolling Stone's print and online editions is a matter of immediacy. Ever since Rush's induction was announced, the band has been covered regularly by RS online, and not just with announcements for tour dates, CDs, and DVDs. There have been numerous special features, and that hasn't let up. That kind of exposure can only help a band. Anti-Hall of Fame Yes fans should consider how increased content on Rolling Stone online will benefit Yes, as it will spark more interest in product, ticket sales, and more. A successful band is a happy band, and that follows suit for their fans. If you really consider yourself a Yes fan then stop being the selfish stupidshits the board members have been and SUPPORT Yes.
As for you hall of fame board members who read this and think, "If there are Yes fans don't care, why should we?" They care — a lot. They're just pissed that the Rock and Roll Hall of Fame has bent the rules so you can schmooze with celebrities to impress your spouses/flames and friends, and that by ignoring prog those fans have decided that the hall has zero credibility. (Thank you, Paul Stanley and Steve Miller, for exposing "that man behind the curtain".)
I bet you're thinking, "What's in it for me?" For the hall of fame, it's a win-win situation. Yes would be brought together for the first time since Jon Anderson was ejected many years ago. The anticipation alone would generate a lot of interest, if not excitement. Think of the potential drama: Will there be unpleasant words exchanged? Will there be fisticuffs? On the other hand, there could be some positive reconciliation, and if so you can take credit for getting the band back together for the first time in years. You can advertise the hell out of it for the broadcast. For the hall of fame, it's great PR — and for fans, it's no small gesture.
You could even get Rock and Roll Hall of Fame inductee Genesis' Phil Collins to present the award to Yes. In his autobiography, Collins mentioned having gotten Jon Anderson's phone number for an audition, when it appeared Bill Bruford would leave Yes to go back to college. (In the book, Collins said he never made that call, though Yes members remember a pesky Collins nipping at their heels.) Bruford was also a part of Genesis' touring band in 1976 when Collins took over as lead singer, after Peter Gabriel departed that band. So, you're welcome.
It's time to stop being an old boys' club, treating Yes and their prog brethren as minorities who don't belong. Induct Yes this year, and next year don't forget that Emerson Lake and Palmer, King Crimson, and Jethro Tull — amongst others — have satisfied the requirements for nomination and induction, regardless of your prejudice and narrow views. It's too late for Lake, Emerson or Squire to see that they have been recognized in their lifetimes — but it's not too late for their families, who would appreciate it more than you would care to admit.
There is one last thing. You listed who in Yes would be inducted: Anderson, Bruford, Kaye, Squire, Howe, Wakeman, White and Rabin. You have reasons for not including some of the other members. But while I, and the fans, may not agree with your reasoning, I'm interested in winning one particular battle — not the war — and one worth fighting for…
WHEN you announce Yes' induction in the coming weeks, make sure you include Peter Banks. He was an original member. He was the one who set the standard for the guitar players that followed. (Howe and Rabin would agree — ask them.) He even named the band. He was ejected early on from the band he cared passionately about. His death was another not reported by Rolling Stone's print edition, and he died in poverty in the shadow of the band he helped shape for success, and that he dearly loved.
To not induct him posthumously would be a final indignity to his memory, and to his fans. He absolutely deserves it.
The third time must be the charm. Induct Yes into the Rock and Roll Hall of Fame Class of 2017.
Editor's Note: Mike Tiano is not affiliated with Yes in any official capacity. Although Tiano became Yes' site manager when he launched Yes' official web site YesWorld in 1998 his association with Yes ended in 2011. Outside of running the fan site and Facebook page Notes From the Edge, he is no longer involved with Yes from an official standpoint. This open letter from Tiano does not represent Yes members, their management, or their staff.
© 2016 Mike Tiano. All rights reserved.