Earth, Wind and Fire founder and frontman Maurice White died the morning of February 3, 2016 after a long battle with Parkinson's Disease. He was seventy-four years old.
Before Earth, Wind & Fire, White's career got going in 1966 when eminent crossover jazz pianist Ramsey Lewis hired him to be the drummer in his band shortly after Lewis scored a blockbuster hit with "The In Crowd." Eight years later, White returned the favor to Lewis by lending his talents to an album that put Lewis back in the public spotlight.
Below are my original thoughts from 2008 about a funk-jazz classic that has become as idientified with Lewis (and with EWF) nearly as much as "The In Crowd." It's a testament to the RnB genius of White that was manifest even before his own band's breakthrough album That's The Way of The World.
---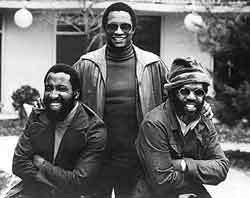 Like Ahmad Jamal, Cecil Taylor and Paul Bley, Ramsey Lewis is a jazz pianist who first emerged in the 1950s and is still with us today. Unlike those other cats, though, Lewis was never accused of challenging the existing conventions of jazz. With crossover hits like "The In Crowd" and "Hang On Sloopy," both from 1965, Ramsey undoubtedly reached a larger audience, though.
As r&b and popular music in general changed dramatically as the sixties turned into the seventies, so did Lewis. By 1974, he had largely dispensed of his acoustic piano in favor of electronic keyboards and synthesizers (although that was only temporary). In that year, Lewis recorded an album for Columbia records that was one of his best sellers of all time. It was mainly pop-oriented jazz as usual, but some of the tunes weren't quite as lightweight as what he was generally known for.
It got a big assist by the contributions of his former drummer from the late sixties. This drummer co-wrote and produced two of the tracks for his former boss, and had most of his band play on those tracks. That drummer's name was Maurice White and his band at the time was none other than Earth, Wind & Fire.
Both of the EWF cuts were highlights on this album, but the best of the two was the one the album is named after: "Sun Goddess."
[SOMETHING ELSE! INTERVIEW: Ramsey Lewis talks with us about a return to the Fender Rhodes, his trio's connection with Earth Wind and Fire, and why "The 'In' Crowd" would never cross over today.]
"Sun Goddess" has most of the elements that would propel this r&b band into superstardom less than a year later: a jazz-inflected, uplifting melody, outstanding harmony vocals (wordless in this case) led by Phillip Bailey's unbeatable falsetto, and a rhythm guitar-paced solid groove that could easily get people swaying to it today.
The leader contributes a Fender Rhodes solo that rides that groove rather competently, but honestly, this is more Earth, Wind & Fire's show, here. Not that Lewis could complain, since after all it helped give him another hit record.
EWF would include this tune in their live album Gratitude late the following year and that's probably the version most of their fans are familiar with. Myself, I'm more partial to the original; it has a slightly grittier sound to it that's endearing to me. Either way, it's a classic slab of the more funkier side of Ramsey Lewis…or the jazzier side of Earth, Wind & Fire.

S. Victor Aaron is an SQL demon for a Fortune 100 company by day, music opinion-maker at night. His musings are strewn out across the interwebs on jazz.com, AllAboutJazz.com, a football discussion board and some inchoate customer reviews of records from the late 1990s on Amazon under a pseudonym that will never be revealed. E-mail him at
[email protected]
.com or follow him on Twitter at https://twitter.com/SVictorAaron

Latest posts by S. Victor Aaron (see all)