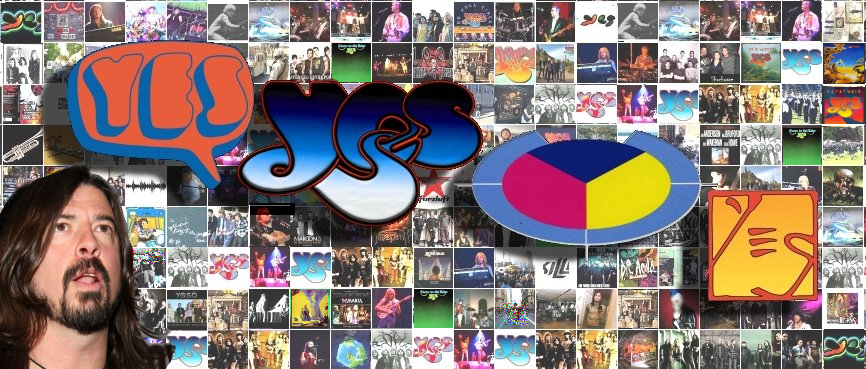 Enough is enough.
Yeah, I'm talking to you, Dave Grohl. And to you too, Taylor Hawkins. And yeah, you, Cameron Crowe. And you, Stone Gossard. And this is also directed to many of you musicians and insiders, as diverse as Rudy Sarzo, Alphonse Mouzon, Jerry Greenberg, Paul Stanley, Brian May, Geddy Lee, Steve Lukather, Joe Bonamassa, Peter Frampton, etc. etc. etc.
Many of you have made comments indicating how influential Yes has been, either for you personally or for rock and roll in general. Now, it's time for the rubber to hit the road.
Once again, Yes has been nominated to be inducted into the Rock and Roll Hall of Fame. It's been a tough nut to crack. Petitions haven't helped. The fan ballot at Rolling Stone didn't matter. In fact, the Rolling Stone article announcing the "Class of 2016" doesn't even list Yes as "leading the pack." Getting U.S. politicians of both parties to finally agree on one thing (Yes' induction) brought attention but was unsuccessful in winning.
It would seem futile, but it isn't. Consider another once-hopeless case. Many years ago a Rock and Roll Hall of Fame board member sneered that Rush would NEVER get inducted. NEVER. But times change — and Rush's musical influence, output and perseverance finally couldn't be denied.
For Yes, it may happen eventually, but it's already too late. The late Chris Squire should have lived to have seen that day. It's now time to right that wrong.
The question is this: Who has the most influence on the board members for the Rock and Roll Hall of Fame? I believe it's their peers, those established in the industry — mostly, the musicians.
So, how can you help? Easy. If you agree that Yes should be inducted into the Rock and Roll Hall of Fame in 2016, then take action. NOW.
Here's how you can make a tremendous impact:
• Issue a press release stating that you think Yes should be inducted for 2016, and why.
• Bring it up in interviews. If you already mentioned this in the past, do it again.
• Post a notice on your official web site.
• Tell your management to alert me that you've done this (or do it yourself). I'll compile and post links to your content — online print, videos, audios, web site announcement, whatever — and promote the hell out of it.
• Ask your fellow musicians and music industry insiders — friends and colleagues alike — to do the same.
Here's why I called you out, Dave Grohl. You weren't afraid to say that Rush was always cool. One of the criteria for induction into the Rock and Roll Hall of Fame addresses how influential the artist has been.
And who was one of Rush's big influences — and well as to countless others who have sold a ton of records and concert tickets? One guess, Dave.
I'll be watching for your notification, along with those of your colleagues. While I know there are no guarantees, I believe with peer support that it will be hard to deny Yes' induction this time.
It's time for all of you industry folks to put your money where your mouth is. Otherwise, please don't damn Yes with faint praise.
ACT NOW!
Best known for his work with the Yes-related fan page Notes From the Edge, Tiano launched the official website YesWorld and has written liner notes for several of the group's reissues. The Seattle resident is recording tracks for his upcoming album 'Creetisvan,' and is an expert on movies, TV, prog rock, and the Beatles. Contact Something Else! at reviews@somethingelsereviews.com.
Latest posts by Mike Tiano (see all)