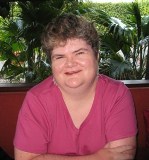 Deep Beatles columnist Kit O'Toole will be making several appearances as part of this weekend's Fest For Beatles Fans at Chicago's Hyatt Regency O'Hare.
On Saturday, Aug. 15, at 4:15 p.m., O'Toole will take part in the Women Historians Panel, held at 4:15 p.m in the Paperback Writer Room. Immediately following that panel discussion, she will co-host Songs We Were Singing, a conversation with Robert Rodriguez, at 5:30 p.m.
On Sunday, Aug. 16, Kit O'Toole will talk about John Lennon's protest songs for a radio broadcast with Jude Kessler, at 1 p.m. in the Paperback Writer Room. Then, at 6 p.m., she's discuss Ten Beatles Sounds That Changed the World, in the A/BBEY Ballroom. O'Toole previously gave this presentation at the Los Angeles Fest and Beatles at the Ridge.
Fans can stop by tonight (Friday, Aug. 14) for the Meet the Guest Authors Panel, beginning at 5:30 p.m. in the main ballroom.
O'Toole's writes a regular column for Something Else! that focuses on lesser-known tracks from Lennon, Paul McCartney, George Harrison and Ringo Starr.

The Something Else! webzine, an accredited Google News affiliate, has been featured in The New York Times and NPR.com's A Blog Supreme, while our writers have also been published by USA Today, Jazz.com and UltimateClassicRock.com, among others. Contact Something Else! at reviews@somethingelsereviews.com.

Latest posts by Something Else! (see all)