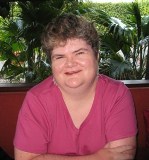 Something Else! columnist Kit O'Toole will be a featured speaker throughout this weekend's Los Angeles Fest for Beatles Fans.
At 2 p.m. PT today (October 11, 2014), she will be a member of panel discussing the essential songs of the Beatles' solo careers, hosted by Andrew Jackson, author of Still the Greatest. Then at 3 p.m. PT, O'Toole will join a panel of Beatles researchers, writers, and scholars will discuss current topics in Beatles fandom, including the restored edition of Hard Day's Night. That discussion is titled "She's A Woman … Historian!" Both of these talks will be held in the Paperback Writer Room (aka the Atlanta/Boston Room) at the LAX Marriott host hotel.
On Sunday, (October 12, 2014), O'Toole will make a special presentation called "Top Ten Beatles Sounds That Changed the World," to be held at 6:30 p.m. PT at the Blue Jay Way Stage (aka the Imperial Ballroom). An earlier presentation at the Beatles at the Ridge event earned O'Toole a standing ovation.
O'Toole, who is a regular contributor at Beatlefan magazine, writes a regular feature at Something Else! titled Deep Beatles, which focuses on lesser-known moments in the Fab Four discography.