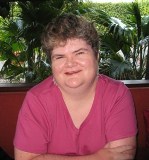 Kit O'Toole will make a return appearance tonight on the John Lennon Hour internet radio program, hosted by author Jude Southerland Kessler. O'Toole, who writes for Something Else! and Beatlefan magazine, will be discussing Ten Beatles Sounds That Shook Rock and Roll.
The John Lennon Hour airs at at 9 p.m. Eastern/8 p.m. Central September 4, 2014 via Blog Talk Radio. O'Toole's visit serves as a preview for a presentation she'll make on the same subject during the Beatles at the Ridge Fest, held later this month at Walnut Ridge, Arkansas. O'Toole is slated to speak there on September 20.
Kessler recently issued her latest Lennon-related book, She Loves You. Earlier releases in her series include Shoulda Been There and Shivering Inside. O'Toole writes a regular column for Something Else! that focuses on lesser-known tracks from Lennon, Paul McCartney, George Harrison and Ringo Starr, called Deep Beatles.

The Something Else! webzine, an accredited Google News affiliate, has been featured in The New York Times and NPR.com's A Blog Supreme, while our writers have also been published by USA Today, Jazz.com and UltimateClassicRock.com, among others. Contact Something Else! at
[email protected]

Latest posts by Something Else! (see all)