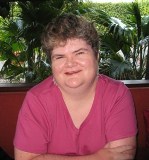 Deep Beatles columnist Kit O'Toole will be a featured speaker both Saturday and Sunday at the Fest for Beatles Fans, Hyatt Regency O'Hare in Rosemont, Illinois.
On Saturday, August 16, 2014, O'Toole will be part of a panel discussion titled "She's a Woman … Historian!" at 4:15 p.m. in the O'Hare Ballroom. She will be amongst a group that also includes Sara Schmidt (blogger, "Meet the Beatles for Real"); Susan Ryan (proprietor, Fab 4 NYC Walking Tours); Allison Boron (freelance rock journalist); Tina Kukla (author of two Beatles novels); and Karen Duhaj (scholar, author of linguistic analyses of the Beatles). They will be discussing the Beatles' legacy past, present, and future, along with topics such as the new restoration of A Hard Day's Night.
On Sunday, August 17, O'Toole has organized a panel discussion titled "Across the Cyber-Beatles Universe," to be held at 1 p.m. again in the O'Hare Ballroom. Featured are a number of Beatles bloggers, podcasters, and broadcasters including Robert Rodriguez and Richard Buskin (authors and co-hosts of the podcast "Something About the Beatles"), Schmidt and Lanea Stagg (author, Recipe Records Cookbooks, and host of the show "Recipe Records Cookbook"). Moderator will be Greg Alexander, better known to Chicagoans as "Professor Moptop," frequent contributor to Terri Hemmert's weekly show Breakfast with the Beatles on WXRT-FM. The discussion will focus on how the internet has changed Beatles research, how fans network with each other, the pros and cons of working online, and what the future holds for the Cyber-Beatles universe.
Can't make the Fest for Beatles Fans? O'Toole will be tweeting from on site throughout the weekend. Follow her at @kitotoole or @beatlesgeek. She'll also be updating via Instagramat http://instagram.com/beatlesgeek.
O'Toole publishes a bi-monthly column on some of the Fab Four's lesser-known gems for Something Else!, and plans to publish a collection of those pieces in a forthcoming book, as well.

The Something Else! webzine, an accredited Google News affiliate, has been featured in The New York Times and NPR.com's A Blog Supreme, while our writers have also been published by USA Today, Jazz.com and UltimateClassicRock.com, among others. Contact Something Else! at
[email protected]

Latest posts by Something Else! (see all)