A search on RollingStone.com for the keywords "hall+of+fame+2014″ late Monday night brought up what appeared to be the list of final inductees into the 2014 Rock and Roll Hall of Fame.
The story — it was only available in preview; a screen grab is below — confirms Kiss, Nirvana, Hall and Oates, Peter Gabriel, Cat Stevens and Linda Ronstadt among those who will apparently join next year's class.
Other possible honorees include the E Street Band, which will reportedly be given an award for musical excellence; and Brian Epstein, who guided the Beatles to international fame. The official announcement on next year's complete slate of inductees was not due until Tuesday, December 17, 2013. Kiss, Nirvana and Hall and Oates each finished in the Top 5 among fan votes, with Nirvana — in its first year of eligibility — coming in second to Kiss, 17.22 to 15.69 percent.
Hall and Oates earned fifth place in the balloting with 8.1. Gene Simmons and Paul Stanley have continued Kiss into a new generation, while Kurt Cobain's suicide ended Nirvana's early-1990s run of influence. Shut out are apparently two fan favorites: Deep Purple finished third with 11.93 percent in the popular poll, with Yes at fourth with 10.88.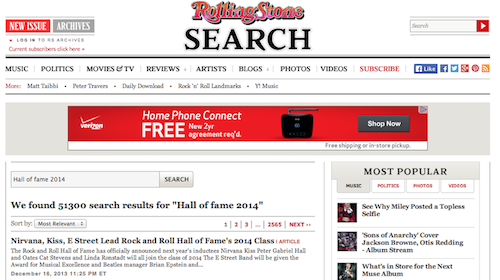 The Something Else! Reviews webzine, an accredited Google News affiliate, is syndicated through Bing News, Topix and AllAboutJazz.com. The site has been featured in The New York Times, NPR.com's A Blog Supreme, the NoDepression.com Americana site, Popdose.com and JazzTimes, while our writers have also been published by USA Today, Jazz.com, Rock.com, Blues Revue Magazine and UltimateClassicRock.com, among others. Contact Something Else! at reviews@somethingelsereviews.com.

Latest posts by Something Else! (see all)