By the time Eric Clapton gathered a working band in support 1983′s Money and Cigarettes (home to the Top 10 U.S. hit "I've Got a Rock 'n' Roll Heart"), the guitarist was clean and sober.
Not that there wasn't drama involved, anyway.
First, his drummer — Muscle Shoals drummer Roger Hawkins, a Traffic touring vet — split after only a couple of weeks.
Then, there arose a controversy over the tie-in sponsorship between the tour and Camel cigarettes.
None of that, however, compared to the headline-grabbing misadventure involving Clapton's gala performances at the Royal Albert Hall.
Meant to celebrate his 20th year as a solo artist, the date was to include an all-star cast of music-biz friends. But, as this excerpt from the just-released book Eric Clapton, Day by Day: The Later Years details, even the long-awaited appearance on stage of all three Yardbirds guitarists was partially overshadowed by a no-show moment from the mercurial Rod Stewart …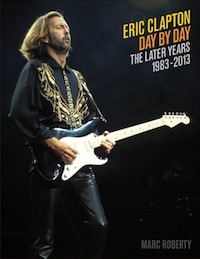 The following is an excerpt from Eric Clapton, Day by Day: The Later Years, 1983-2013 by Marc Roberty, published by Backbeat Books, an imprint of Hal Leonard Performing Arts Publishing Group. Reprinted here with permission of the publisher:
By 1983 Eric Clapton was enjoying lengthy periods of sobriety and spending most of his spare time fly-fishing. What he was not doing was writing songs. The year would turn out to be a dryspell for him in terms of writing. With a new album in the can ready for release, Eric flew out to Los Angeles on 10 January to start rehearsing for a month-long tour of the U.S. The new band consisted of Donald "Duck" Dunn on bass, Roger Hawkins on drums, Albert Lee on guitar — all of whom had been on the Money and Cigarettes album sessions — and the welcome return of Chris Stainton on keyboards.
Eric had come to know Ry Cooder during the sessions for Money and Cigarettes in 1982. He liked Ry and had long admired his style of playing. Ry seemed an obvious choice to be the support act for Eric on the 1983 U.S. tour. As Eric was now hardly drinking, certainly not on the road, anyway, his performances were a lot tighter than those on the tours between 1980 and 1982. That said, his guitar tone was lacking fire and passion, but at least he was much more out front, confident, and getting favorable reviews.
As the new album was called Money and Cigarettes, the marketing men thought it would make sense to have a big cigarette company come on board and promote the tour. After some negotiations the U.S. tour ended up being sponsored by Camel cigarettes, which caused a certain amount of controversy. The American Lung Association felt that Eric was neglecting his social responsibilities as a famous person by encouraging people to buy cigarettes. Clearly they were a little misguided, as the advertising was obviously aimed at encouraging existing smokers to change brands. Ironically for Camel, Eric is seen with a pack of Rothmans on the front cover of the album. Actually, the cover is one of Eric's best, offering a Dali-meets-Magritte image with a melting Strat on an ironing board.
Roger Hawkins, the well-respected Muscle Shoals drummer, decided to quit the tour after only a couple of weeks as he was finding touring a little too hard. He had been off the road for ten years since playing with Traffic. He admitted that he hated the traveling, and this, coupled with the fact that he was not able to bring his family along, spurred his decision to return to Muscle Shoals. Jamie Oldaker, who had been Eric's drummer in the seventies, stepped in and played on the remainder of the tour. Surprisingly, Ry Cooder only jammed with Eric once on the tour, in Philadelphia on an encore of "Crossroads." They sounded great together, so it is surprising that they didn't get together more on the tour.
Later in the year, Eric celebrated his twentieth anniversary as a recording artist in style. He decided to play a couple of high-profile shows at the prestigious Royal Albert Hall in London along with some of his famous mates. The presence of Jeff Beck and Jimmy Page in the lineup certainly made headlines as this would be the first time all three of the Yardbirds' guitarists would be on the same stage since 1966 when they had all jammed together with John Mayall. As well as celebrating his twentieth anniversary, the shows would be played for charity. The first night was for Action Research for Multiple Sclerosis, which was a charity that Ronnie Lane was trying to help establish in England, as he was an MS victim. The second night would benefit the Prince's Trust, the first of several events that Eric would participate in for that charity.
At first the idea was for all the musicians to loosely jam on standards, but things developed into a more formal format. All the musicians were really involved in the whole process, and a great sense of camaraderie prevailed over the rehearsals for the Royal Albert Hall shows. The rehearsals took place at Glyn Johns' Warnham Lodge Farm in East Sussex in September. The only disappointment was the absence of Rod Stewart, who was of course lead singer in the Faces with Ronnie Lane. He had flown in to London a few days before the first show at the Royal Albert Hall declaring to all who would listen that he was in town to help and support his old friend.
He never showed, and Eric went apoplectic, especially as Rod was spotted skulking out of the country with a mystery blonde a few days later while avoiding the press and offering no excuse for his no-show. In fact Rod was very unpopular with most of the musicians at the show and several admitted that they would have walked off if he had turned up.
Ronnie recalled: "The first I heard about Rod playing was when I read it in the papers. That was also the last I heard about it!" He was very disappointed that Rod let him down. The anger towards Rod Stewart extended on to the U.S. portion of the ARMS Tour where instructions were given to security to eject the tartan legend should he dare show his face.