The Beatles' 1963 Christmas recording makes the rounds of classic rock radio stations every holiday. The lads send Christmas cheer to fans around the world as they joke and sing bits of holiday carols. George Harrison thanks Freda back in Liverpool and the other lads join in, chorusing "Good Ol' Freda." The Freda in question, Freda Kelly, was the Beatles' secretary from their early Liverpool days until 1972, two years after the band's break up.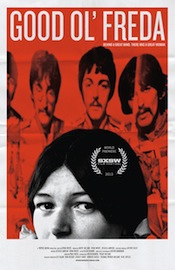 Good Ol' Freda, the new documentary from director Ryan White, marks the first time Kelly has consented to tell her story. Kelly refused many offers to do so over the past 50 years, but finally agreed to White's documentary. (White met Kelly through his uncle, Bill Kinsley of Liverpool band the Merseybeats.) The birth of her grandson made her realize how important it was to pass on her legacy. After decades living a low-key life as a wife, mother and secretary to less famous employers, Kelly reveals what it was like to be part of the Beatles inner circle. Good Ol' Freda is a charming and heartfelt look at a much more innocent time in pop culture. It's one of the last puzzle pieces in the extensive repertoire of Beatles documentaries and memoirs.
Kelly, a teenage secretary and Beatles enthusiast, popped into lunchtime shows at the Cavern with other fans in 1961. The club smelled like "rotting fruit, disinfectant and sweat," she remembers. (The Cavern was close to a fruit market.) Pete Best was the drummer in 1961, and all the girls fancied him. But it wasn't long before Ringo replaced him and Liverpool's biggest band was well on its way to becoming the biggest band in the world. Freda became friends with the band, and it Brian Epstein, the Beatles manager, quickly took a liking to Kelly and her quiet enthusiasm. He hired her as the band's secretary/fan club president. She remained professional while continuing as both fan and friend, something unheard of nowadays when many fan club presidents are PR hacks in disguise, not true fans. Kelly understood the fans because she was one of them.
Kelly remained the Beatles' secretary until they broke up, and the Beatles newsletter she helped edit ceased publication in 1972. She answered every letter, every request for locks of hair, autographs, and even sent back chewed pieces of gums to the fans. One fan wanted Ringo to sleep on a pillowcase and have it sent back to her. Kelly made sure he followed through. She put together a questionnaire for the boys to fill out, including photocopies of it with letters to fans. (John, in typical style, answered "bus" for "type of car.")
Kelly managed to hold her own with sometimes temperamental Epstein and stood up to John who "fired" her one night after she went off to have a drink with another band. (He took her back.) Freda was always respectful of the Beatles' wives and girlfriends, pointing out to the overzealous fans that the boys' private lives were off-limits. Although Freda preferred to stay in the background most of the time, she rode on the Magical Mystery Tour bus. You can see her sitting next to Ringo in a few shots. The charming, effervescent Kelly is a great interviewee. When White asks her if she dated any of the Beatles, Kelly beams. "That's personal," she says, an old-school girl who doesn't kiss and tell.
White's previous documentary, Pelada, about pick-up soccer players traveling the world, played the festival circuit in 2010. He raised $50,000 to make Good Ol' Freda through a Kickstarter campaign in 2011. This documentary is great fun; even you're not a Beatles fanatic.
Good Ol' Freda — which premieres this Friday in theaters, and on VOD & iTunes — captures a vibrant time in pop culture history from a unique insider perspective. If you are a Beatles fan, you may tear up a little toward the end of the film. P.S.: Stay for the credits.