*** STEELY DAN SUNDAY INDEX ***
Editor's note: Over the next three Sundays, this column will take a break from the Steely Dan-related song-a-week format and cede the floor to Will Galison. A highly accomplished chromatic harmonica player as well as a guitarist and singer-songwriter, Galison appears on two tracks of Donald Fagen's just-released Sunken Condos album. He's going to place you, dear reader, inside the studio — reliving the entire experience of this unexpected encounter with Fagen, beginning with an e-mail from co-producer Michael Leonhart requesting Galison's services through to finally hearing his finished work nearly a year and a half later. Below is the first installment of his fascinating story …
I'm an old enough dude that I was a high school freshman when Can't Buy a Thrill came out in 1973. Already deeply into music by then, I was the number two guitar player in one of the several rock bands at my school.
The tune that knocked us all on our ears was Reeling in the Years. It was something really new, from Fagen's bitter, hyper-personal lyrics: "The weekend at the college didn't turn out like you planned!" to the contrapuntal harmonies on the chorus to the offset melodic rhythms. But what really impressed me was Elliot Randall's famous (double) guitar solo. To me, it was just too good, too well constructed, too perfectly played and until I practiced it endlessly, too hard for me to play, especially the second guitar part, which I had to play in perfect harmony with the #1 guitarist, who was better than me.
(There was a lot of that incredible guitar playing going around at that time. With groups like Yes, Santana and Zeppelin on the radio, young guitarists realized there was plenty of more practicing to be done after mastering Keith Richards' solos.)
From that moment on, Steely Dan represented a paragon of rock and roll perfection in my mind, and each solo on their songs a masterpiece. Playing a solo on a Steely Dan record was the sort of fantasy I had while watching myself play the guitar in the bathroom mirror.
40 YEARS LATER, I GET AN EMAIL
Fast forward four decades or so:
In late May of 2011 I received an email from Michael Leonhart about a session, titled Re: Fagen session tuesday 31st 2pm, and reading simply: "Can You pencil this in? 2-5 (+2)? Let me talk with donald and confirm. Thanks, Michael".
I've been doing studio work for a long time and have worked with many major artists, so I didn't exactly fall down flat when I received the email, but I must admit that the perfect and once unplayable "Reeling in the Years" solo came swiftly to mind, and I thought, "Uh oh, that's a pretty high bar". But then I thought "Damn, I'm gonna play a solo on a Don Fagen record, how cool is that?"
I had met Michael Leonhart a number of times, at first through his father, Jay Leonhart, who has been a first-call jazz bassist in New York for a very long time. I've played with Jay on many sessions and gigs over the years – he's one of the best bassists in town, not to mention one of the smartest, most generous and funniest people I know.
I don't know how Donald thought of using harmonica on the two tunes I played on ("I'm Not the Same Without You" and "The New Breed"), but I suspect that Michael decided to use me based on recommendations from Jay and some of the mutual friends we have. Several of the members of the Steely Dan touring bands are old friends and colleagues; Catherine Russell (one of my all- time favorite singers) sang on my album Line Open, and I spent months on the road with Jon Herington and Jeff Young with the stage version of the film Bagdad Café.
A few days later, Michael sent me the songs. With the files was a note essentially (and understandably) swearing me to confidentiality. No one else must hear these songs! With the files sitting in my inbox, I felt very important and privileged, and a little nervous; like I had been given top-secret government military documents FOR MY EYES ONLY.
[SOMETHING ELSE! REWIND: We called singer-songwriter and harmonica player Will Galison's new album Line Open is a "smartly swinging, impeccably performed, intriguingly literate work."]
THE SECRET SONGS
So, after checking my place for hidden microphones and drawing all the shades, I downloaded the files from Dropbox. From the opening bars of "I'm Not the Same" I was immediately back in good old, familiar Steely Dan land, and I had a big grin. The rock solid grooves, quirky harmonies, enigmatic lyrics and that strangely comforting sardonic voice were all there, but the songs sounded fresh and different. My first impression was that these were songs of top Steely Dan caliber, in every respect.
(I must confess here and now that despite my vow of secrecy, I did play "I'm Not the Same" for my girlfriend. Before the song was over, she declared: "that's the single"- pretty perspicacious, considering she hadn't heard anything else from the album — and so it was.)
My preparation process was to put the songs as stereo tracks on Garage Band and then to play solos around the various parts where I thought the harp might be appropriate; intro, solo section and outro. It was a pleasure to play along because even in the initial stages of mixing, the tracks sounded awesome.
As is usual with Donald Fagen's writing, nothing was obvious, and the harmonies, structure and rhythmic vibe took a while to sink in, so I looped those tracks quite a few times. While there is certainly merit in preparing for a session, it's important to not get too attached to any particular approach. It's likely that the artist will have an entirely different take on how your part should be, so you have to enter the session with an open mind.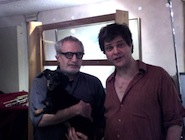 AN UNLIKELY STUDIO
Since Steely Dan's (and Donald's) records always sound so perfectly recorded, I assumed the session would be at a top studio like Avatar or MSR or perhaps some secret, exclusive facility known only to the musical Illuminati. But when I rode my bike up to the address I had been given, I found myself in front of non-descript brownstone on a side street of the Upper Westside.
I tentatively buzzed the apartment number and was let into a crowded, messy law office in the first floor apartment where a bearded man sat busily shuffling through a sea of papers.
"Uhm… I'm here for the recording session?…." I ventured.
"Right down stairs", he replied, hardly looking up. It turns out that the studio belonged to this lawyer, an old friend of Donald. This was clearly not a conventional "professional recording studio", and I'm certain it hadn't being used for any other projects for quite a while. Since I assume Donald could afford to record at any top studio, I suspect he chose this alternative in order to have access to the studio any time of day or night, without the hassles of reserving time and all the other formalities involved with pro studios.
Down the narrow staircase was a long, windowless basement room. Picture an Egyptian burial chamber, filled not with sarcophagi, royal hardware and statues of gods, but with dust-covered synth keyboards from the 70's and 80's, old PA equipment, and semi-dismantled marching band instruments — a sort of a musical "Island of Unloved Toys." At one end, nearly buried in electronic musical relics, was an impressive 9' grand piano. (I'm sure that the quality of the piano also figured in Donald's choice of the place.)
At the opposite side of the room from the piano was a very compact but well-appointed control room. I wish I could remember the gear that was used, but… I can't. I do know that Michael brought in his own board, gear and monitors for the session.
In a clearing among the DX 7s, Oberheims and Prophets was Michael Leonhart, diligently setting up a sweet vintage Neumann for the harp, I believe it was U67 or a U47; both great mics for chromatic harmonica. As Michael and I were greeting each other, the door opened and Donald entered, somehow holding Michael's Dachshund Normyn in his arms, while balancing two Grande Lattes, various bagels and other goodies and holding the door open with his shoulder.
Don was very gracious and seemed sincerely pleased to meet me, though even at his most enthusiastic, he may not be the most effusive fellow in the world. I asked Don if he remembered a time he had sat in on melodica with my jazz quartet many years ago- but he didn't – maybe because it was not the high point of his musical career.
So without too much ceremony, we got to work. It was — as Bill Withers might say — just the three of us; no engineer, no assistant engineer, no pretty young receptionist running out to get coffee and bagels.
To be continued …
[amazon_enhanced asin="B004OOJPH2″ /] [amazon_enhanced asin="B008O9V4C2″ /] [amazon_enhanced asin="B00956VLU8″ /] [amazon_enhanced asin="B0046DXPUO" /] [amazon_enhanced asin="B009SSGED2″ /]
Galison's latest album Line Open is also available from:
Waking Up Music
299 Riverside Drive, #1c
New York NY 10012
Send check or money order for $15.
Praised by jazz harmonica master Toots Thielemans as "the most original and individual of the new generation of harmonica players," Will Galison has played on hundreds of movies and television scores, albums and commercials - including Sesame Street, the Oscar-nominated scores of The Untouchables, Bagdad Café and Prelude to a Kiss. He has performed and/or recorded with artists as varied as Donald Fagen, Sting, Chaka Kahn, Barbra Streisand, Carly Simon, Ruth Brown, Astrud Gilberto, The O'Jays, Peggy Lee and many more.Contact Something Else! at
[email protected]
Latest posts by Will Galison (see all)