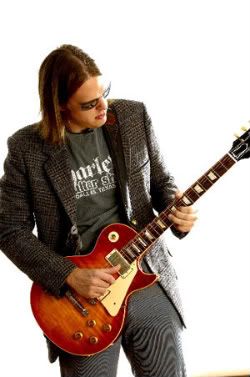 by Pico
When talking about major figures in blues, the conversation is almost guaranteed to include such luminaries as B.B. King, Muddy Waters, Steve Ray Vaughan, Howlin' Wolf, Robert Johnson, Koko Taylor and the like. But if you're talking about the blues scene of today such talk has to include Joe Bonamassa. Think not?
Consider that Bonamassa's last three albums have all reached the top spot in the Billboard's Blues Chart; his last studio album Sloe Gin (2007) stayed in the top 10 for a whole year. He captured Guitar Player's "Best Blues Guitarist" Readers' Choice award the last two years and "Artist Of The Year" by Blues Wax Magazine an unprecedented three times. He's being widely called one the best blues-rock musicians out there today, if not the best.
Opening for BB King at age 12 and mentored by the late great guitarist Danny Gatton, Bonamassa's first album at 23 years old, A New Day Yesterday was one of the last records produced by the legendary Tom Dowd. Since then, Bonamassa's output vacillated between honoring the blues and blues-rock tradition of King, Gatton, Jeff Beck and Paul Kosoff (of Free) and the guitar hero-rich territory of hard rock. For most of this time, Bonamassa's vocals and songwriting, neither of which were ever bad, took a back seat to his incendiary guitar attack.
Nevertheless, with virtuosic guitar playing Bonamassa's obvious calling card, it's easy to overlook his singing, but his pipes are more than competent. He's got a nicely worn, soulful vocal attack that's just a hair less gravelly than Warren Haynes' and lately he seems more at ease in making it fit within his fretwork.
So no matter what I think of his shiny new product out today, The Ballad Of John Henry, it's likely to rack up accolades and top the blues chart, too, as Joe B. has been on some kind of an undeniable roll of late. Bonamassa could have easily coasted this time; instead, he has offered up his most fully realized album to date.
Building upon the great progress shown on Sloe Gin, Bonamassa has mastered integrating all facets of his talents within a cohesive album, and even more so, within individual songs. There's no better barometer of the heights he's achieved in his artistry than the epic title song. It's one of his seven self-penned songs in a collection of a dozen tracks, but it's fully up to the caliber of the well-regarded covers he's done over the years. Taking as his subject a 19th century character at the center of American folklore, Bonamassa used this mythical figure to represent the overlooked modern day middle-class hero of today. Using memorable, tradition-inspired lyrics, passionate vocals and a smart blend of acoustic and electric guitars, Bonnamassa is able to effectively transfer the feel of acoustic Delta country blues on a grander scale of progressive power blues-rock.
"Last Kiss" is another original that you could have sworn is someone else's classic from long ago, but here again, Bonamassa takes the Delta blues form and turns it into a hard rocking stomper. What's more, there's ample evidence of a mature, complex songwriter emerging from these songs. "Story Of A Quarryman" begins as a straight-ahead hard rocker, but there's a pretty, mildly calypso bridge in the middle where Bonamassa puts in a tasty solo before building back up to riff heavy blues of the main melody. The mid-tempo "Happier Blues" is not really blues, but rather a extended, floating piece that shares that yearning quality with it.
There's several covers on this album like before, only now Bonamassa is going for the less obvious choices. He transforms the Cuban mambo of Tom Waits' "Jockey Full Of Bourbon" by throwing in an odd saloon piano courtesy of Rick Melick in the intro before entering with own muscular riffs. But when he sings the verses, the electric guitar makes way for tradition in the form of a Delta acoustic guitar. Sung with much more clarity and conviction than Waits did (which, admittedly, is not a huge feat), Bonamassa has come a long, long way toward the fine art of making other people's songs his own.
Bonamassa also plucked "As The Crow Flies" out of Tony Joe White's catalog, retaining the swamp pop mood while folding in first-rate electric guitar lines with some fine acoustic guitar picking. The soul-rock workout "Funkier Than a Mosquito's Tweeter" (Ike & Tina Turner) introduces a horn section to a Bonamassa song for the first time.
Bonamassa doesn't forget what got him fame in the first place, not in the least. The slow-burning blues "Stop!" made famous by Sam Brown is head-shaking display of Bonamassa's arsenal of licks. "The Great Flood" is another slow blues, this time self-penned, and the guitar god appropriately shows off his slowed down style, too. On the buoyant "Lonesome Road Blues," Bonamassa moves more into rock territory but retain the blues feel.
Kevin Shirley (Black Crowes, Dream Theater, Aerosmith), who produced his prior three albums, has wisely allowed Bonamassa blossom during this period instead of imposing his own vision of what his charge should sound like. Shirley also kept the modern touches to a minimum, assuring that the recording won't sound too much "of its time."
Bonamassa started out as a guitar whiz-kid who alternated between straightforward renditions of blues covers and seventies hard rock. With The Ballad Of John Henry, he's resolved these two sides of him to a happy medium while reaching the point where his singing and songwriting talents demand equal attention.
Joe Bonamassa, the complete musician, has arrived.

S. Victor Aaron is an SQL demon for a Fortune 100 company by day, music opinion-maker at night. His musings are strewn out across the interwebs on jazz.com, AllAboutJazz.com, a football discussion board and some inchoate customer reviews of records from the late 1990s on Amazon under a pseudonym that will never be revealed. E-mail him at svaaron@somethingelsereviews .com or follow him on Twitter at https://twitter.com/SVictorAaron

Latest posts by S. Victor Aaron (see all)