by Pico
In the last year I've written here to first sing the praises of Sean Costello's new We Can Get Together album, then bereave his sudden death a mere month later, and finally, recognize his album again at year-end evaluation time. And now, I'm back to discuss Sean once more, but this time for a higher purpose.
Doing public service announcements isn't my thing, but Sean's shocking passing the day before his 29th birthday didn't exactly make for a tidy ending of a story about an amazing career as a blues guitarist and singer. However, I recently learned that something very positive and worthwhile has sprung from his death.
You see, about a year earlier, Sean was diagnosed with bi-polar disorder—also known as manic-depressive illness—and was going through treatment for this illness at the time of his death. I never had the pleasure of meeting Mr. Costello, but every account I've read of others who have described him as a kind, generous soul. He was evidently the exceptional type of person whose epic battle with his personal demon didn't keep him from being an angel toward others.
Shortly after his passing, Sean's Mom, Debbie Costello Smith, founded The Sean Costello Memorial Fund For Bipolar Research. Their mission statement goes as follows:
The purpose of The Sean Costello Memorial Fund for Bipolar Research is to apply Sean's celebrity and the love of Sean's fans and fellow musicians to increase research for treatment of Bipolar Disorder, develop and support education for early diagnosis and intervention, and translate the human side of bipolar disorder and its severity to improve outcomes and resources, especially for those without insurance, targeting the musical community.
In addition to the passion that comes from a mother's love to her son, Ms. Smith also brings to this effort a Master's degree in Nursing Administration and her extensive experience in the health care field. Using her expertise and determination combined with her son's celebrity, she's raising awareness and funds toward bipolar disorder research.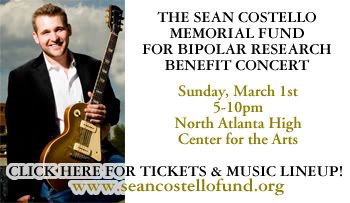 One effective method of leveraging Sean Costello's popularity is through benefit concerts, and there were already several such events held in his honor last year. On March 1, though, the Memorial Fund itself will hold its first one. To be performed in his hometown Atlanta, The Sean Costello Memorial Fund For Bipolar Research Concert will feature such acts as Lurrie Bell, The Wood Brothers, King Johnson, Felix And The Cats With Jon Liebman, and the Soul Shakers. The entire details about this event, including directions, ticket purchasing, and even making donations to the fund, can be found right here.
Having a close family member with bipolar disorder, I know firsthand that it can be treated and those afflicted can still lead fulfilling, productive lives. But early diagnosis and intervention is crucial for effective treatment, and too often the diagnosis is made too late or not made at all, and the patient can go down a self-destructive path unchecked. There's certainly more work to be done in the area of timely recognition and treatment and that's one of the areas that The Sean Costello Memorial Fund seeks to address.
If your life is touched in some way by this often-misunderstood disorder, it might do you some good to go check out the Memorial Fund website. Same if you can make it to Atlanta on March 1 for what promises to be one heck of a benefit concert for blues lovers. Either way, there is now hope that Sean's tragedy can be a catalyst to prevent such a tragedy from happening for so many others.

S. Victor Aaron is an SQL demon for a Fortune 100 company by day, music opinion-maker at night. His musings are strewn out across the interwebs on jazz.com, AllAboutJazz.com, a football discussion board and some inchoate customer reviews of records from the late 1990s on Amazon under a pseudonym that will never be revealed. E-mail him at svaaron@somethingelsereviews .com or follow him on Twitter at https://twitter.com/SVictorAaron

Latest posts by S. Victor Aaron (see all)