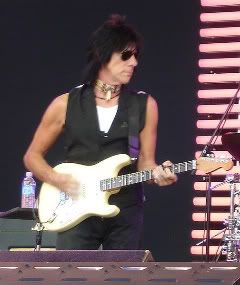 by S. Victor Aaron
Jeff Beck has long been at or near the top of a lot of people's greatest guitarists lists and it's not hard to see why. He's a master technician, and possesses a highly unique, blues-based style that no one has even really come close to duplicating. And he can traverse rock, blues and jazz with equal ease, often all at once. After more than forty years of doing this, Beck is still playing with his massive chops intact.
If you follow Jeff Beck, then you already know that his latest release came out just around last Thanksgiving. Performing This Week…Live At Ronnie Scott's Jazz Club contains many of the same songs found in Official Bootleg USA '06 released just the prior year. But Ronnie Scott's has Tal Wilkenfeld on bass.
It may sound kind of funny to state that this should matter so much when you're supposed to listen to Jeff Beck albums for the guitar playing. And after all, freakin' Pino Palladino played bass on that slightly earlier recording. Moreover, Wilkenfeld is some newcomer in her (that's right you chauvinist, her) early twenties. But this little lady can not only hang with Beck, she seems to be pushing and challenging the old icon at times.
Don't get me wrong, Wilkenfeld never threatens to overtake the guitarist, but her snaking, rubbery lines that show tremendous range can't be ignored. Beck rewarded his young prodigy with a well deserved solo on his Blow By Blow soulful ballad "Cause We've Ended As Lovers," and it's…well, it's pretty amazing. This is the same song with which she nearly stole the show at Eric Clapton's Crossroads Festival from 2007 (see video below).
Wilkenfeld also had a record of her own out, Transformation. A closer look at that disc is for another time. For now, being blown away watching her perform with the Guitar Mechanic should suffice:
"One Track Mind" is a more-or-less weekly drool over a single song selected on a whim and a short thesis on why you should be drooling over it, too.

S. Victor Aaron is an SQL demon for a Fortune 100 company by day, music opinion-maker at night. His musings are strewn out across the interwebs on jazz.com, AllAboutJazz.com, a football discussion board and some inchoate customer reviews of records from the late 1990s on Amazon under a pseudonym that will never be revealed. E-mail him at svaaron@somethingelsereviews .com or follow him on Twitter at https://twitter.com/SVictorAaron

Latest posts by S. Victor Aaron (see all)