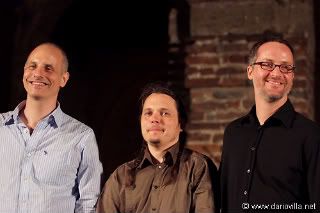 photo: Dario Villa"Erik Friedlander can do things with a cello that should have a reasonable listener fearing for her life."
That quote came from not the Lester Bangs of whack jazz Mark Saleski, but from none other than Pitchforkmedia.com. There aren't that many cellists—much less whack jazz cellists—who get any kind of attention from a site more in tune with Portishead, Lil Wayne, or bands with the "f" word in their names. Then again, Erik Friedlander is no ordinary cellist.
Friedlander's inclination to subvert convention is probably what got the indie crowd at Pitchfork so gosh darned fired up about him, but paired with his virtuosic abilities on an instrument that's not exactly the choice of rock stars and you have fresh, adventurous music that will leave you teetering if it fails to knock you on your ass. For Maldoror from 2003, Friedlander created music extemporaneously, inspired by the early Surrealist work of the 19th century French poet Comte de Lautréamont. 2007's Block Ice And Propane was a merrily twisted form of Americana that Bill Frisell might have attempted had he played cello instead of guitar.
Last fall came yet again a creative angle for exploiting heretofore unimagined possibilities on cello. The Broken Arm Trio distinguishes itself by format: a trio of drums (Mike Sarin), bass (Trevor Dunn, of Mr. Bungle fame), and Friedlander, of course, on cello. The "Broken Arm" name is derived from jazz bass legend Oscar Pettiford, who pioneered the use of the cello within the jazz form when a broken arm forced him out of commission on bass for a while, but was able to wield a bow while he recovered.
Friedlander, however, didn't make a record a homage to Pettiford's songs or the bebop music he played when he made his lasting mark on jazz bass and cello in the forties and fifties. Such a project would simply be too confining for Friedlander. The constant in his records is that everything is possible.
Thusly, the record pivots from the dizzying, circular post-bop of "Spinning Plates" to the soft, classicalist leanings of "Pearls", the compacted insanity of "Jim Zipper" or the lumbering blues of "Ink." Friedlander almost seems intent on making this a worldwind tour for the listener, as all but two of these dozen songs clock in under five minutes and half of them end by around the three-and-a-half minute mark or sooner.
The short songs means you can miss a lot of music compressed in bite size packages if you don't pay attention. With the low end held down quite nimbly by Dunn and Sarin establishing timekeeping that sometimes morphs in an instant, Friedlander can play whatever role he wants to play, and often does. With a background in guitar, his cello is sometimes made to sound like one when playing pizzicato, or he can employ the bow whenever it's time to go legato. Sometimes he uses both approaches in the same song. His plucked cello is highly distinctive from the bass, as it's tuned higher, and Friedlander shows amazing dexterity, speed and melodicism not familiar to that instrument when it's played in that fashion, as amply demonstrated on "Pretty Penny."
Sometimes, he solos on top of Dunn, or plays in harmony with him, as "Ink," or "Buffalo." The chemistry between the two is highlighted further with the straight blues of "Tiny." It's an intimate jam with just Dunn and Friedlander exchanging short ideas and solo turns in a conversation between similar instruments speaking in different dialects.
No matter the setting, it demands all three to be keenly aware of what the others are doing. It's their superhuman cohesiveness that makes this all work. That, in turn, makes Broken Arm Trio a standout success. Erik Friedlander can really go to town when he's playing solo and not accountable to anyone else. With Dunn and Sarin added to the mix, he remains as unencumbered as he is when he has with no accompaniment.

S. Victor Aaron is an SQL demon for a Fortune 100 company by day, music opinion-maker at night. His musings are strewn out across the interwebs on jazz.com, AllAboutJazz.com, a football discussion board and some inchoate customer reviews of records from the late 1990s on Amazon under a pseudonym that will never be revealed. E-mail him at svaaron@somethingelsereviews .com or follow him on Twitter at https://twitter.com/SVictorAaron

Latest posts by S. Victor Aaron (see all)