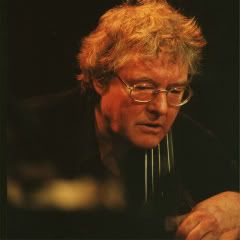 Arild Andersen may not be the first name that comes up when one thinks of the greatest living acoustic bassists, but he's at least earned the right to be considered somewhere on that list. A player of expansive range, lyricism and velocity, Andersen's list of credits as a sideman reads longer than Charles Manson's rap sheet. He's gigged with notables from George Russell and Don Cherry to Bill Frisell and Nils Peter Molvaer. And then there's his stint in Eurojazz legend saxophonist Jan Garbarek's band through fellow Norwegian's formative years and much of his initial peak period of the early seventies.
Since the mid-1970s Andersen himself has recorded as a leader, like Garbarek, almost exclusively for the ECM label. His records as both a leader and sideman present music that ranges from continental jazz and whack jazz to world fusion and hints of new age. In other words, a consummate ECM musician.
The last time out found Andersen leading a record of world fusion/new age music he heavily orchestrated (Electra, 2005). This time around, Andersen's approach could hardly be more different.
For Live At Belleville, he introduces a new trio, comprised of the Scot Tommy Smith on tenor saxophone and the Italian expatriate in Norway, drummer Paolo Vinnacia. A lean but muscular trio is a far cry from his prior project, but the musical intent is, too: with only two other players and four compositions, Andersen is putting out perhaps the most comprehensive presentation of his music that he ever put on a single record.
Just from the first song, Andersen covers most of the bases. To be fair, his extensive "Independency" is a four-part suite. The first part alludes to Norwegian folk music, the second movement is deft application of free jazz, the third section is a free-flowing, ambient piece and the last segment moves within the realm of angular bop. The performances from all three are outstanding throughout. Vinnacia provides the right shadings and cadences, no matter the varying settings at hand, and Smith, long lines and chunky tones fills up big chunks of space. Andersen's bass playing leaves such a large sonic footprint that he often takes up the role of guitarist. He isn't a show-off but he's got finger speed to spare when the mood strikes, as it does about two and a half minutes into "Independency Part III." All three are playing so well attuned to each other despite there being a lot more of improvised parts than composed parts.
All these impressions comes from listening to the "Independency" suite only, but there's more.
"Prelude To A Kiss" starts with a some sublime tenor work from Smith, who gives the Duke Ellington classic a reading bristling with the romanticism this ballad demands but without a single copied phrase. "Outhouse" is a vehicle for the nimble kit work of Vinaccia, who reveals a lot of subtlety and a great sense of timing on his drums. All three seem to have a psychic connection to each other, as the group improvisation on this track is of the highest order. The individuals solos by Smith and Andersen are even more astonishing.
At the end of the set comes the dreamy "Dreamhorse," where Andersen discreetly loops the bass line and then solos melodically on top of it, eventually engaging in call and response with Smith.
Of course, a live performance can be marred by a subpar recording. Such is not the case here. Andersen produced this album and along with Jan Erik Kongsaug and label founder Manfred Eicher, mixed and edited the raw recordings. To cut to the chase, they did a flawless job.
Since this was a live recording, there was also a higher energy level than most ECM studio recordings, giving Live At Belleville a certain edge that manages not to sacrifice any of the typical hallmarks of this label. That, along with some outstanding performances by all three players, makes this record one of Arild Andersen's more compelling ones.
Live At Belleville became available on November 25.

S. Victor Aaron is an SQL demon for a Fortune 100 company by day, music opinion-maker at night. His musings are strewn out across the interwebs on jazz.com, AllAboutJazz.com, a football discussion board and some inchoate customer reviews of records from the late 1990s on Amazon under a pseudonym that will never be revealed. E-mail him at svaaron@somethingelsereviews .com or follow him on Twitter at https://twitter.com/SVictorAaron

Latest posts by S. Victor Aaron (see all)