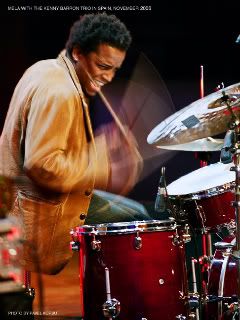 photo by Pavel Korbut
by S. Victor Aaron
The Cuban influence on jazz has been resilient from the late forties on. From Desi Arnez and Mongo Santamaria to Paquito D'Rivera and Arturo Sandoval, the heritage remains as strong as ever, as evidenced by the left-field success of Ry Cooder's Buena Vista Social Club about a decade ago.
Younger generations of players continue to emerge from the Caribbean island nation and make an impact on American jazz. One such musician who is making his mark today is the drummer from Bayamo, Cuban by the name of Francisco Mela.
Mela, whose life journey took him Bayamo to Havana to Boston and finally, New York City, progressed well enough to be invited to join combos led by John Scofield, Joanne Brackeen, Kenny Barron and Joe Lovano. When Mela is not performing with the latter two, he leads his own band. After a highly-acclaimed solo album two years ago that the Village Voice named the best jazz debut record of 2006, Mela returned with his second one this past September, Cirio.
Named in honor of his recently deceased father, Cirio was taped live at New York's famed Blue Note club. A wise move, because the vibrant, joyful music of Cuban jazz is best heard in a live setting. It also helps to have some of the best musicians in NYC to help perform the music, and Mela did not cut corners. His five-piece band for this date back in September, 2007 consisted of himself, Jason Moran, Larry Grenadier, Mark Turner and Lionel Loueke.
Mark Turner is a sax player who's tone is soulfully rich but remains much in the Coltrane school of style. He also handles complex chordal structures with relative ease, having done so on Kurt Rosenwinkel's live set The Remedy, profiled here this past spring. Larry Grenadier has been the cornerstone for Brad Mahldau's trio for years and have also played in Scofield's and Pat Metheny's bands. We last visited his handiwork last June when reviewing Larry Vuckovich's satisfying High Wall CD.
Jason Moran, as noted before when covering Charles Lloyd's own recent live album, is one of the most talented jazz pianists working today, and excelled both as a sideman and leader. West African native Lionel Loueke is a guitarist who came out of nowhere since the turn of the millennium to appear on records by Terence Blanchard, Barron, Charlie Haden and Herbie Hancock (including Hancock's Grammy winner River: The Joni Letters).
Francisco didn't assemble this top-shelf crew to play the traditional Cuban music of Ibrahim Ferrer, though; this is modern jazz of high order, but with Mela's own touch of Havana added. Six of the eight compositions rendered on this record are written by Mela, and they meld his Cuban upbringing and training with the masters of the jazz genre he's played for since arriving in the U.S.A.
No where is Mela's unique fusion more apparent than on the opener "Tierra And Fuego." Using knotty, cyclical chord progressions that's more native to NYC, but married to Mela's steady but urgent island rhythms, it sounds fresh and hot in his hands. Loueke makes his guitar sound like a mutated/muted trumpet and phrases his lines accordingly. When paired with Turner's sax, it makes for an oddly appealing combination.
The title tune "Cirio" is dark, intrepid and moody. Mela's extended composition shows as much classical influences as it does avant garde, and sets up a big canvas on which all players contributes their impressionistic sketches to form a larger picture…that of Mela's inspirational father.
"Benes," composed by Loueke, is built on his cleverly syncopated minor chord riff, while the bridge is lighter and jazzier. Both Moran and Turner sit out this one, making it a trio affair, as Grenadier and Mela push the song firmly along. Loueke plays both rhythm and lead role, effortlessly switching between the two much as Metheny does, with a light but assertive touch.
Not straying too far from his roots, Mela provides vocals—in Spanish, of course—at the beginning of a couple of tunes: the slowly-building "Pequena Serenata de Urna" and his paean to his newborn son, "Urick Mela." The latter contains some outstanding interplay between Turner, Loueke and the leader, while Grenadier keeps track of the floating melody. The original, highly melodic ballad "Maria" displays Moran's immense phrasing abilities.
With Cirio, Franciso Mela reminds us that the sixty-plus year tradition of Cuban jazz is a dynamic one; as jazz evolves, so does Cuban jazz. Mela is one of those players in the vanguard who is pushing it along. The album's namesake would no doubt be quite proud of that.

S. Victor Aaron is an SQL demon for a Fortune 100 company by day, music opinion-maker at night. His musings are strewn out across the interwebs on jazz.com, AllAboutJazz.com, a football discussion board and some inchoate customer reviews of records from the late 1990s on Amazon under a pseudonym that will never be revealed. E-mail him at svaaron@somethingelsereviews .com or follow him on Twitter at https://twitter.com/SVictorAaron

Latest posts by S. Victor Aaron (see all)