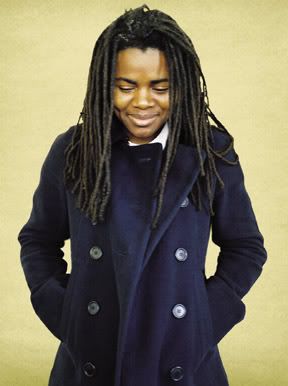 by Pico
It's hard to believe that it's been a full two decades since Tracy Chapman first burst into the scene with her classic self-titled album, one that proved that there's still appetite out there for artists brandishing an acoustic guitar and a bundle of superb self-penned folk songs. Chapman beat the long odds she faced in the slick, synthesized eighties with simple but unforgettable melodies and direct lyrics about the dichotomy of hope and despair. Her fuss-free approach connected with listeners whether it was the quiet desolation of "Fast Cars" from the 1988 debut or the surprising straight blues of "Give Me One Reason" seven years later.
Last month, Chapman marked her twenty years as a recording artist with her eighth effort, Our Bright Future, and she resolutely follows the same winning formula she established way back in 1988. With Chapman sticking close to her long established template of no-nonsense, socially conscience modern folk, the one aspect that's going to separate Our Bright Future from prior efforts is the production. This time, Chapman turned to Larry Klein, fresh from helping Walter Becker produce his Circus Money album from earlier this year and earning a Grammy for Herbie Hancock's River: The Joni Letters of last year.
Selecting Klein to produce (with Chapman co-producing) was a logical choice, and for reasons that go beyond Klein's recent surge in star power. Klein produced several albums for another major female folk singer-songwriter in ex-wife Joni Mitchell. And this wasn't the first time Klein had worked with Chapman; he played bass on that seminal first album.
No Tracy Chapman record could ever be accused of being weighed down by overwrought production, but Klein went the extra mile to make Chapman's music organic and warm. Compared to the prior release Where You Live (2005), which was still fairly rootsy under Tchad Blake's production, Future's ambience delves even further into the past. It's laden with hand-made percussion, minimal backing vocals, and ensembles kept small…even Chapman herself can be hear counting off at the beginning of some of songs. Indeed, Klein kept Chapman close to her coffeehouse beginnings.
At the same time, he brought in some big name session players to support Ms. Chapman. Preeminent drummer Steve Gadd and organist Larry Goldings were borrowed from James Taylor's touring band, and rounded out by Dean Parks on guitars and Klein himself on bass. Other tracks used younger session stars in Joey Waronker (drums), Rob Burger (keyboards) and Joe Gore (guitars), while Klein stayed on bass. These musicians never threatened to take any spotlight from Chapman, but when you listen closely, you find they are making good songs even better. In spite of using two different sets of personnel, the album stayed cohesive under Chapman and Klein's direction.
Like many Chapman tunes, the simplicity of many of the tracks presented here are deceptively so and the soul of these songs reveal themselves over several listens. At the same time, a few Chapman songs hit the bullseye right form the start. For this CD, it comes right at the beginning: "Sing For You" (see video below) is an utterly sunny, singable ditty reminiscing about serenading radio songs to a loved one. Chapman even adds wordless "doo-doo-doo's" that along with a pump organ emphasize the easygoing flow of the song.
Chapman also deals with matters of the heart with the contemplative "Thinking Of You," and the gentle country-soul of "A Theory" and "Conditional." Salvation and the belief in a one true religion are cleverly examined on "Save Us All" with sharp lines like "But if pride goeth before the fall/I hope someone's God will save us all."
But social concerns as seen through liberal lens have always been Chapman's bread and butter topic and those type of songs make up some of the strongest tracks of the album. The title track poignantly questions the point of war, while "Something To See," imagines a world without it. "The First Person On Earth" offers sympathy for those victimized by natural disasters, as a ghostly-sounding violin occasionally underlines the anguish.
Tragedy at the more personal level is examined on the sweet, soulful "For A Dream." As she did so effectively on "Fast Cars," Chapman's narrator clings to some small consolation and hope as the only way to deal with an emotional pain.
Much as "Give Me One Reason" was that odd, out-of-place song on New Beginning (1995), this record's curveball comes in the form of a cabaret, "I Did It All." A parody of the type of person who thinks his/her life is more scandalous than it really is, Chapman's sweet vibrato is, come to think of it, the perfect voice for a song that mimics the lounge music of the Jazz Age.
Twenty years later, Tracy Chapman's music has shown little growth or change, but so what? She presented music that was fully realized at the start. The best route to go from there was to fine tune an already winning format. With the help of a sympathetic producer and crack session players, Our Bright Future has the goods that Chapman's listeners are looking for and perhaps a little bit more.