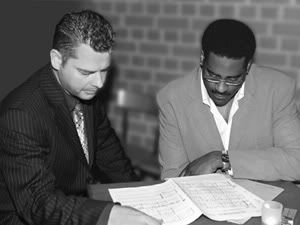 by Pico
Brad Leali (alto saxophone) and Claus Raible (piano) formed this quartet about three years ago and while they're not all that well known, they certainly know their jazz roots well. These guys understand that jazz has always been a blues-based music form, but modern twists have all but sifted out the blues. Leali & Raible's quartet puts it back in to the music.
The Quartet, by the way, is rounded out by the steady but unobtrusive stand-up bass of Giorgos Antoniou and the active, surprising drums of Alvester Garnett.
That vintage mood starts with the horn, however. Leali's alto sax emits a blues-drenched sound that's got the soulfulness of Blues Walk era Lou Donaldson and the guttural intensity of Jackie McLean. His tone is made even more evocative of these old masters by the slightly echoed way his horn is miked up, giving it a big, smokey sound.
Truth be told, the whole band sounds as if it was recorded in a large room, and when Garnett rumbles on with his brief drum solo on the gospel-tinged "Puddin' Time", it reverberates the speakers. Or when Leali emotes melancholy lines on the old standard "I Guess I Hang My Tears Out To Dry," he could have well done so from the men's room!
As for the quartet's other namesake, Raible contents himself settling into a comping role for most of the record, but steps out into the spotlight on "Not Yet," providing some hard-swinging but delicate soloing. The pianist also gives a sensitive reading of Bud Powell's ballad "I'll Keep Loving You."
It's Leali who's out front most of time, however. His sax swells ominously on Raible's opening "Currawong" before settling into a hot, swinging be-bop groove. The rhythm section is downright boisterous as it tries to keep up with the altoist.
Raible's composing prowess is again on display with the swinging, catchy riff found in "Catina," and the dual-metered boogaloo of "Little Freddie Steps." The gentle closer "Blues For Lizzie" could have been mistaken for a Ray Charles/David 'Fathead' Newman collaboration.
Leali contributes a couple of worthwhile originals, too. In addition to the aforementioned "Puddin' Time," a song dedicated to his late preacher grandfather, there's loping, spiritual blues of the title cut, where he builds his own wailing, wall of sound as Garnett thunders underneath.
With "Manteca," the group tackles Dizzy Gillespie's Afro-Cuban classic with Garnett's two solos summoning the ghost of Chano Pozo. The whole group is working hard and playing hard on this delightful Latin number.
Released back on June 23, D.A.'s Time is a consistently strong set of sax/piano led quartet jazz that has that classic jazz feel. The record was recorded in Zurich for the European-based TCB label, but the vibe is all New York City. Small label, scant name recognition…but a big, warm sound.

S. Victor Aaron is an SQL demon for a Fortune 100 company by day, music opinion-maker at night. His musings are strewn out across the interwebs on jazz.com, AllAboutJazz.com, a football discussion board and some inchoate customer reviews of records from the late 1990s on Amazon under a pseudonym that will never be revealed. E-mail him at svaaron@somethingelsereviews .com or follow him on Twitter at https://twitter.com/SVictorAaron

Latest posts by S. Victor Aaron (see all)