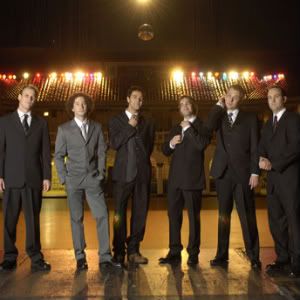 by Pico
With a review in April of last year, another one this past July, and an entry in my year-end "best of" list, I could be accused of being a shill for big fan of Umphrey's McGee, but there's few bands in rock who combines musicianship, melody and humor as well as these guys from Chicago. If you're a big fan, too, then you'll be thrilled to know that on January 20, their next proper release, Mantis, hits the streets. In the band's eleven-year history, Mantis will be their first album of all-new material, never before performed live. Check back on this space for a full review right around Inauguration Day. (UPDATE: Read the full review of Mantis here.)
For now, though, the story is about UM's clever way that they've juiced up pre-order interest in the upcoming release. "We wanted to do something special for the fans, make this release as exciting for them as it is for us," explains Umphrey's McGee's Jake Cinninger. "We wanted to put the reins in their hands, get them involved in spreading the word about the album, and give the release a human touch by giving the fans more. It's the give and take between us and the fans that makes it possible for us to tour and grow as a band; the fans play an important role in everything we do."
Here's how it works: there are a total of 45 bonus audio tracks tacked on to Mantis consisting of outtakes, alternates recordings and live tracks. There's also videos, behind-the-scenes perspectives, videos, and "plenty of quirky surprises." How many of those extra tracks are unlocked on the CD depends on the amount of pre-orders. There are total eight levels of the bonus material to unlock and thus far, fans have brought it up to level six. Once the release date arrive, there will be no more unlocking of these tracks; it stays frozen at whatever level is reached at that time.
Oh, and that's not it, folks. Only pre-order customers will get all the unlocked levels, or Part One, of the bonus material. Part Two, available on all Mantis CDs, uses that same PUSH(tm) technology from Digital Insert to enable CD owners to receive new content throughout 2009 as it becomes available. The CD will bring that content by acting as a key when inserted into a CD-ROM drive to access fresh material from an Umphreys.com micro-site.
Pretty slick, huh? That's the kind of technologically savvy stuff you might expect from a band who has for years been hosting on their UMLive.net every show for downloads and podcasts two 75-minute episodes of live performances every month. Now with the anticipated unveiling of Mantis, they've taken their game to a another level.
To get the unlocking status and more info on this unique promotion, visit their Mantis sub-site at http://www.umphreys.com/mantis/.

S. Victor Aaron is an SQL demon for a Fortune 100 company by day, music opinion-maker at night. His musings are strewn out across the interwebs on jazz.com, AllAboutJazz.com, a football discussion board and some inchoate customer reviews of records from the late 1990s on Amazon under a pseudonym that will never be revealed. E-mail him at svaaron@somethingelsereviews .com or follow him on Twitter at https://twitter.com/SVictorAaron

Latest posts by S. Victor Aaron (see all)