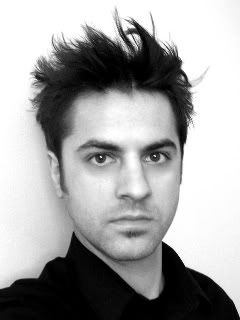 by Pico
Now with Thanksgiving and and that bloody shopping ritual called Black Friday behind us, the Christian season of Advent has begun. For the Catholic faith at least, it starts this Sunday, and lasts until Christmas Eve. This observation of the impending birth of Christ (and his second coming) has it's own subset of Christmas carols and probably the best known of these is "O Come O Come Emmanuel," or just simply "Emmanuel."
I remember this song all too well going back to early childhood. It's dark, slow moving and sung in low octaves. I think it was meant to be this way to tell us that Advent is supposed to be a solemn time. Or maybe, that's just the way most hymns written centuries ago were supposed to sound like. In any case, you won't find a gloomier piece of music set behind lyrics with "rejoice! rejoice!" in it.
"Emmanuel" isn't a bad song, though; it's in fact a great song that just needed someone to knock the mold off of it. That someone is one of Milwaukee's leading lights of their current music scene, Ethan Keller.
We've told you about Ethan over a year ago when we took a quick look at his Face Light CD from 2006. But he's hardly rested since then. No one who keeps pushing his craft forward ever does. At the same time, Ethan looks back, too, and like me, remembers singing this song in church. As a guy who can sing, compose, play guitar, and knows his way around musical gadgetry, he had the technical know-how, creative mind and the willingness to bring "Emmanuel" about 600 years ahead to the 21st century.
In Ethan's case, it also took an ability to improvise on the spot. It all came about when he was playing a Christmas time gig at a local marketplace a couple of years ago. As Ethan himself explains, "I'm doing my loop station thing: beatbox, bass, guitar & vocals. I'm the upper floor of this big echo box of a marketplace. One spectator got rather belligerent with me for a minute. 'Why don't you play some Christmas music?' pressed the gray haired man in an Eastern European accent."
At that point, most musicians might have tore into a standard rendition of "Jingle Bells," but Ethan spotted an opportunity: "So I played this jam in E that's fat, low, with a kind of ambiguous, suspended, yet with dark minor & dissonant qualities. I made the organic hiphop loop of beatbox, bass & guitar, and then was inspired to sing 'O Come O Come, Emmanuel' over it. Then I made up this little guitar harmony as a kind of response to the words. It echoed throughout the whole place, and I remember how much I enjoyed the moment. Even to this day it rings out in my head as one of those unreplicable experiences of sheer enjoyment while improvising."
Moreover, Ethan captured the impromptu session using Pro Tools and the session laid around for nearly two years until he recorded some distant sounding lyrics over it for his new EP. That new EP by the way is one that came out this past summer and it's called One Way. In it, "Emmanuel" follows five fresh new originals the cover his wide-ranging style that goes from hip-hop to funk-jazz to folk-rock in a blink of an eye.
Whether it was Divine Providence disguised as a "gray haired man in an Eastern European accent" or just talent rising to the occasion, Ethan Keller came up with a fresh way to play an an old, yuletide medieval canticle…by kicking out the jams.
Sample "Emmanuel" and other Ethan Keller songs here.
Ethan Keller's MySpace
"One Track Mind" is a more-or-less weekly drool over a single song selected on a whim and a short thesis on why you should be drooling over it, too.

S. Victor Aaron is an SQL demon for a Fortune 100 company by day, music opinion-maker at night. His musings are strewn out across the interwebs on jazz.com, AllAboutJazz.com, a football discussion board and some inchoate customer reviews of records from the late 1990s on Amazon under a pseudonym that will never be revealed. E-mail him at svaaron@somethingelsereviews .com or follow him on Twitter at https://twitter.com/SVictorAaron

Latest posts by S. Victor Aaron (see all)