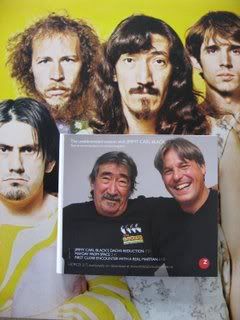 by Pico
There's been plenty of records made saluting the musical achievements of Frank Zappa, so why not make a record in tribute of his original drummer, Jimmy Carl Black? That's what Jon Larsen asked…and answered.
Larsen is probably best known as one of the two guitarists in the long-running gypsy swing revival quartet, Hot Club De Novege. On the same day as The Jimmy Carl Black Story, this combo will release a new record celebrating the music of Django Reinhardt, called Django Music, which is also coming out on Hot Club Records. For the most part, the Black record could hardly be more different than the continental jazz of Django. It's also hardly the first time Larsen paid homage to the spirit of Zappa's jazzier side.
Last year, Larsen made a record that did indeed pay homage to Zappa with a set of all-original song that tried to evoke the spirit of Frank's music, using longtime Zappa sideman, keyboardist Tommy Mars. Larsen called this disc Strange News From Mars. On that release, the music was themed on a zany story about a space expedition to Mars (the planet, not the piano player) with a crew led by Black, "the Indian of the group," naturally.
Larsen's newest project recycles this prior one and again builds the music around the same story, only slightly modified, and featuring Black more prominently than before. Not as a drummer, mind you, but instead portraying himself as the far-out astronaut and his transmissions back to Earth. If that sounds like a mighty hokey plot to digest, well it probably is, but Larsen wisely keeps the dialogue as a sideshow; the music itself is the focal point of the record.
That music, by the way, can best be described as blues-based rock-jazz fusion. Larsen's band is set up much the way Zappa had his configured in the second permutation of the Mothers: a violin, marimba, a couple of guitars, keyboards, bass and drums. None of this makes it sound much like Zappa's music, though. The compositions, all written by Larsen, are much too smooth compared to the herky-jerky, everything-but-the-kitchen-sink manner that Zappa loved to do. That's not to say the music's no good; it is, even if there's not a lot of variations within each song to make them as memorable as the music it seeks to pay homage to. Truth be told, you could say they're really blues and rock riffs stretched out into song length.
Larsen keeps his lead role subdued, allowing others a good amount of solo space, especially marimba player Rob Waring, whose mallet work gets featured extensively on the strutting "An Early Glimpse Of Planet Ruth," while Ola Kvernberg applies a rock violin to the light blues figure "Hi Boys And Girls, I'm Jimmy Carl Black."
"Jimmy Carl Black's Dachs Reduction," is a recycled "Dachs Reductions" from Strange News From Mars with the trombone solo replaced by Black's narrative.
The nine-minute "Spaceship Bigear III" is all but a re-imagining of Jeff Back's slow-burning bluesy remake of "Goodbye Porkpie Hat." By contrast, "Oh no, She's Trying To Rip My Spacesuit Open" is a John Lee Hooker blues boogie by way of ZZ Top's "La Grange."
"Turn It On, Elliot," showcases Larsen on acoustic guitar, playing it Django Reinhart style, but differentiates it from his Hot Club De Norvege work by casting this style on a song structured in the modal style. "Opal, You Hot Little Bitch" is a nondescript, relatively short foray into reggae.
The opener "En Route" gets closest to the true spirit of Zappa, the beginning of which has the marimbas and violin quickly run through a tricky succession of notes before the song settles into a jazzy groove. While not matching the complexity of the patterns found in Zappa tunes like, say, "King Kong," it at least hints at it.
This album comes with a second CD, consisting only of Black relating his life story in a relaxed conversation style, and occasionally broken up by three second marimba interludes, Zappa-style. Black has some pretty interesting stories to tell, even beyond his stint with the original Mothers Of Invention, as it turns out. It's surely worth a spin or two.
With The Jimmy Carl Black Story, Jon Larsen set out to put Jimmy Carl back in the spotlight as a person, not a musician, while shining more spotlight on Frank Zappa the musician. He succeeded in achieving the first goal better than the second one. But Larsen still made some good music, anyhow.
The Jimmy Carl Black Story, by Zonic Entertainment, hits the streets stateside on November 25.

S. Victor Aaron is an SQL demon for a Fortune 100 company by day, music opinion-maker at night. His musings are strewn out across the interwebs on jazz.com, AllAboutJazz.com, a football discussion board and some inchoate customer reviews of records from the late 1990s on Amazon under a pseudonym that will never be revealed. E-mail him at svaaron@somethingelsereviews .com or follow him on Twitter at https://twitter.com/SVictorAaron

Latest posts by S. Victor Aaron (see all)