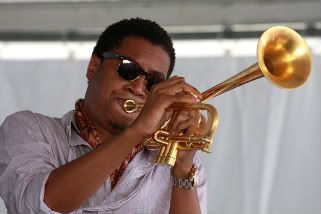 Photo: Jean Hangarter
by S. Victor Aaron
The New Orleans tradition continues.
Over one hundred years after the Crescent City had given the world cornetist and jazz pioneer Buddy Bolden, kicking off an amazing string of brass legends going from Louis Armstrong to Wynton Marsalis to Terence Blanchard, another ground-breaking trumpet player from this storied city has emerged in just the last few years. His name is Christian Scott.
Like Marsalis, Scott was born into New Orleans music—his uncle is Donald Harrison—but unlike Wynton, Scott is not dwelling on tradition at the beginning of his career before putting his own imprint on jazz. True, he plays a trumpet with a bent-up bell like Dizzy Gillespie did and borrows some of Dizzy's licks here and there, but sounds more like a young Enrico Rava.
Last year, this promising young trumpeter began to deliver on the promise with Anthem. In it he marries his already advanced chops with music that's open, loose, and dramatic. It's what I'd call jazz-rock fusion, but one that fuses jazz with 21st century rock—not baby boomer rock—while still respecting the acoustic soul of straight-ahead jazz. The song structures that Scott employs still allow plenty of room for all the players to stretch out.
It's the kind of music that's optimal for live performances. Hmmm.
That's evidently what Scott himself thought, too, and Live At Newport is the result. A document of a performance made a mere three months ago, Newport combines live versions of songs taken from Anthem and his first album Rewind That, as well as a few new Scott compositions. Furthermore, the accompanying DVD contains the actual footage of the entire performance on the CD, as well as some extras like Christian Scott talking about his career and the record as well as some film of his band rehearsing at his old school, The Berklee School Of Music in Boston. The impetus for this record and video footage was Scott's belief that jazz—especially for jazz musicians from his generation—has "turned into an academic affair" and he felt that "the artist experience" is of paramount importance. I couldn't agree more.
Scott's band for Newport contains members who's highly individualistic styles do much to shape Scott's music, and share Scott's desire to incorporating contemporary influences into jazz. His pianist is Aaron Parks, whose impressive major-label debut Invisible Cinema was profiled in this space just a couple of months ago. There's also an imaginative electric guitarist in Matthew Stevens. Joe Sanders handles stand-up bass, and the very active Jamire Williams mans the drums. Parks and Stevens are carried over from Anthem, which is critical since these two are responsible for creating much of the distinctive rock motifs found on Anthem.
Tenor saxophonist Walter Smith III joins with the band for most of the eight selections.
The set opens with a new number Scott penned, "Died In Love" (see video below). It was inspired by the murder of a close friend and his new wife. Thus, it's a dirge, but one that goes through the range of emotion that one goes through from the loss of a buddy. Parks, Stevens and Williams' stumbling drums add dramatic effect as Scott gives a sublimely heart-felt performance.
"Litany Against Fear" is another tense composition of Scott's, and taken from Legend it's arguably his best song from that album. It's here where Smith makes his first appearance, stating the theme with Scott, and later putting in a fiery solo. Parks' familiar, persistent single-note repetitions pace a darkly dramatic beginning passage that alternates with a more affirming chord progression. Stevens is given plenty of solo space and provides some dazzling fretwork (it's even more fun to watch it on the DVD). Scott himself puts on a clinic with a cleanly played tone that trades in fancy trips up and down scales for making each note meaningful. The song transitions into a thematic statement repeated by Parks and Stevens, and, unlike the studio version, the horns join in the statement at the end with Scott adding an exclamation point at close. Great song, great performance.
The rest of the set doesn't quite have the intensity of the first two cuts, but are still worthy listens. "Isadora" shows off Scott's ability to render a ballad sweetly without relying on a mute. "Rumor," one of a pair of compositions by Stevens, begins with an extensive, well-modulated drum sole by Williams before he settles into a nice funky rhythm that Scott grooves on top of. "Anthem" features some insanely intricate piano soloing from Parks.
Stevens' other song "The Crawler" is a slower paced tune where Smith supplies a particularly soulful tenor. "James Crow Jr., Esq." is built from an urgent riff and Stevens again provides another choice solo. The set closer "Rewind That" comes from Scott's first, Grammy-nominated album of the same name, but is re-imagined here with a mostly new band with some complex harmonics and an ever-restless rhythm.
It's hard to escape the comparison of this date to Miles Davis' historic performance at this same Newport festival exactly fifty years prior. Although Scott's music and even his trumpet playing are (ahem) miles apart, I gather that as Davis did back then, Scott and his band are turning heads with his Newport appearance, too. New Orleans was always known for raising forward-thinking jazz musicians. Christian Scott offers proof that this proud tradition is alive and well.
Live At Newport was released November 4 on Concord Jazz Records.
*** Click here for a free mp3 of "Died In Love" ***

S. Victor Aaron is an SQL demon for a Fortune 100 company by day, music opinion-maker at night. His musings are strewn out across the interwebs on jazz.com, AllAboutJazz.com, a football discussion board and some inchoate customer reviews of records from the late 1990s on Amazon under a pseudonym that will never be revealed. E-mail him at svaaron@somethingelsereviews .com or follow him on Twitter at https://twitter.com/SVictorAaron

Latest posts by S. Victor Aaron (see all)