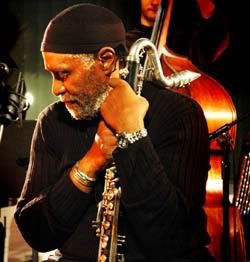 photo: Cryptogramophone
by Pico
The hermitic but acclaimed multi-reedist Bennie Maupin is suddenly prolific.
As a sideman for Miles Davis and Herbie Hancock during fusion's formative years, Maupin's versatility and sensitivity across a wide variety of wind instruments garnered him work on important documents of the genre live Bitches Brew and Herbie Hancock's Mwandishi records.
After Hancock broke up Mwandishi in 1973, Maupin stayed on to be a seminal part of the original Head Hunters but produced three solo albums in the 1970s, none in the 1980s, and one in 1998 co-led by former Mwandishi bandmate Dr. Patrick Gleeson. Oh sure, he's been on countless session dates going back to 1966, but records under his own name have been as scarce as $1.25 gas.
And then a few years ago, Maupin signed with Cryptogramophone Records; Penumbra came forth in 2006. Last year brought no new works, but an important ECM re-issue of his sometimes-brilliant 1974 debut record The Jewel In The Lotus. Now in 2008, Maupin has already returned with a fresh new collection of tracks, calling this CD Early Reflections.
Continuing on a similar vibe from Penumbra, we find the 21st century edition of Bennie Maupin to be mellower…and acoustic. Much as trumpeter Tomasz Stanko had done about a dozen years earlier, Maupin chose a backing band of young, relatively unknown Polish musicians. Maupin met Michal Tokaj (piano), Michal Baranski (double bass) and Lukasz Zyta (drums) during an extended stay in the southern, mountainous Tatras region of Poland and many of the songs presented on this record were inspired by the local folk music there.
It's hard to say how much Maupin were influenced by his young cohorts, but he certainly sounds fresh and inspired in this group of songs. In any case, the Poles are sympathetic—not to mention very competent—players. There's a quiet confidence and spirituality applied to all of the selections, despite some varying tempos, although the pace rarely gets above mid-tempo.
Four of the thirteen tracks are relatively short improvs were composed with the whole group, with Maupin employing a tenor sax for all of them. Each are similar in style to free-flowing musings that Charles Lloyd is well-known for.
The CD begins with one of those four, "Within Reach," and "Inside The Shadows" follows two tracks later. "Black Ice" begins with contemplative drum solo by Zyta before giving way to some dark figures provided by the rest of the band. The last of these improvised tracks, "Not Later Than Now" seems to segue right into "Early Relections," a 3/4 tone poem the opens up with a Baranski's high-end ruminations.
"Escondido" is structured around a bossa nova styled repeating figure, with Maupin establishing the somber ambiance with his imposing bass clarinet. "Inner Sky" is a tone poem that begins slowly then picks up pace on a bass pattern built around a motif. Speaking of motifs, "Prophet Motifs" has two of them: a progressive, shifty chord pattern, followed by a funky blues riff. Maupin sticks to his familiar bass clarinet for this and uses it to establish that riff before he and Tokaj trade fours and eights.
Tokaj's "Tears" is the lone song here not written or co-written by the leader; it's got a tender, pretty melody that's restrained but memorable. Maupin's flute gives the song a deeply-felt reverence, as does Baranski's bass on his solo.
In a bit of a change-up, Maupin brought in the wordless vocals of another Pole, singer Hania Chowaniec-Rybka, for "Atma" and "Spirits Of The Tatras." Both songs were conceived were Rybka in mind, but her performance on the latter track is more effective because it adds to the ethereal mood of it.
The centerpiece of Early Reflections is the title song from Maupin's aforementioned The Jewel In The Lotus. While the earlier version lumbers along to allow listeners to take in the exotic textures, the newer version is recast as a waltzing, post-bop exercise where the main melodic theme is much clearer in focus. The transformation is completed with Maupin's contemporary addition of a piano intro and bridge, essentially making this a new song. Takaj's robust piano ramblings in the middle of the tune is a highlight, as is Maupin's soprano sax solo that closely follow it. The rhythm section meanwhile is cooking with a lot of pop.
Bennie Maupin's return to being regular recording artist as a leader hasn't been heralded nearly as much as it should be. His mastery of a multitude of instruments (including piano, by the way) and value as a key sideman tend to overshadow his abilities as both a composer and bandleader. On Early Reflections, he proves that he can do it all well. Let me rephrase that: he can do it all well, even today.

S. Victor Aaron is an SQL demon for a Fortune 100 company by day, music opinion-maker at night. His musings are strewn out across the interwebs on jazz.com, AllAboutJazz.com, a football discussion board and some inchoate customer reviews of records from the late 1990s on Amazon under a pseudonym that will never be revealed. E-mail him at svaaron@somethingelsereviews .com or follow him on Twitter at https://twitter.com/SVictorAaron

Latest posts by S. Victor Aaron (see all)