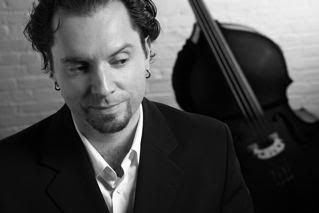 by S. Victor Aaron
There seems to be this wonderful trend of late, where a newer generation of bass players are following the example of Charles Mingus and presenting themselves as serious composers and bandleaders. In the last year on this space we've profiled the latest releases of such luminaries as Drew Gress, Ben Allison, Bill Moring and Michael Bates. Each of these bottom-end providers excel at applying their bass playing skills toward making their songs and their bandmates sound better.
Leonardo E.M. Cioglia is another such bass player who falls within that category.
Born in Brasília, Brazil in 1971, Cioglia studied music from an early age and picked up the acoustic bass around the age of sixteen. Just two years later, he won a scholarship to the prestigious Berklee College of Music in Boston and graduated four years later with a degree in Professional Music. He later picked up a Masters degree in Visual and Media Arts from Emerson College. In the intervening time, he started a production company dedicated to contemporary Brazilian music, formed the Brazilian jazz-funk group Zabumbatuq, and worked for a music media concern. All the while, he continued performing and recording with an exhaustive list of notables in the New York jazz scene, including Jimmy Cobb, Vic Juris and George Schuller. Cioglia also formed another contemporary Brazilan group, Quizamba, with whom he performs frequently.
All this activity might help explain why Cioglia hadn't recorded an album strictly under his own name until now, but it has been well woth the wait. His effective debut Contos, available today through Cioglia's Quizamba Music imprint, was obviously undertaken with much care. That's because the results bear out the culmination of intelligently written compositions tested and refined in clubs before committing them to tape in the studio.
One of the great things about jazz records is that they can be enjoyed in so many ways: as blowing sessions, groovers, or as meticulously orchestrated works of art. Contos is one of those jazz records that strikes the right balance of the three, with an overriding emphasis on the intricate melodic structures.
To perform these involved pieces of music, Cioglia enlisted the help of some of the finest jazz musicians of his generation: John Ellis (saxes), Mike Moreno (guitar), Stefon Harris (vibraphone, marimba), Aaron Goldberg (piano) and Antonio Sanchéz (drums).
In keeping closely in touch with Cioglia's own roots, Contos is Brazilian-flavored throughout, and on cuts like "Filhos Do Pequi" and "Olhos D'Agua," it's more overt. However, these South American influences are seamlessly folded into advanced, modern jazz to create a tapestry that's uniquely Cioglia's.
The opening title piece "Contos (Do Neco)" sets the tone for the album with melodic trails that meander through shifting metres and sometimes, no time-keeping at all. Through all the somersaults that melody takes, it always manages land firmly on its feet. Eventually, the song settles into a snappy, conventional chord progression that Ellis, Moreno and Goldberg can easily groove on top of. Moreno, an up-and-comer guitarist to keep an eye on, in particular shines with his fluid, Metheny-esque notes, made to sound even more like Pat Metheny by the presence of Metheny's outstanding current drummer Sanchéz.
Cioglia doesn't solo here or anywhere else, but as he does throughout the entire album he fills a wide space at the bottom. His approach to his instrument is to maximize its comping potential, filling in notes in much the same way a pianist does in a supporting role, and does just as much to render the melody as Goldberg.
"Santa Maria" is the most elegant song of the set, and perhaps the most elegant instrumental jazz song written in a while. Harris' warm vibes lend a Modern Jazz Quartet spirit to the proceedings, with his solo evocative of Milt Jackson.
One of the aforementioned strongly Brazilian songs follows. "Filhos Do Pequi" begins with a five chord pattern set to a samba with the theme stated by Ellis and Goldberg. Goldberg's single note runs literally dance to the samba beat, and Ellis also emits joyous sounds from his tenor during his own solo run.
There are ample highlights and revelations to be found in the rest of the album, too. "Planalto Central" is light and brisk, with Sanchéz playing forcefully all over his traps. The free flowing "Olhos D'Água" presents a softer side of the Brazilian style, with Moreno switching to acoustic guitar, while Ellis and Harris each spin their own harmonic lines.
The dynamic, anthemic "Lençóis de Areia" provides plenty of space for Ellis, Harris and Moreno to create some fully-formed solos; this tune is the one most likely best suited for a live setting; see for yourself by checking the video below with Cioglia, Ellis, Goldberg and Jochen Rückert on drums.
The somber closing number "Cancao Ao Tempo" has a classical feel to it accentuated by Ellis' flutes, clarinet and bass clarinet forming a pocket orchestra in the opening statement. Mike Moreno paces a more contemporary, uplifting and almost-rock ending section.
Contos is an inimitable kind of record that engages you right away, and yet there is so much going on under the hood, in terms of both harmonics and presentation. Each succeeding listen—even the twentieth one—sounds as fresh as the first one. That's the mark of a musician who composes songs of real depth and beauty.
Leonardo E.M. Cioglia waited a while before making his proper debut, but the result is a completely developed concept and flawless execution. With Contos, he makes a grand first impression as a leader.
Leonardo E.M. Cioglia's website

S. Victor Aaron is an SQL demon for a Fortune 100 company by day, music opinion-maker at night. His musings are strewn out across the interwebs on jazz.com, AllAboutJazz.com, a football discussion board and some inchoate customer reviews of records from the late 1990s on Amazon under a pseudonym that will never be revealed. E-mail him at svaaron@somethingelsereviews .com or follow him on Twitter at https://twitter.com/SVictorAaron

Latest posts by S. Victor Aaron (see all)