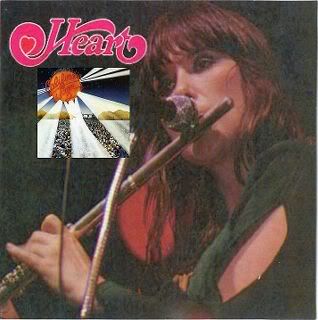 by Pico
That classic album rock group Heart never really left us, but lately the Wilson sisters have reconnected with what made it such a great band back in the seventies. The vintage sounding all-new CD Jupiters Darling (2004) and last year's live DVD Dreamboat Annie Live meant that the "old" Heart—not the undistinguished adult contemporary eighties Heart—had returned.
Back in their prime, they were superb practitioners of hard rock that carried more substance than most of the other acts of that time. Like their peers, they were heavily influenced by the the king of the hill of the time, Led Zeppelin. But unlike the other bands, Heart got it that Zep wasn't just about power blues chords and high-pitched wailing. The Wilsons understood that the English folk and Eastern mysticism side of LZ made them such a special band and incorporated those features into their own style, too.
Guitarist Nancy Wilson, like Jimmy Page, found a prominent place for the acoustic guitar in hard rock, while Ann can hit the high notes like Robert Plant used to, and do it with more soul to boot.
One of the best examples of how this made Heart such a great band is a cut from their monster second album Little Queen, called "Love Alive." As an "album" rock group, this group put forth the effort as much for the deeper cuts as for the hit singles. Coming right after the hard-charging "Barracuda," the sisters ease up on the tempo a bit but not at all on the quality.
"Love Alive" runs only a little over four minutes, but it's a three-parter. The soft beginning kicks off with a winsome acoustic guitar motif, played in tandem by Nancy and (most probably) Roger Fisher. As Ann's gentle, controlled and low-octave vocals begin, some Indian percussion joins in as well. Her first and second and verse is separated by a short flute interlude…also performed by Ann.
About three seconds after the first section stops, that sweet, instrumental second part commences with an acoustic/electric riff of rich chords raining down like a monsoon, and the drums kick in with a funky countering bass line. It acts as a segue into the next section, which is essentially the first section played at a higher pitch and with more vigor. After some soaring "ahhhh" background harmony vocals, Ann returns with more power behind her voice, but never too far out in front of the band. After several iterations of the refrain "keep your love alive" the song touches down softly again with Ann's flute cushioning the landing.
Hard rock can sometimes get a little rough around the edges, and it needs a woman's touch to smooth it out just a tad. There's probably no women better for that job than the Wilson women when they are on their game like they are for "Love Alive."
"One Track Mind" is a more-or-less weekly drool over a single song selected on a whim and a short thesis on why you should be drooling over it, too.

S. Victor Aaron is an SQL demon for a Fortune 100 company by day, music opinion-maker at night. His musings are strewn out across the interwebs on jazz.com, AllAboutJazz.com, a football discussion board and some inchoate customer reviews of records from the late 1990s on Amazon under a pseudonym that will never be revealed. E-mail him at svaaron@somethingelsereviews .com or follow him on Twitter at https://twitter.com/SVictorAaron

Latest posts by S. Victor Aaron (see all)