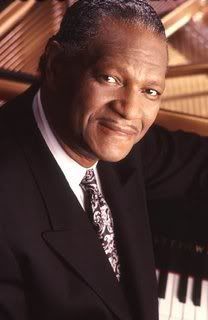 by Pico
As far as jazz pianists go, McCoy Tyner is the living patriarch. As a member of John Coltrane's seminal band of the sixties, a sideman on so many key recordings and, of course, a leader with his own substantial solo career, Tyner has long ago secured a significant place in the history of jazz.
The one thing that I quickly noticed about Tyner besides these indisputable truths is his predilection for changing up formats from album to album as a way to revitalize his music. He's gone from solo piano all the way to big band, and everything in-between, including trios, quartets, quintets and sextets. The first Tyner record I bought nearly a quarter century ago was Tyner leading a quartet that included an electric bass player and a violinist!
Well, 25 years later, and I find he hadn't changed that tendency at all. For this time out, Tyner got an idea that's one of his more unique ones: start with a trio that includes Ron Carter (bass) and Jack DeJohnette (drums), and invite a guitarist to guest on each tune; five different guitarists over fourteen selections.
There's more to this, though; none of the five guitarists he selected are truly jazz guitarists in the pure sense, but all are so unique as to defy classification. That said, they all do possess more than a passing knowledge of the jazz idiom. These guitar players are: Marc Ribot, John Scofield, Derek Trucks, Bill Frisell and banjo player Bela Fleck.
Ah, but McCoy had one more twist for this one-of-a-kind record: he let the guitarists themselves decide which two or three songs they wanted to play with Tyner's trio. Tyner was clearly interested in getting his guest six string slingers firmly invested in his project.
These guitarists were also given a lot of lead parts, often being the ones who state the main melody instead of Tyner. So much so, that sometimes Tyner is virtually a sideman on his own record. However, few can play that supporting role as well he does, and his presence is always felt. Perhaps not so coincidentally, Tyner shows a somewhat lighter touch on the piano than what he's normally known for.
As to each of the collaborations, they've all worked out reasonably well, but some better than others. John Scofield previously duet-ed with Tyner on a couple of tracks for Tyner's otherwise solo piano record Things Ain't What They Used To Be from 1989.
Scofield chose two classic compositions from Tyner's sixties period. "Mr. P.C." is one that is tied to Tyner via his stint with 'Trane. Scofield does yeoman's work, even if he sounds a little stiff at first, then loosens up nicely after a while. His other selection is a Tyner standard, "Blues On The Corner," a great tune, but a it's pretty pedestrian rendering.
Bela Fleck's contributions stand out from the others, as expected, simply because he's playing an instrument foreign to a jazz trio. However, Fleck chose some tunes that provided a good setting for both himself and the pianist. The first two are Fleck's own compositions "Trade Winds" and "Amberjack," and the Broadway song made famous by Coltrane, "My Favorite Things." Both Tyner and Fleck play surprisingly well together, but Dejohnette's outstanding kit work on the latter two that also got my attention. for his part, Fleck seems much at ease with Tyner and the two blended together their playing effectively.
The Allman Brothers' Derek Trucks came to the session with Tyner's "Slapback Blues," which is a logical choice since Trucks comes to jazz via the blues and Tyner's own conception of jazz is blues-based. Trucks is clearly in his element and shines on his solo turn. "Greensleeves" is performed in much the same way that "My Favorite Things" is, and Tyner puts in a particularly crisp solo.
Like Bela Fleck, Bill Frisell also came to the proceedings with a couple of his own tunes in hand: The mystical, rhythm-less "Boubacar" and "Baba Drame," which with it's extended world music groove evokes Tyner's excellent early seventies Milestone work. But for the third piece, Frisell, like Scofield, digs up a superb selection from Tyner's 1967 Blue Noter The Real McCoy, "Contemplation." And once again, it's solid but not exceptional. Frisell's playing is subdued throughout, preferring to play a texturist role than a true lead part.
Bela Fleck notwithstanding, the most successful pairing overall was one I would have least expected: that experimental, John Zorn/Tom Waits kind of guy Marc Ribot. Ribot is more than those things, naturally, but while he suppressed his rough edges for this meeting, he was nonetheless the most creative and nonconformal of the lot.
The traditional piece "500 Miles" is made new again with Ribot's arrangement, which isn't too much unlike the way Coltrane might have handled it when Tyner was in his band. Subtly but effectively using pedal effects, Ribot's guitar is both stinging and soulful. "Passion Dance" is worth listening to just to hear Ribot's fuzz guitar pair up with Tyner's forceful left hand. The guitarist's rock solo sounds a bit out of place, but the backing trio is so muscular, they don't get overwhelmed like most other acoustic backing units would.
Ribot and McCoy even recorded a couple of improvisional pieces with the rhythm section, one that flows gently with some foreboding chords that turns hopeful ("Improvision 1") and the other one more abrupt and dissonant ("Improvision 2").
This isn't just a CD, by the way; there's an accompanying DVD that includes footage of the recording sessions that places the viewer right in the studio among some very distinguished musicians. You can even choose your view amongst each of the four players, a screen split four ways of all of them at once, or the composite, "Editor's cut." This would be especially useful for musicians trying to pick up and follow what these cats are doing. The best part about it is that the whole set is still priced for a CD only.
Guitars, the second offering by a collaboration of Half Note Records and McCoy Tyner Music, released this past September 23. It doesn't rank as an essential Tyner recording, but it's one of his more interesting side journeys. Tyner's continued openness to trying fresh approaches as he closes in on his seventieth birthday is something that should always be eagerly anticipated, even if his classic albums are well behind him.

S. Victor Aaron is an SQL demon for a Fortune 100 company by day, music opinion-maker at night. His musings are strewn out across the interwebs on jazz.com, AllAboutJazz.com, a football discussion board and some inchoate customer reviews of records from the late 1990s on Amazon under a pseudonym that will never be revealed. E-mail him at svaaron@somethingelsereviews .com or follow him on Twitter at https://twitter.com/SVictorAaron

Latest posts by S. Victor Aaron (see all)