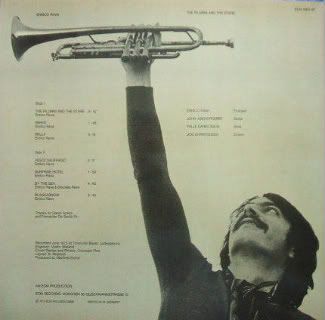 by S. Victor Aaron
Last year we gave a testimonial to a new small-group Carla Bley album that featured a uber-talented Italian trumpeter by the name of Paolo Fresu. But as good as Fresu is, he's not yet the king of Italian trumpeters.
That's because Enrico Rava is still wearing the crown.
Like Fresu, Rava has played for Bley—as well as Gato Barbieri and Steve Lacy—before striking out on his own in the early seventies. When Rava recorded The Pilgrim And The Stars back in 1975, he already had a couple of records under his belt, but this one began his long association with the prestigious jazz label ECM, one that continues to this day.
As part of ECM's Touchstone Series celebrating this seminal jazz label's 40th year of existence, the label is re-issuing 40 titles from its back catalog. The re-release of The Pilgrim And The Stars this past September 30 is especially notable because it's the first time this album has been available in CD form in the U.S.
For The Pilgrim, Rava employed the talents of the Swede Palle Danielsson on double-bass, Norwegian Jon Christensen on drums and American John Abercrombie on guitar. Both Danielsson and Christensen have been the most in-demand session players at ECM for their respective instruments for very good reason, and were serving with saxophonist Jan Garbarek in Keith Jarrett's famed "European Quartet" at the time of this recording.
It's impossible to take in this record without marveling at the young John Abercrombie. Nothing at all against present-day Abercrombie, but back then his playing seemed so fresh and was possessed by a rock temperament. His fragmented, passionate style added an edge as a lead player and a warm, almost Fender Rhodes-like texture as a accompanist. And he effortlessly shifted between both roles at will.
"The Pilgrim And The Stars," the lead-off title track, brings modal jazz principles espoused so well by John Coltrane in the sixties into the next decade. A soft, melodic theme opens the song before it kicks into overdrive with an entirely different chord progression. During this extended, spirited section, Rava's licks are advanced, perfectly-paced and at times, technically astonishing. He weaves and jabs much like Miles Davis did for A Tribute To Jack Johnson five years earlier.
"Belle" is another tune that starts off slow and gradually gains traction. Christensen is the key component here; his careful control of tempo does as much to establish the song's personality as does the folk-like melody. It's why he's such an underrated drummer. Rava again puts on a clinic with steady tremolos and fragmented phrases. Abercrombie's solo is full of unconventional ideas that straddle the line between rock and jazz. And Danielsson is just superb with a solo of great range while staying well grounded to both the rhythm and the harmonic progression.
"By The Sea" is another notable track for it's dark, minor-chord mood accentuated by Abercrombie's high-pitched guitar notes, which at times follows the bass-stated theme many octaves above.
The extended intro of "Blancasnow" flows freely rhythmically, as Rava's forlorn horn rides on top of the turmoil produced by his band. About two thirds in, it settles into a comfortable, mid-tempo groove.
"Surprise Hotel" is balls-to-the-wall free jazz that's so highly caffeinated it lasts less than two minutes. Before it cuts out abruptly, Rava and Abercrombie are imrpovising simultaneously while the rhythm section sounds like a thundering horde.
The "fifth" musician for this record was producer and label founder Manfred Eicher. While he continues to helm pristine recordings to this day, the seventies ECM records are generally warmer sounding and employing a touch more reverb, making the lead instruments sound desolate and eloquent at the same time. Rava's trumpet in particular benefits from this effect.
The Pilgrim And The Stars rightfully belongs in the canon among the most memorable ECM releases. It's a uncompromising blend of Euro-jazz and American hard bop that launched the reign of one of Europe's finest jazz trumpeters.

S. Victor Aaron is an SQL demon for a Fortune 100 company by day, music opinion-maker at night. His musings are strewn out across the interwebs on jazz.com, AllAboutJazz.com, a football discussion board and some inchoate customer reviews of records from the late 1990s on Amazon under a pseudonym that will never be revealed. E-mail him at svaaron@somethingelsereviews .com or follow him on Twitter at https://twitter.com/SVictorAaron

Latest posts by S. Victor Aaron (see all)