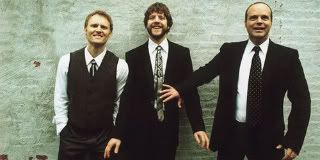 I've covered a Martin and Medeski album, a Wood Brothers album and even an MMW children's album on this space, but this is the first go around with a "proper" Medeski, Martin & Wood release.
Radiolarians 1, which hit the streets September 30, is the first of a planned trilogy of records by the keyboard-bass-drums trio that's difficult to categorize. This CD does nothing to make them easier to pigeon-hole, either.
Not when the first track, "First Light," starts out ambient and eases into a stoned out, hippy groove. Or when "Professor Nohair" is the latest in their homage to the Big Easy Beat, only this one acoustic and more improvisional than usual. Or when they play a perky boss-nova soul-jazz that is "Sweet Pea Dreams."
"Cloud Wars" sounds more like the typical MMW funk exercise until it blows up into free-for-all midway through with Wood's bass turning downright demonic and Wood going off the deep end in a most delightful way. The folk-ish "Muchas Gracias" finds Medeski switching to melodica and Woods moving over to acoustic guitar.
There's something for everyone with Radiolarians 1, which does as good of a job as any Medeski, Martin & Wood album of demonstrating what makes this trio so special: the only rules these guys follow is that there are no rules. I can't wait for Radiolarians 2 and 3.
[amazon_enhanced asin="B001DUJNHM" /] [amazon_enhanced asin="B001GMP4H0″ /] [amazon_enhanced asin="B0026612MG" /] [amazon_enhanced asin="B001U3ZZ1A" /] [amazon_enhanced asin="B002DU0RCQ" /] [amazon_enhanced asin="B002JIOIM2″ /] [amazon_enhanced asin="B002R8EASG" /]

S. Victor Aaron is an SQL demon for a Fortune 100 company by day, music opinion-maker at night. His musings are strewn out across the interwebs on jazz.com, AllAboutJazz.com, a football discussion board and some inchoate customer reviews of records from the late 1990s on Amazon under a pseudonym that will never be revealed. E-mail him at svaaron@somethingelsereviews .com or follow him on Twitter at https://twitter.com/SVictorAaron

Latest posts by S. Victor Aaron (see all)