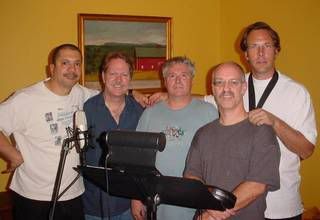 Bill Moring is someone readers of this space have come to know as the guy jazz pianist extraordinaire Steve Allee relies upon for holding down the bottom in his band. Moring is hardly "just" Allee's bass player, though. Throughout a three-decade career, Moring has played in ensembles of all sizes for big names like Dizzy Gillespie, Joe Williams, Mel Torme', Franks Foster, Clark Terry, Tommy Flanagan, John Abercrombie, Larry Coryell, Mulgrew Miller, Chris Potter and Dave Stryker. And that's just a small sample of who he's played and recorded with.
Moring is also passionate about music education, holding clinics and teaching students in class and one-on-one mostly in his home state of New Jersey.
I imagine Moring could spend a whole month a Sundays talking about his career, but here, we're going to chat about Bill Moring, the bandleader.
You see, in a bit of role reversal, Moring has his own ensemble, Way Out East, and Allee returns the favor as the keyboardist in Moring's group. Way Out East isn't just those two guys, by the way. This ensemble also has a trumpet player (Jack Walrath), a sax player (Tim Armacost) and a drummer (Steve Johns).
I make mention of this group because Bill Moring & Way Out East have a new CD out on October 14 via the Owl Studios imprint, and it's called Spaces In Time.
Spaces In Time, the second offering by Way Out East, doesn't sound much at all like the two Steve Allee Trio albums I've covered here recently. Allee sticks with an electric piano and organ throughout and is the only band member who doesn't contribute a song. That doesn't minimizes his impact, however, as the only chordal instrument player in the band. His keyboards bring a certain, street-tough vibe to the overall sound that the other band members seem to thrive upon.
With all the other players pitching in tunes, though, it makes for a very eclectic record; one that vacillates from post-bop to fusion to whack jazz without putting so much a commitment into any one camp as to limit themselves. The common thread is that spontaneity that comes from haven't been exposed to these songs as a group until the evening before the recording session. It's also experience of having had recorded together before and the total democracy that's on display throughout the entire record.
That rugged, integrated sound makes itself known from the opening seconds of "Sweat," with it's train-rolling rhythm that stops cold every 8th beat. Underpinned by Allee's crunchy Fender Rhodes, the horns feed off the energy and both Walrath (who wrote this tune) and Armacost provide sizzling solos, with each taking turns being the primary soloist while the other solos a bit underneath. Pretty neat stuff, if you ask me.
Johns' "Deep Blue" is another notable cut; it's got a deeply soulful strut paced by Moring's rich bass lines. Walrath's trumpet provides the right helpings of sass and tenderness, and Armacost is very bluesy with his turn. "Hop Blues" mixes in a sixties-styled backbeat with a slightly dissonant blues figure. All the players save for Johns gets a solo opportunity, including the leader.
The dissonance grows into full-fledged whack jazz in Walrath's "Snakes!," which is actually a pretty descriptive title. The song slithers around most of the time, striking when the listener might not expect it. That's followed by an early Ornette Coleman composition "The Disguise," a 13-bar blues that manages to sound very tame compared to the prior track, and a fine vehicle for the players to strut their stuff within the blues form. Moring in particular walks his bass with much swing and confidence.
The CD concludes with a couple of Moring's own songs, an elegant waltz "A Space In Time" and cool, strutting "iHop."
Given the diversity of experiences Bill Moring has had in his career, it shouldn't be surprising that Spaces In time is similarly diverse. The common denominator is the it's jazz by veterans who understand that it's just as important to move your soul as it is to bowl you over with chops. That's the Way Out East way.