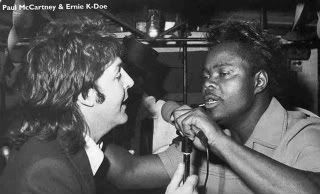 by Pico
Nick and I have both been on a long-running campaign here to get Allen Toussiant his due. His imprint on New Orleans R&B, and American music in general is hard to escape but since he's been more of a behind-the-scenes guy, his name doesn't usually come up as often as the hits he's been responsible for.
We've offered up many cases in point, and here's another one: the 1961 chart-topper "Mother-In-Law" written by Toussaint and sung by the late Ernie K-Doe.
"Mother-In-Law" is going to be familiar to anyone who listened to pop radio in the years just preceding the British Invasion and a few who came of age a little afterwards. If you don't know it, well, it's really one of those zany party tunes that were popular around that time, like "Charlie Brown" and "Monster Mash."
The theme for this one is pretty evident by the title: the misery caused by a spouse's meddlesome mother. There's that famous New Orleans backbeat and a small horn section driving this tune, but K-Doe's exchange with bass vocalist Benny Spellman on the titular chorus makes it unforgettable. And those lyrics? Man, there's more satanic references found here than a Marilyn Manson song:
"Satan should be her name/To me they're about the same"
"Sent from down below…"
Thankfully, I can chuckle along with this song because my mother-in-law and I are cool. But even if you can relate to what K-Doe was singing about almost a half century ago, at least you know you're not alone and you certainly weren't the first. And sometimes all you can do is laugh at—or boogie to—your predicament.
"One Track Mind" is a more-or-less weekly drool over a single song selected on a whim and a short thesis on why you should be drooling over it, too.

S. Victor Aaron is an SQL demon for a Fortune 100 company by day, music opinion-maker at night. His musings are strewn out across the interwebs on jazz.com, AllAboutJazz.com, a football discussion board and some inchoate customer reviews of records from the late 1990s on Amazon under a pseudonym that will never be revealed. E-mail him at svaaron@somethingelsereviews .com or follow him on Twitter at https://twitter.com/SVictorAaron

Latest posts by S. Victor Aaron (see all)