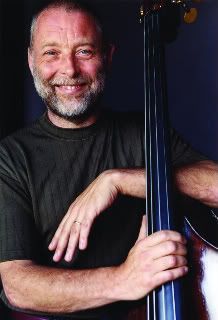 A couple of years ago, I posed the question: is the Dave Holland Quintet the best jazz group working today? Today, the Dave Holland Quintet has been supplanted by the Dave Holland Sextet, and with last week's unfurling of the Sextet's first record Pass It On, we get to assess how good Holland's latest incarnation is.
Holland, in case you're not familiar from my prior references, is an exceptional double-bass player who also happens to be exceptional as a composer, bandleader and sideman alike. The man who replaced Ron Carter in Miles Davis' band and ably anchored Miles' fast-evolving music for three years happened to do so at a critical time in the morphing of advanced bop to jazz fusion. Holland's own solo career started with the astounding Conference Of The Birds in 1973 and his recordings throughout his long stint with ECM records rarely dipped below the level of "very good."
Starting in the mid-nineties, Holland's primary vehicle had been a quintet consisting of vibes, sax, trombone, drums and his bass. The cast of this quintet changed somewhat over the years, but the configuration remained the same, as well as it's distinctively joyous, energetic and intricate sound.
Pass It On is Holland's third album under his own Dare2 imprint, but the first by Holland's new Sextet, a combo he unveiled live back in January, 2006. Holland's longtime trombone player Robin Eubanks is held over from the last version of the Quintet. Alto saxophonist Antonio Hart and Alex "Sasha" Sipiagin, both who have appeared in Holland's big band excursion (Overtime, 2005), are also back.
Rounding out the six-man group are two new faces: ace drummer Eric Harland (the fourth album I've covered this year where he's been the drummer) and a longtime major talent at piano in Mulgrew Miller.
For Pass It On, all but one of the nine selections presented are Holland originals. However, six of these eight compositions are old songs Holland had previously recorded on earlier albums. Holland's idea was to "fill out these old compositions and expand on them a little bit where something new could happen. And, of course, this group of people brings some new creative ideas to the pieces."
"Rivers Run" is perhaps the most fascinating re-imagining of Holland's old pieces; in Triplicate (1988), Holland's used a couple of dark, bass riffs around which he, drummer Jack deJohnette and altoist Steve Coleman improvised. In the expanded lineup, those riffs are exploited further and Eubanks takes on much of the improvising role, but the larger ensemble aproach is done at the expense of the looser-limbed attack that made the original so appealing to begin with.
"Lazy Snake," from 1995's Dream Of The Elders is more successful in the latter-day form, as it has a slowly, swinging quality that comes out much better with a piano and three horns than it did with just a vibraphone and sax in the earlier rendition. It also benefits from Hart's superior saxophone solo, sounding tough and intense without boiling over.
"Equality," which also first appeared in Dream, also works in the larger form, as Hart replaces Cassandra Wilson's vocal with a richly lyrical voicing. "Modern Times," from Gateway's 1995 release Homecoming, is a fine showcase for Siapiagin's clear, fiery trumpet tone.
Holland's two fresh composition sound more obviously intended for a larger ensemble. "Fast Track," sports a great horn chart that states a theme that derivative of the classic Blue Note hard bop dates, and Miller gets to strut his stuff, McCoy Tyner style. For all of Miller's abundant faculties, though, he seems tragically underutilized. It's a flipside of employing a band with three strong horn players: not everyone can get enough spotlight. "Pass It On" has a mildly, South African feel to it and the high point comes when Eubanks, Hart and Sipiagin solo simultaneously.
Eubanks contributes the lone non-Holland number, the opening "The Sum Of All Parts." This track is the one that's most identifiable with Holland's quintet recordings, as there are some crafty pairing-offs of musicians. Eubanks and Harland alone play initially, and after the horn players state the main thematic line, Holland solos sublimely over Miller's comping. The last section has Hart and Sipiagin playing in unison while Eubanks provides a counterpoint. It's long been a Holland hallmark to have his players play with and against each other at the same time that makes his brand of jazz so gratifying to listen to.
Coming after a long string of quintet records that have been uniformly great, it takes some adjustment to settle into the larger, fuller sound provided by a sextet. Having a piano player on a Holland record is another transition longtime Holland listeners must make. Once you get past that, though, Pass It On reveals that Dave Holland can lead a sextet with nearly as much creativity and polish as his records with leaner ensembles. In some spots they are even a match for those excellent earlier efforts.
With the high standards Dave Holland has long-ago established for his records, Pass It On is a safe pickup for anyone craving challenging, original hard-bop played by some of the best jazz musicians out there today.