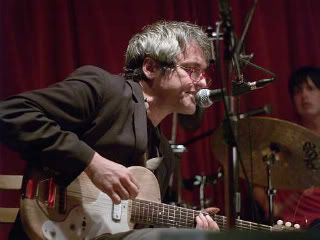 Marc Ribot is near the front of a phalanx of whack jazz axe slingers that includes Fred Frith, Henry Kaiser, and of course, good ol' Bill Frisell. As way out his anything-goes approach goes on his solo records, he's plenty versatile enough to play for guys as diverse as John Zorn, Elvis Costello and Tom Waits, even touring extensively in Waits' band.
It's not unusual at all for Ribot to not only delve, but fully embrace punk, hip-hop, and all forms of jazz. His volume level can range from practically ambient to full-on wailing. With his altogether unpredictable approach to music, it's particularly fun to listen to how he tackles covers. His take on the Beatles' "Happiness Is A Warm Gun," for instance, deconstructs Lennon's multipart, ever-shifting tune down to its very core using just a solitary, quiet electric guitar.
On just his second album (Requiem For What's His Name), Ribot takes Duke Ellington classic "Caravan" in a decidedly rock 'n' roll surf music direction, playing Dick Dale over a jungle beat. For a brief time his note bending trips up the fretboard make it sound a little like Dick Dale in a particularly wiggy mood, but somewhere there's a method to his madness. Perhaps Ribot saw a connection between the Middle Eastern ingredient found in the kernel of Dale's surf music and the Arabian flavor of Ellington's classic. More importantly, like "Happiness," he never loses sight of the main melodic line and so despite the entirely different direction he takes the tune, you're well aware what tune it is.
Ultimately it's his carefree punk attitude to a jazz classic without the slashing the spirit of the original song in the process that makes it so appealing, even charming. Much like what Jerry Granelli did with Monk's "Brilliant Corners."
Some people might claim that Ellington is rolling over in his grave over what Ribot did to his "Caravan." I think that Duke is probably not only rolling but rockin', too.
(warning: choppy video, but audio sounds good)




























"One Track Mind" is a more-or-less weekly drool over a single song selected on a whim and a short thesis on why you should be drooling over it, too.

S. Victor Aaron is an SQL demon for a Fortune 100 company by day, music opinion-maker at night. His musings are strewn out across the interwebs on jazz.com, AllAboutJazz.com, a football discussion board and some inchoate customer reviews of records from the late 1990s on Amazon under a pseudonym that will never be revealed. E-mail him at svaaron@somethingelsereviews .com or follow him on Twitter at https://twitter.com/SVictorAaron

Latest posts by S. Victor Aaron (see all)