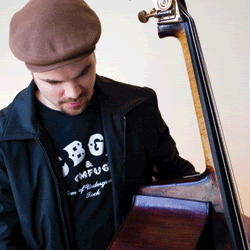 Sometimes you know if a CD is going to be good even before you cue it up and start listening to it. The first thing I that caught my eye when I opened up Michael Bates' Clockwise CD was the note that it was taped live on a two-track recorder. The second thing I noticed was that the sessions were produced by current creative jazz trumpet heavyweight Dave Douglas.
So far, so good, but I also wondered: just who is this "Michael Bates" dude?
As it turns out, Bates is not exactly a newcomer; Clockwise, just released, is his third record and he's appeared on more than a dozen others. Hailing from Canada, Bates has developed a reputation in avant garde circles as an advanced bassist and composer. It's been my experience as a listener that good bassists and composers seem to go hand in hand. Charles Mingus set the mold several decades ago. Drew Gress and Anne Mette Iversen are just a couple of recent examples that come to mind.
Now, Bates' bass doesn't quite have the lyrical richness of William Parker (but honestly, who does? That's why Parker is the king). However, it's lyrical enough and he's plenty capable of driving songs as he does so here, clearly standing out as the leader without having to solo. Bates can nimbly play right on the beat or off the beat while still securely setting the melody, even changing it seemingly on a whim and have the whole band follow right along.
The nine tracks on this CD aren't really songs, but musical conversations. Like a dialogue among people, there's changes in tone, cadence and pace, but all done under some overarching theme. There's almost always two or more melodic lines going on in each compositions and there's even a term for that: "contrapuntal."
That goes a long ways of describing the structure of these songs, but the style has his own unique imprint, too. It's squarely in the jazz realm, and it goes both inside and outside. Not quite atonal, but not following conventions, either. There's also a lot of classical sensibilities found in many of his compositions, and a vague, klezmer flavor that occasionally rears it's head as well. In all, it's a very European sounding style of avant garde more so than it's the avant garde of Bates' current residence, New York City.
To help Bates flesh out his ambitious vision of playing improvised music within this type of structure, he enlisted the help of a trumpet (Russ Johnson), saxophone or clarinet (Quinsin Nachoff) and drums (Jeff Davis). He calls this ensemble "Outside Sources." Working without a chordal instrument can be a challenge for many musicians, but with these talents and Bates' insight, that omission instead frees them up to pursue many more possibilities.
All of these attributes pay off right away with the opener "Great Exhibition," where Nachoff and Johnson trade points and counterpoints while Bates is right in the mix playing counter to the drums. The roles completely change throughout the track, as at times it's the two horns facing off against Bates and Davis. This isn't the kind of stuff you can pull off without listening closely to what the other players are doing.
"Damasa" features Bates and Davis rumbling together near the beginning along like a freight train before the song slows down. About two thirds the way through it breaks out into full-bore mid-sixties Miles mode, with Johnson's trumpet leading the double-timed charge.
"Fellini" is a 3/4 timed piece that meanders around with a Russian flavor and just when it seems the song has reached a dead end, Davis picks up the pace with some strident drumming and Bates is matching him lick for lick. It makes for a dramatic ending and the kind of unexpected twists found lurking around the corner throughout the album.
"Lighthousekeeping" begins as a close cousin to "In A Silent Way," in that it deceives the listener into thinking it floats untethered to timekeeping, but it doesn't. It even is based on the same key as Joe Zawuinul's classic, and projects a similar quiet majesty. The notable differences are Nachoff's clarinet, which is allowed to solo around the theme, and Bates' bass pulsing at odd intervals. Even where the piece is unobtrusive and meditative such as this one, Bates continues to challenge the listener to pay attention.
"Bloodletting" harkens back to Bates' hardcore and punk rock days, in attitude if not quite in the literal sense. Underpinned by a menacing 12/8 beat, Nachoff's tenor takes on a tortured, bluesy attack that stands in stark contrast to his approach elsewhere on the album, but this was the right place for bringing out that side of him.
There are four more tracks in this collection, but by now you get the idea: every song doesn't merely present themselves, they unfold in an unconventional, often meandering path. I think Bates is trying to tell us something with that approach, that the path less taken and less direct is often the more interesting one.
It doesn't always work out that way in avant garde jazz, but in the case of Michael Bates' Clockwise it does, every time out. The reason for that doesn't lie solely in Bates' compositions or the improvising capabilities of his band, but both of those things working in tandem.
Clockwise demands your attention but gives back a rich, exciting listening experience in multiples.

S. Victor Aaron is an SQL demon for a Fortune 100 company by day, music opinion-maker at night. His musings are strewn out across the interwebs on jazz.com, AllAboutJazz.com, a football discussion board and some inchoate customer reviews of records from the late 1990s on Amazon under a pseudonym that will never be revealed. E-mail him at svaaron@somethingelsereviews .com or follow him on Twitter at https://twitter.com/SVictorAaron

Latest posts by S. Victor Aaron (see all)