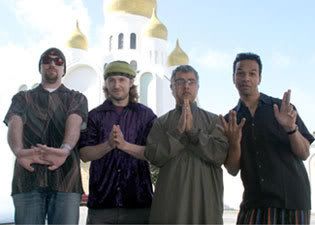 Photo: Susan J. Weiand
by Pico
With jazz fusion having been around for some forty years, now, it's not so easy to be distinctive in that field anymore. Garaj Mahal manages to stick out, mainly due to massive chops by all four group members and a dizzying array of influences each group member brings to the table. Those influences get sliced, diced and mixed in liberally on their latest release w00t, their first one for Indianapolis, Indiana based Owl Studios.
Formed in 2000, band members Alan Hertz (drums), Kai Eckhardt (bass), Eric Levy (keyboards) and Fareed Haque (guitars) make up a true supergroup, as are all outstanding maestros on their respective instruments.
Haque has already gotten his due here as a key member of the Dixon-Rhyne Project as well as putting out some notable world fusion albums under his own name. But these days, Garaj Mahal is his main gig. Born to parents from Pakistan and Chile and well-travelled in his youth, Haque is one of the most versatile guitarists out there today. He's mastered classical, jazz, rock and Indian styles, including the electric sitar.
The other guys aren't exactly scrubs, either. Eckhardt graduated from the prestigious Berklee School of Music with honors and later taught there. He's played with Steve Smith's Vital Information, John McLaughlin, Randy Brecker and Billy Cobham, just to name a few. His bass technique, as amply demonstrated on the plainly titled "Bass Solo" is Victor Wooten good.
Levy benefited greatly from being the offspring of musical parents and then receiving formal training at the Music School of Northern Illinois University, where his professor there was his future bandmember Haque. Like Haque he shared a background in classical music, among other styles. He also picked up a keyboard style that bears some semblance to a guitar, much as Herbie Hancock became so adept at doing in the seventies.
Garaj Mahal is more of a live act (their first three albums were all live records) and w00t represents only the third studio release in their eight year existence. Like the prior two, this latest one showcases their skills rather well as they blend jazz with James Brown-styled funk, hip-hop, rock and some sounds from the other side of the globe. The difference this time is the compositions (the songwriting chores were split nearly evenly among all four bandmembers). For perhaps the first time, the songs on a studio album abound with the complexity and nuance that match those immense skills.
More to the point, there's more Mahavishnu Orchestra and Return To Forever in their mix than before, and they pull it off without losing their funk-filled world fusion identity in the process.
That vibe becomes readily evident in the opening "Semos," which first appeared on Garaj Mahal's first live CD, Live, Vol. 1. "Semos" is a brilliant piece of fusion with it's juking rhythmic changes, dazzling bass/guitar unison lines and some really tasty Pat Martino licks from Haque. Despite the complexity, it's as funky as a Friday night. The basic approach is the same as the earlier live version, but the key difference is Levy's keyboard attack. There's more of a vintage Herbie Hancock Head Hunters groove to it, replete with the slightly dissonant synth washes, and an impressive Fender Rhodes solo followed by an equally ace Moog solo.
"Hotel" has an even more explicit Head Hunters lineage, as the opening bass line is a near direct quote from Hancock's "Hang Up Your Hang Ups," while Hertz' rhythmic pattern is similar to that of Head Hunter drummer Mike Clark on "Spank-A-Lee." Both Levy and Haque turn in their usual fine performances, too.
"Ishmael And Isaac" is perhaps the tune that does the best job of showcasing the band's wide-ranging influences. There's the humor of the band in how the tune starts off innocently enough as something resembling a Russian folk tune, punctuated by an obligatory "hey!" at the end of each round. From there, the song takes a trip all over the world, swiftly modulating from Middle Eastern fusion to hard rock to Return To Forever-styled funk-jazz. The softer passage in the middle features a sublime classical guitar solo from Haque. Following that is a call and response between an a twisting Arabic phrase and Levy's urgent Moog solo. Middle East meets West, indeed.
"Uptown Tippitinas" is New Orleans flavored as the title implies, but filtered through the gospel-inflected Big Easy shuffle occasionally championed by John Scofield. The lyrical "Corner Peace" is another slower piece, with both Haque and Levy primarily sticking to acoustic instruments and proving that this band doesn't need to plug it on to sound good.
w00t just hit the streets today. If you're a fan of fusion from the time when fusion was both fun and filling, Garaj Mahal is a band that's making it that way again. And now, w00t is the best place to start having fun with this band.

S. Victor Aaron is an SQL demon for a Fortune 100 company by day, music opinion-maker at night. His musings are strewn out across the interwebs on jazz.com, AllAboutJazz.com, a football discussion board and some inchoate customer reviews of records from the late 1990s on Amazon under a pseudonym that will never be revealed. E-mail him at svaaron@somethingelsereviews .com or follow him on Twitter at https://twitter.com/SVictorAaron

Latest posts by S. Victor Aaron (see all)