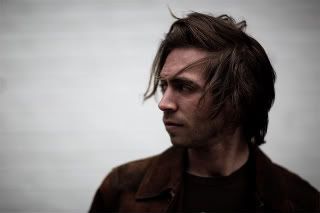 photo by Mamoru Kobayakawa
Last August 19, jazz pianist Aaron Parks released the first major label album of his young solo career, Invisible Cinema. And who is this Aaron Parks, you ask?
Seattle native Parks is something of a fast learner. He skipped high school to study math, computer science and music and the University of Washington. Before long, he dropped the first two subjects to concentrate on the third, having begun playing the piano at age ten. Parks' boundless thirst for mastering music in general and improvision in particular brought him to the Manhattan School Of Music just a couple of years later to study under the jazz piano master Kenny Barron. The valuable tutoring he gained under the guru Barron led to a five-year gig touring and recording with Terrence Blanchard's band.
From there, Parks had played in Kurt Rosenwinkel's band, as well as for Charles Lloyd's solid drummer Eric Harland.
At this point, Parks was ready to try his hand as a leader and secured a record deal with the fabled label Blue Note Records. At only the age of 24, Parks was not only ready to make his major label debut, he's been overdue.
For his first widespread impression as a leader, Parks didn't fool around when it came to his supporting personnel. His drummer is the aforementioned Harland, joined by Matt Penman on bass and for most of the tracks, guitarist Mike Moreno.
Parks approach to music shows features of two of his favorite pianists from roughly the same generation: the "jazzification" of more recent indie & pop tunes favored by Brad Mehldau and the risk-taking of Danilo Perez. And while it may or may not be intentional, some similarities in his approach can also be found with the innovative, modern European trio jazz of the late Esbjörn Svensson.
He's definitely attuned to the music that most 24 year olds listen to and it shows up in his music, if mainly on the fringes. One several tracks, he even employs other keyboards, but slips them in so subtly that they do nothing to diminish the acoustic jazz aesthetic. For the most part, this ain't no post-rock or alt-rock; Parks stated goal is to introduce jazz to music lovers of his generation by making "music that's accessible without being dumbed down."
For someone who has already received so much formal training, Parks does a great job playing without boxing himself in by predetermined styles or technique. On the opening "Travelers," for instance, he frames his solo in such a way that simpler, repeating notes will be used just as much as rapid-fire right hand runs. To him, it's whatever trick can make the greatest impact at that point in time, not which is the most difficult to play. There's also a thoughtful linearity and pacing to his solos that also recalls Mehldau, without mimicking him.
The repeating note approach is more upfront in "Nemesis," where it's used for emphasis on the rock rhythm and to set up Moreno's guitar. The brief "Riddle Me This" sports an interesting stutter rhythm by Harland that's not really jazz, either, and Parks is wisely content to let that be the major focus of that song.
"Peaceful Warrior" is another highlight. It's a two-parter that begins with a gentle European-style folk melody that stated by Moreno and Parks together that searches and probes along the way. That would make this a fine track right there, but midway through, a more kinetic, aggressive chord progression kicks in and all four players are playing their rear ends off. The thing that makes it go is Penman's bass that pulsates like some living organism and Parks and Moreno seem to feed off of that as they trade ardent solos. Abruptly, the section end and the softer first part returns, but with more strident drum licks from Harland. The song best illustrates Parks' musical vision for drama and "cinematic" music without scenes…the invisible cinema.
"Karma" has drama, too, in the sense that it's tense and Harland again is employing unusual rhythms, this time well syncopated with Penman's active bass. "Harvesting Dance" draws its inspiration from an entirely different source: Bulgarian music and the Jewish jazz of John Zorn's Masada. First recorded on one of Blanchard's albums, this extended track contains some lively, passionate playing by Parks but especially by Moreno.
So many talented musicians start out their solo careers will so much promise and potential that never gets fulfilled. Right from his first effort with Invisible Cinema, Aaron Parks is setting out to do as much as he's capable of doing. The sky's the limit for Parks and he's already several miles off the ground.